BYU Basketball Home Game Against No. 1 Gonzaga Moved Up To Big Monday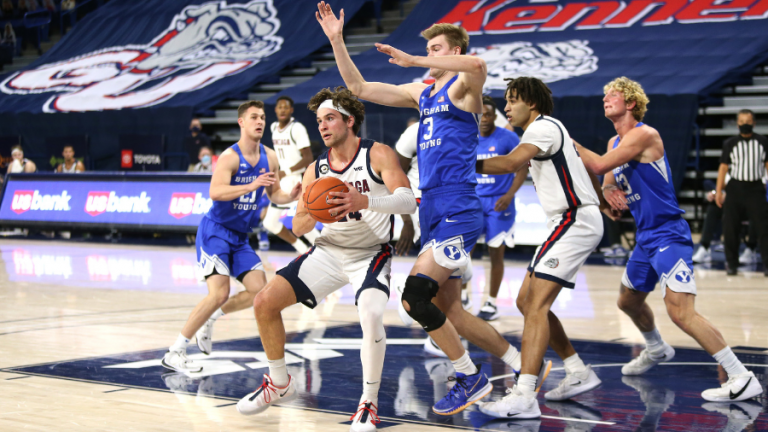 PROVO, Utah – For the second time this season the WCC's marquee matchup between BYU and Gonzaga has been pushed up. This time around, it's the game at the Marriott Center, the site of Gonzaga's last loss.
BYU will host No. 1 Gonzaga on Monday, February 8th at 9 p.m. (MT) on ESPN and KSL NewsRadio.
The game was originally scheduled to be the regular-season finale on February 27th, but with openings on the schedule, the WCC moved up the game to a Big Monday window.
Last month, BYU's trip to The Kennel in Spokane was pushed up to the conference-opener for the Cougars. No. 1 Gonzaga rolled through BYU by a score of 86-69.
BYU is 14-4 overall on the season and 5-2 in West Coast Conference play. Gonzaga is 17-0 and has been atop the national rankings for the entirety of the season thus far.
Gonzaga had both of its originally scheduled WCC games this week postponed due to league foes experiencing COVID-19 issues. Five teams in the WCC right now are on pause due to COVID-19 protocols.
The undefeated Zags were trying to add a non-conference game against Houston in Salt Lake City, days before a game against BYU, but that never materialized. Gonzaga will play Pacific in Stockton on Thursday then travel to Provo over the weekend for the showdown against BYU.
BYU has defeated Gonzaga seven times since joining the conference in 2011. Last year's 91-78 victory on Senior Night was the last game at the Marriott Center played with fans in attendance before the novel coronavirus pandemic struck the nation.