Veteran falls to the ground in shock after 'The Rock' surprises him with special gift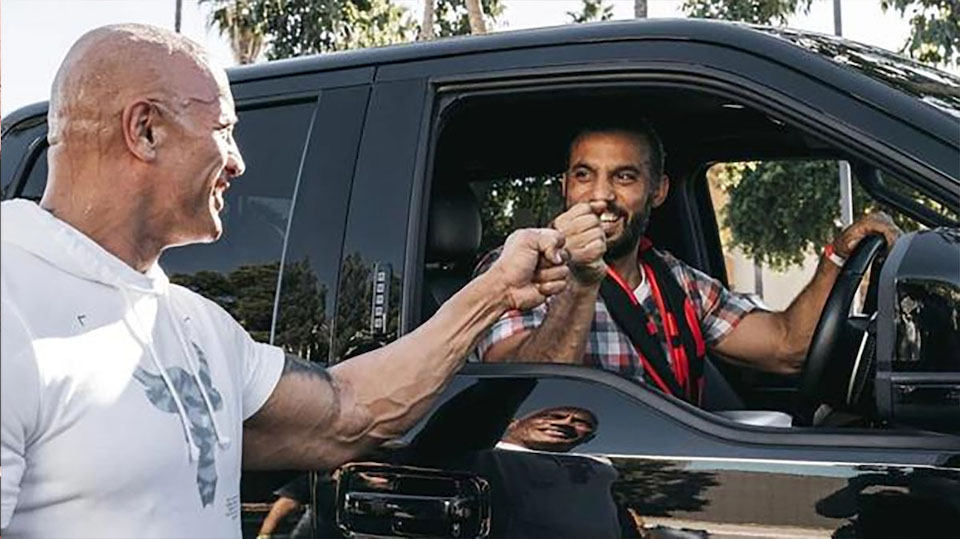 Dwayne 'The Rock' Johnson has never hidden his love for his 2016 Ford F-150 pickup truck. Standing at 6ft 5 inches tall and with some of the biggest muscles in Hollywood, the former wrestler previously joked that he can't fit into your average luxury sportscar which makes this pickup truck his ideal vehicle. The Jungle Cruise star has posted a number of pictures of himself on Instagram standing beside his beloved customized Raptor ride clearly enjoying his time with the mammoth machine.
But for Thanksgiving this year Johnson decided to give his precious truck away and the man who received it fell to the floor in shock.
U.S. Navy veteran Oscar Rodriguez attended a special Thanksgiving screening of the new movie Red Notice, starring "The Rock" in Los Angeles. After the screening he along with all the other audience members were then surprised by an appearance from the man himself.
Johnson invited Rodriguez onstage to praise him for his work in the community as well as his efforts taking care of his 75-year-old mother, as reported by Military.com.
"Your story really moved me because I hear that you're a personal trainer," Johnson told him. "You're always keeping it positive and motivational and optimistic.
"You're a leader in your church, Westside Church. You support and you help make meals for women victims who've been abused by domestic violence."
Johnson then invites Rodriguez to the parking lot where he hands him a handwritten note.
"Thank you for your service, brother," Rodriguez read. "Enjoy your new truck …"
Rodriguez collapsed to the ground after realizing that Johnson was gifting him his beloved Ford F-150.
Johnson posted a video of the moment on Twitter where Rodriguez's shocked response is caught on camera.
"He deserves a lot more than my personal truck. Kindness matters to me, so thanks @ORodri240 for being so kind to so many people. You said it right, just before you drove away ~ it's just love. That's all it is, brother. Just love. Enjoy your new truck dude," he captioned the video.
When Rodriguez eventually managed to pick himself up off the floor he ran over to Johnson to give him a big hug.
"You do a lot of good for people, man," Johnson said to an emotional Rodriguez.
Rodriguez said he was speechless and shocked by Johnson's generous gift.
"I feel so encouraged right now, so uplifted. You're the man, dude," he added.
Rodriguez then called his girlfriend to give her the news and drove off to cheers from the crowd.
"His laundry list of caring credentials is pretty amazing," Johnson said afterward.
"Just an honor for me to be able to give a little bit of joy to a dude who deserves probably a lot more than just my truck."