ESPN writer disturbed over how many American flags are at the Olympics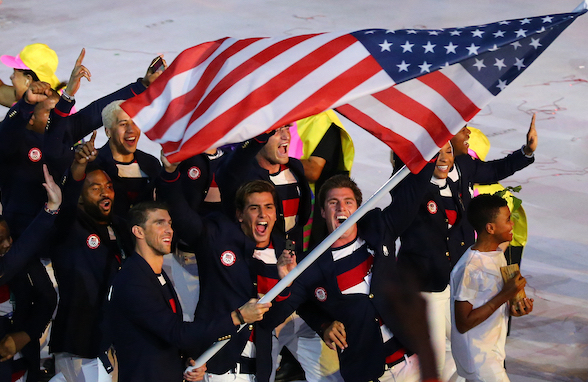 On Monday, ESPN sportswriter William Rhoden said that he didn't like the opening ceremony of the 2020 Tokyo Olympics because he saw too many American flags that reminded him of the January 6th capitol riot and the "rise of White nationalism."
"I love the opening ceremonies, march of countries," Rhoden said on "CBS This Morning," noting how he used to like the opening ceremonies. "Then I realized, you know, man, particularly after these last four years, I had it wrong. Nationalism is not good. We've seen the rise of White nationalism. Nationalism is not good."
"And also, this whole idea — I keep thinking back on the Capitol riots, and I saw a lot of, you know, U.S. flags," Rhoden stated.
"So now when I see the flag and the flag raised, what — what America am I living in? You know, are the ones that don't think, you know, we should be here?"
The most woke athletes in the Olympics, the women's soccer team and the men's basketball teams, have proven to be massive flops in the 2020 Games. Rhoden says this is a good thing because it is "humbling."
"I think we should be humbled. You know, I mean, this whole last year in this country — it's about entitlement and privilege. Nobody epitomizes that more than basketball," he said.
Former NFL running back and member of the 1990s Olympic bobsled team Hershel Walker has a much different tone towards woke athletes in the Olympics.
"People think I'm very harsh when I say this," Walker said during an interview on Friday with Fox News. "This is the United States of America, and if people don't like the rules here — and there's no doubt we can make some things better — but if people don't like the rules here, why are you here?"
Walker said the Olympic Games is not "the right place" for American athletes to protest their country since there are foreign athletes "who would love to represent the United States of America."
"It's very sad to me because any other country… I can promise you… they would not be representing that country," he continued. "I totally disagree with it, but they have the right to do it, even though I think it's wrong. We have to have leaders that… are going to stand up and say the right thing. You can feel a certain way and I think that's great, but this is the United States Olympics… . I'm not sure that's the time or place."