BYU Women's Soccer Shuts Out Weber State In Exhibition Match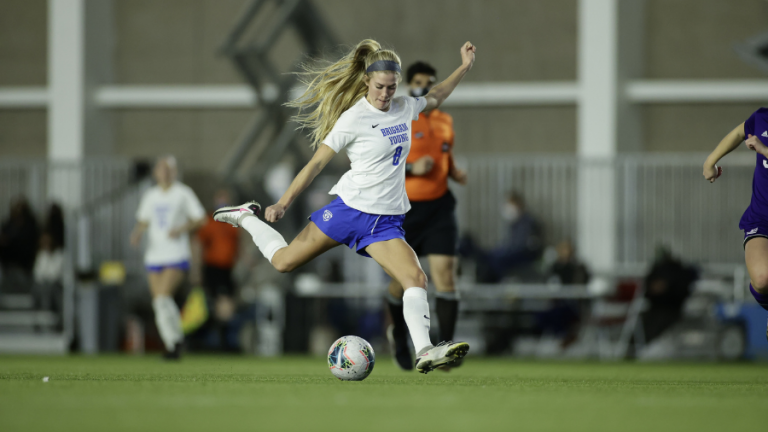 PROVO, Utah – BYU women's soccer enters the uncommon 2021 spring season with high expectations. The Cougars are a preseason favorite to win the West Coast Conference, one year after completing an undefeated regular season and Elite 8 appearance in 2019.
After going an entire calendar year without playing against another opponent, Jen Rockwood's squad open the season with an exhibition match against in-state foe Weber State at Zions Bank Real Academy in Herriman.
It was the first meeting against Weber State since the two programs met in the NCAA Tournament back in 2013.
BYU Women's Soccer rolled through Weber State
BYU got to work in the scoring early in the match against the Wildcats. Four different BYU players scored goals as the Cougars rolled to a 7-0 rout.
"It was a great way to start our season," BYU head coach Jennifer Rockwood said. "We've been playing against each other for well over a year now, so it was a good opportunity to get out on the field and compete against someone else."
Midfielder Mikayla Colohan, a second-round pick in the recent NWSL Draft, got the scoring started in the second minute with a quick goal. Colohan, a pre-season watchlist candidate for the MAC Hermann Trophy, scored her second goal in the 45th minute before the end of the first half. She also had assists on three additional goals scored by Rachel McCarthy and Cameron Tucker.
BYU had 26 shots on goal to Weber State's six. The shots on goal was an even bigger advantage in favor of BYU with the Cougars having the edge over the outmatched Wildcats 14-2.
BYU opens up the 2021 spring regular season next Saturday at Zions Bank Real Academy against rival Utah at 5 p.m. (MT).