Maskless protesters pack Utah County Commission meeting set to discuss masks in schools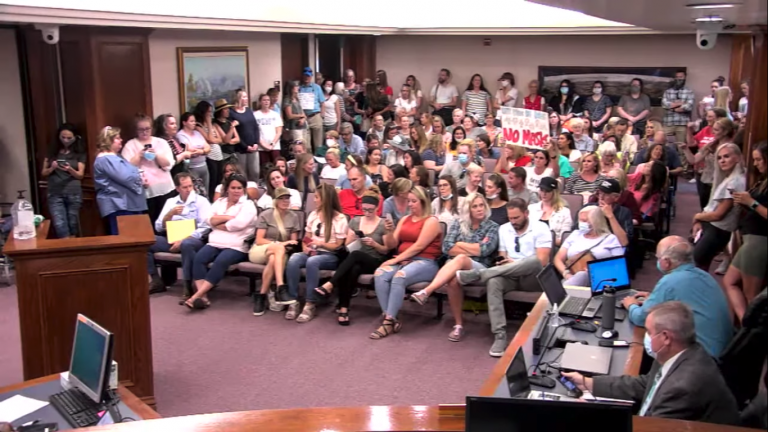 PROVO, Utah – A crowd of maskless protesters packed into a Utah County Commission meeting on Wednesday to speak out against a state requirement for students to wear masks when school returns.
Dozens of demonstrators came out in Provo, Utah, to protest Gov. Gary Herbert's (R) mandate on masks in schools, arguing that they should have the right to decide whether their children or students wear face coverings in the three school districts in the county.
Tanner Ainge, the chair of the all-Republican commission, delayed the meeting shortly after it started, citing that the crowd was not following public health guidelines, according to a video.
"This is the exact opposite of what we need to be doing," Ainge said, prompting the protesters to boo. "We are supposed to be physically distancing, wearing masks."
Ainge left the meeting, but the two other members of the commission stayed to listen to more than 30 people who lined up to talk, The Salt Lake Tribune reported.
Several parents expressed worries about children with disabilities being required to wear masks and the difficulty of enforcing the rule on playgrounds and in lunchrooms, The Washington Post reported.
Ahead of the meeting, commissioner Bill Lee had voiced his opposition to the state rules and added a proposal to request state officials implement a "compassionate exemption" for the mandate, allowing parents and teachers the authority to decide whether they were necessary, the Tribune reported.
Lee encouraged people to meet to "peacefully express their concerns" about the mask requirement outside the county government center before the official meeting. About 150 people came out, according to the Tribune.
Ainge told the Post that the matter of mask mandates in schools "has no business being on agenda."
"The county has nothing to do with this," he said. "It would be like the school board deciding how much money to give to the sheriff's department."
The county has recorded 5,560 positive cases and 29 deaths, as Utah as a whole has seen increasing cases, leading to a total of 30,891 cases and 233 deaths.
"As our hospital utilization and case counts climb, this is not the time for a County Commissioner to encourage large unmasked gatherings or to publicly reject the guidelines we are receiving," Ainge said in a Twitter statement.