Sen. Mike Lee: Gov. Gary Herbert has been a champion for all that is good in Utah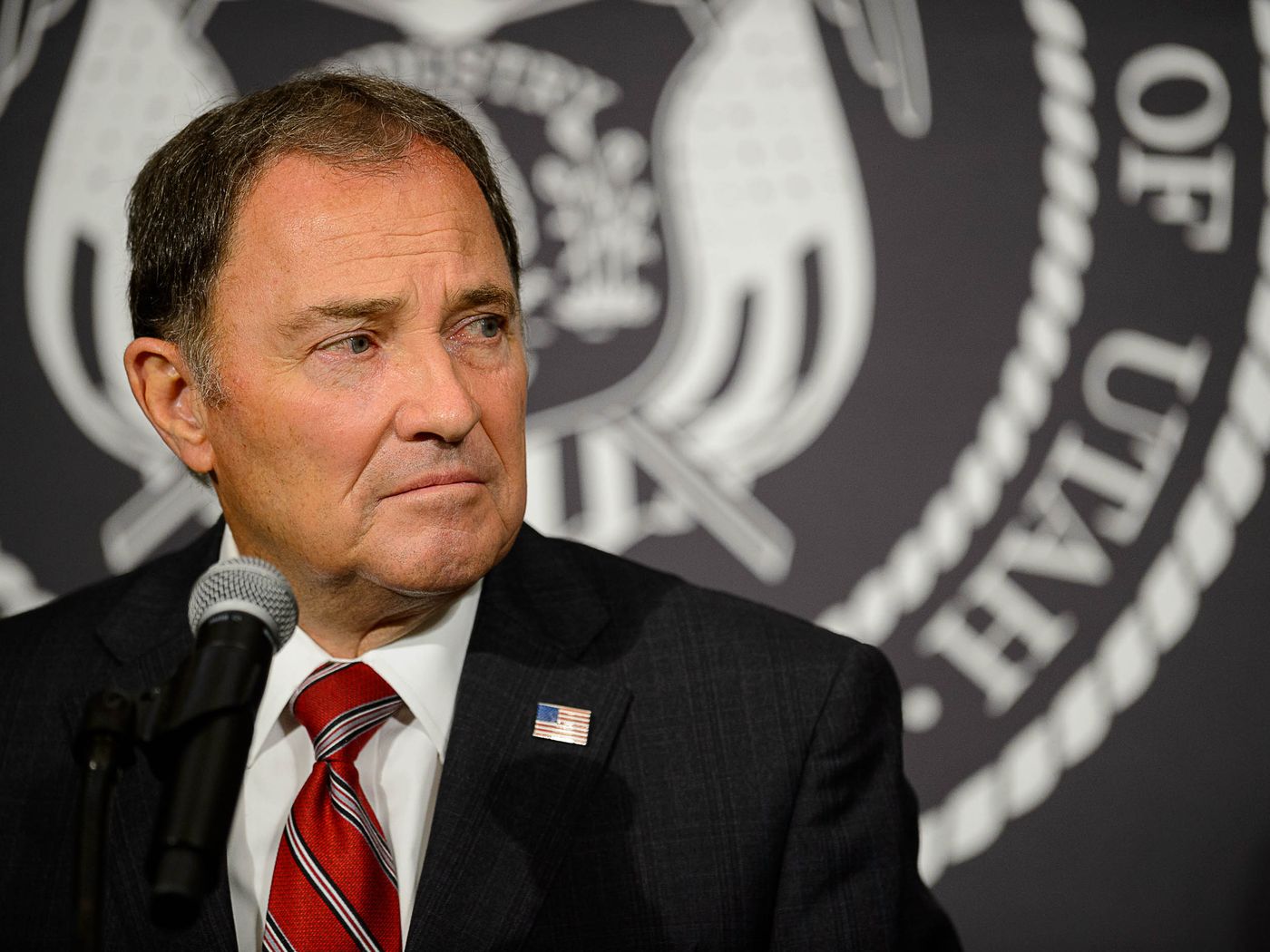 PROVO, Utah – I rise today to honor my friend, Gary Herbert, governor of the state of Utah for the last 12 years, who after a long career in public service is embarking on a well-earned retirement.
He has served the state of Utah with enthusiasm, dedication and spirit, and I am grateful to have worked alongside him throughout his tenure.
Gary was born in American Fork, Utah, and grew up in Orem. He served a two-year mission for The Church of Jesus Christ of Latter-day Saints on the East Coast and later attended Brigham Young University.
He first began his public service after college, serving in the Utah Army National Guard for six years and becoming a staff sergeant.
After his time in the National Guard, he set up a real estate firm and eventually became president of the Utah Association of Counties and Utah Association of Realtors.
Starting in 1990, he served as a commissioner on the Utah County Commission for 14 years and then began his service at the state level.
In 2004, when Jon Huntsman ran for the governor's seat, Gary became his running mate for lieutenant governor, with the pair going on to win the race that November.
It was then that I first got to know him myself, when I was hired to be the general counsel for Gov. Huntsman.
One of my first memories of him was when we began to move into the governor's office suite.
The day before he was sworn in, Gary came and gave a warm welcome to all the staff, along with sound advice about the importance of staying grounded as we entered the political fray.
I soon learned that he was not only a skilled politician, but also a formidable pingpong player.
Right after he and Gov. Huntsman were sworn in, the staff got together as a team several times at the governor's mansion, where there was a pingpong table in the basement.
I then learned the hard way that Gary's table-tennis skills are off the charts.
While serving Gov. Huntsman, I always found Gary to be friendly, approachable and willing to tackle every assignment with eagerness and poise.
Whenever Gov. Huntsman's schedule became chaotic or would change unexpectedly, Lt. Gov. Herbert would routinely be dispatched to speak on his behalf — often to remote corners of the state and often at inconvenient times.
He never once complained and was not only willing, but always eager and happy to help.
Likewise, whenever there was an issue that needed to be addressed and the governor was unable to meet with a particular group, Gary was assigned the case.
He would meet with all the different stakeholders, legislators, and people from different sides of an issue, bringing them all together and wading through the intricate details of the matter.
What's more, he had the skill of figuring out the best path forward for all parties involved and for making everyone feel heard and understood.
The same traits I saw in him as lieutenant governor would go on to make him an effective and beloved governor himself. In office since 2009, he is currently the nation's longest-serving governor.
And our state has seen exciting achievement and prosperity with Gov. Herbert at the helm.
In the last eight years, Utah has seen continued, steady growth in our economy — with improvement in our GDP, number of jobs and unemployment rate.
We have seen the boom of Silicon Slopes.
We celebrated the centennial of the driving of the Golden Spike, when it was an honor to stand alongside him at the celebratory reenactment.
And so too was it an honor to join Gary when President Trump shrank Bears Ears National Monument, when we could stand together and celebrate reclaiming the land back for the people of Utah.
Through his enthusiasm and zeal, Gary has championed our state and the things that we stand for. He can rattle off figures and metrics about Utah at the drop of a hat and is a compelling spokesman for our values.
His spirit has helped Utah to attract talent and investment and to make it the good place that it is to live.
Not only that, but Gary has been an instrumental partner in supporting initiatives that reflect and strengthen the values of our state.
To champion the reclamation of our lands, he signed into law the Utah Transfer of Public Lands Act.
He also signed into law innovative criminal justice reforms in Utah, making a far-reaching impact across the state and paving the way for the work Congress and President Trump were able to do at the federal level.
He has been a strong supporter of Utah's family culture, and was helpful in the Senate's work promoting the child tax credit during tax reform. And on a more personal note, he had the wisdom to put my brother, Tom Lee, on the Utah Supreme Court.
For all his public achievements, Gary is most proud, however, of his own role as husband, father and grandfather.
He and his wife Jeanette have six children together, as well as 16 grandchildren, and he is known to encourage them to "follow in his footsteps and marry up."
In a myriad of ways, Gov. Gary Herbert has been a champion and a spokesman for all that is good about our state.
It has been an honor to serve the people of Utah with him, and I wish him all the best as he embarks on his retirement.