Utah's top health official talks masks, mistakes, and when you may get vaccine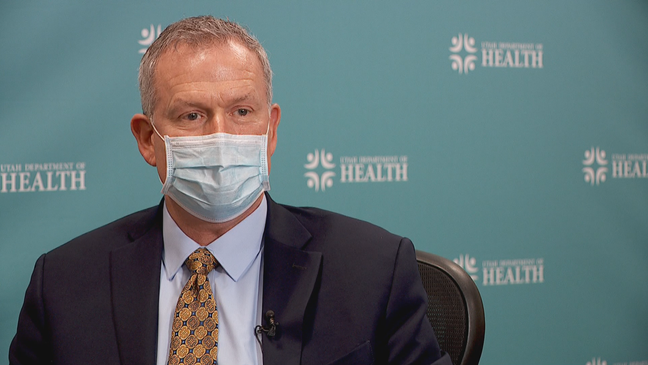 Utah – The next 45 days are critical in the fight against COVID-19 in Utah. An onslaught of vaccinations is starting to line up for March and April, and that will make doses available for broader segments of the population.
How is the state preparing for that? And how will some of the problems Utah has seen in the past not happen again?
2News sat down with for an exclusive interview with the newly confirmed executive director of the Utah Department of Health, Rich Saunders, to find out.
Saunders – who has held the position since last year on an interim basis but was confirmed by the Utah Senate last week – talked about when more Utahns might finally be able to get a vaccine, when masks could be just a memory, and the lessons learned from mistakes made.
But we started with a basic question — is he qualified for the role?
UNLIKELY LEADER
Saunders is an unlikely leader of the Utah Department of Health. Criticized at times for his qualifications, Saunders is a businessman, not a doctor. The Utah Legislature changed the rules so he could get the job.
"It's an honor, and it's a great responsibility," said Saunders of his position as the state's top health official.
Is he qualified for the job?
"There is some accusation of not being qualified for the pandemic," Saunders said. "Let me just address that. Who was?"
Today, Saunders argued, he is qualified – because of the last 11 months.
"It is on the ground," he said. "It is in the front lines of making these tough decisions and trying to figure out how to save lives. That's where you learn."
Asked if not being a doctor has hurt him in his work, Saunders responded, "I have a lot of doctors. We counsel together sometimes hourly. Whenever there's an issue that needs a doctor, I don't pretend to be a doctor. We counsel together with physicians, epidemiologists, and public health experts to make wise decisions."
VACCINE ROLLOUT
Saunders said the state has learned a lot over the pandemic, particularly with vaccines. 2News asked Saunders to give the department a letter grade on the vaccine rollout so far.
"When we just started, I would probably give us about maybe a C," Saunders said. Things were really slow."
Last month, the state had tens of thousands of doses sitting longer than the seven days they're supposed to. That has since dropped to just a few thousand.
"We did not do an effective job at creating a clear expectation of those that carried the vaccine," Saunders said. "I think that's our biggest flaw in this rollout. We assumed that people would take the urgency that we had and that they would administer the doses immediately. That just wasn't the case."
Saunders said, today, he would give the state health department an A-minus grade on vaccines. Is he satisfied?
"No," he said. "I think we're close. But the only acceptable answer is zero."
Saunders said Utah will start receiving many more vaccines in the next month and a half. Vaccines will be open to those 65 and older beginning March 1.
As for when younger or middle-aged Utahns could expect to receive a vaccine, Saunders said, "we're hoping that, somehow, we'll get to these younger ages somewhere toward the end of April."
MASKS
Then, there are masks.
The patience among many people for wearing masks is wearing thin. How long will it be before masks start coming off?
"I can't wait for the day," Saunders said. "I would think that the soonest we would see that is late summer. It'd be nice if it happened sooner if we had enough vaccination."
WORRIES AND CONCERNS
What keeps Utah's top health official up at night?
"One of the primary angst inside of me is the vaccines being administered immediately," Saunders said. "The other thing that keeps me up at night is knowing that our public health workers are utterly exhausted."
Speaking of the state's health care workers, Saunders called them "champions. They're unbelievable."
"I don't know how to communicate in words the price that these public health servants have paid," Saunders said. "It is unreal and commendable."
POST-PANDEMIC
When Utah emerges from the coronavirus pandemic, what will life look like?
"We've learned so much through this pandemic," Saunders said. "I think, as a society, we're going to come out on the better end because of it".
Saunders noted the death toll due to COVID-19 – which sat at 1,736 on Sunday – and said, "we reverence that, we pay respect to that."
Still, Saunders said, he feels there are some silver linings from the pandemic.
"It's helped us to understand who we are, what our capabilities are. It's helped us to understand what matters most," Saunders said. "We've learned new technologies. We've learned new ways of doing business, new ways of treating patients."
Overall, the man tasked with helping lead the state's coronavirus response is optimistic.
"I'm excited for the future," said Saunders. "I think it's wonderful. I think it looks very bright."