Bill before Utah House would limit when people can change party affiliation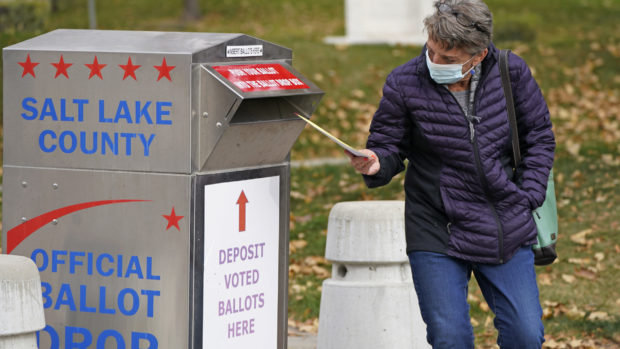 Utah – A bill moving through the Utah House of Representatives would make it harder to switch party affiliation in the state by imposing an earlier deadline to do so.
In the 2020 primary election, Utah's registered Republicans jumped by more than 74,000, a move made by many residents in order to influence who would become the gubernatorial candidate on the general election ticket. However, some voters and legislative leaders viewed the uptick in registered Republicans as "gamesmanship" and "party raiding" in partisan elections.
Now, one Utah lawmaker is seeking to place a deadline on when registered voters can switch political party affiliation.
When could voters change their political party affiliation?
A bill introduced by Rep. Jordan Teuscher, R-South Jordan, would halt Utahns from being able to change their party affiliation right before the primary election.
"We want as many people to affiliate with the political party of their choosing as much as possible," said Teuscher. "It's [the bill] simply trying to prevent people from gaming the system by jumping into parties to vote for a more weaker candidate."
HB-197 would require voters who want to participate in a primary election to declare their party affiliation by March 31 instead of January 1. The new deadline to register with a different party is after party caucuses but prior to the primary election.  Teuscher told the Deseret News the altered deadline would still leave political parties time to "recruit, to motivate their base, and gives general voters more notice."
But ultimately, the bill aims to "cut off party switching in order to prevent party raiding while still allowing for those who want to change their affiliation for legitimate reasons," explained Teuscher.
Deadline change could harm voter turn out
However, some voters aren't keen on the timeline change to switch party affiliation in Utah.
Wayne Woodfield of Lehi spoke against the bill, stating it would actually harm the Republican voting bloc.
"If you're a Republican, you really don't want to turn away this group. These are your new recruits," said Woodfield. "Most people affiliated with the Republican Party do on two occasions: caucus night and right before the primary elections."
Additionally, Woodfield stated the change could hinder people's access to the polls.
"These are casual voters, voters that maybe were unaffiliated … they just started thinking about the primary," Woodfield said. "And when they find out they have to register Republican, they think, 'OK that's fine, I mostly vote Republican, so I guess I don't mind affiliating.' And so they do. And then they vote.
"But if this bill passes," he continued, "then they're ineligible now. And this is a lot of people. I would imagine that if you guessed as to what these people's motives are, there are a lot more of these than there are strategic affiliation jumpers."
The bill passed in a legislative committee last week and is headed to the Utah House for a vote.