BYU Basketball Game Against Pacific Postponed Due To COVID-19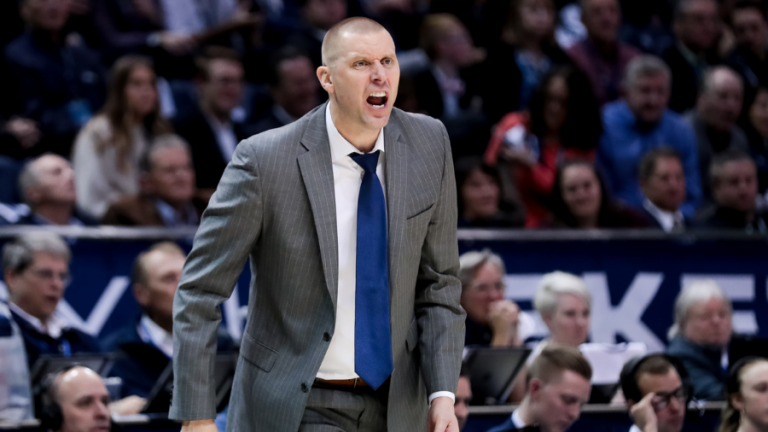 PROVO, Utah – BYU basketball is struggling to get its West Coast Conference schedule started. The Cougars Thursday night meeting against WCC foe Pacific has been postponed due to COVID-19 protocols in the Tigers program.
This is the third consecutive game on BYU's schedule that has been postponed due to the opponent experiencing issues with COVID-19.
Pacific has been on a pause since before Christmas. With no tip time or TV info established for this game, a postponement appeared to be likely, and now it's happened.
The official statement from BYU read, "Due to COVID-19 related protocols within the Pacific program, Thursday's men's basketball game between BYU and Pacific has been postponed."
BYU's next scheduled game isn't until January 14th when they travel to Moraga, California, to face the Saint Mary's Gaels at University Credit Union Pavilion. The last time BYU played a game was on December 23 against Weber State at Vivint Arena.
BYU is currently 9-2 overall and No. 52 in the initial NET rankings released on January 4.
For previously postponed games, the West Coast Conference has stated that they would work with the institutions and television partners to find a rescheduled date. BYU is scheduled to travel to Pacific in Stockton, California, on February 18.
BYU Basketball schedule notes
Tip times and TV assignments have been given to many of BYU basketball's remaining WCC games in the 2020-21 season. Next week's game at Saint Mary's will tip at 5 p.m. (MT) and will air on an ESPN network.
BYU will have four of their remaining games air on CBS Sports Network. This is the second year of a TV partnership between the WCC and CBS Sports. Those games include road games at Pacific (Feb. 18) and Loyola Marymount (Feb. 20). A pair of home games will also be televised on CBS Sports Network in USF (Jan. 30, 4 p.m.) and Santa Clara (Feb. 25).
Upcoming BYU games
As of January 4th, 2021
January 14 – at Saint Mary's, 5 p.m., ESPN Networks
January 16 – at San Francisco, TBD, ESPN Networks
January 21 – PORTLAND
January 23 – PEPPERDINE, 8 p.m., ESPN Networks
January 30 – SAN FRANCISCO, 4 p.m., CBS Sports Network