BYU Basketball To Open WCC Schedule At No. 1 Gonzaga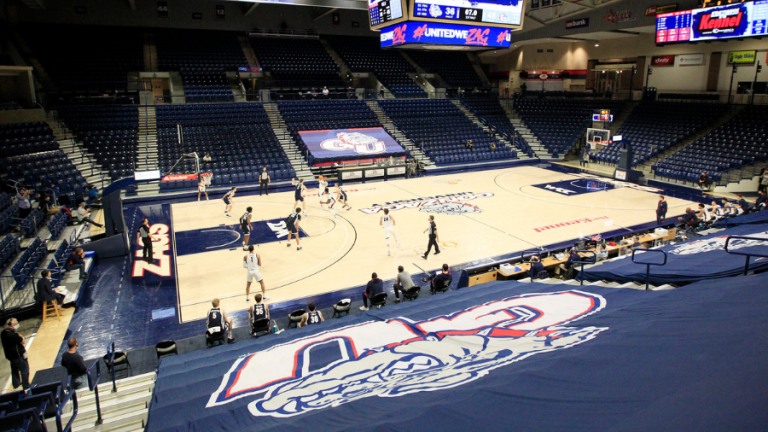 PROVO, Utah – BYU basketball won't be waiting another week to play a game after all. Head coach Mark Pope got Cougar fans excited by tweeting out, "It's go time! Get ready Cougar Nation We got a GAME!!"
BYU got a game, alright. That game is this Thursday against the No. 1 team in America in WCC rival Gonzaga at The Kennel in Spokane. The matchup with the top-ranked Zags will air on an ESPN network at 6:30 p.m. MST.
This game became a possibility after BYU's game against Pacific was postponed due to COVID-19 issues with the Tigers. Same for Gonzaga's conference foe, Santa Clara who is still on pause due to COVID-19.
Will BYU basketball have better success taking on a road game against an undefeated nationally-ranked opponent than football did last month? Time to find out.
BYU/Gonzaga series has become the best of the WCC
The last time these two teams met was one of the greatest wins in BYU basketball history. BYU took down the No. 2 ranked Zags in a Top 25 matchup last February just weeks before the world changed forever.
Gonzaga leads the all-time series against BYU 18-5.
For BYU, this is a huge opportunity to get another NCAA Tournament resume-building win. There's no one better in college basketball this season than the Zags. Gonzaga is the first team in the history of the AP rankings to defeat four teams ranked in the Top 20 in its first seven games.
Playing Gonzaga – win or lose – will help BYU's resume. If they can get a win, they would shoot up from the First Four projections to a likely lock for an at-large bid in the Big Dance. The last time Gonzaga lost a game was against BYU last February.