BYU Basketball Watched Selection Sunday In Style At Marriott Center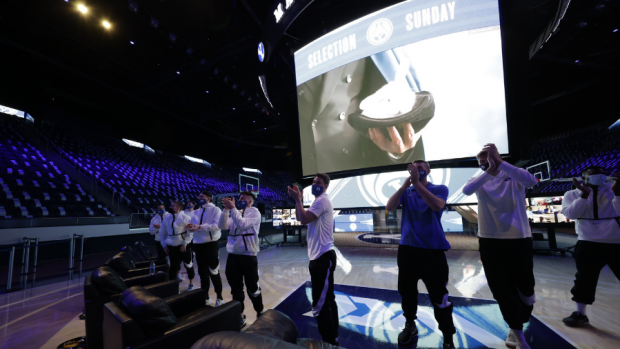 PROVO, Utah – BYU basketball welcomed the return of the NCAA Tournament's Selection Sunday in style. The 2020-21 Cougars squad watched their name called at the Marriott Center on the arena's big screens.
Mark Pope has always cherished Selection Sunday. Last year, when the pandemic took away the Big Dance, Pope dialed up Greg Gumbel, Clark Kellogg, and Seth Davis to give his BYU team a Selection Sunday celebration despite no tournament.
With March Madness, you know Mark Pope had to do it big for his players and staff.
The wait was worth it for BYU Basketball
"This was the longest I've ever had to wait," BYU forward Matt Haarms said laughingly. "They really made us wait for this one. I think, my previous trips to the Tournament, we were kind of in the first bracket and we're like, 'We're good. And now we know who we play.' Then we were done. They really made us wait for it and we sat through three long commercial breaks. But it was great to finally find out who we play after this long of a season and finally found out what it's going to come down to. It's going to come down to Michigan State or UCLA. Super exciting."