BYU is hoping to add to the McKenzie legacy in Provo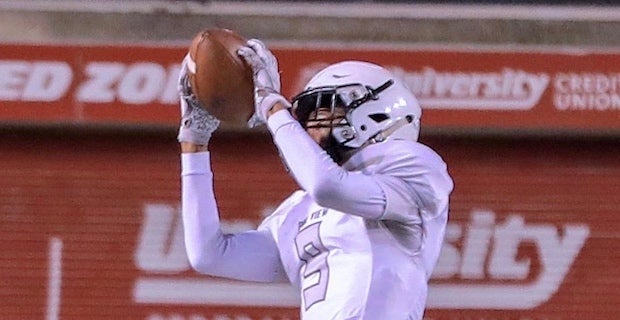 PROVO, Utah – Brian McKenzie is a BYU legend. He is one of the fastest players that has ever played in Provo and is widely considered one of BYU's all-time great running backs. He and Ronney Jenkins made the most dynamic running back duo that BYU has ever seen in 1996. McKenzie was special in every sense of the word.
BYU is looking to add to the McKenzie legacy in the class of 2022. Brian's sons, Dominique McKenzie and Marcus McKenzie, both received early offers from BYU and remain high on the Cougars wish list for the 2022 recruiting class. Cougar Sports Insider caught up with Dominique to talk about BYU and where his recruitment stands at this point in the cycle. In short, BYU is in a good place early on in the process. When both of your parents are former Cougars, it makes it easy to cheer for BYU.
"(Being a BYU fan) was natural since both parents graduated from there. My dad has great memories of his years playing there," Dominique told Cougar Sports Insider. "Growing up I had lots of uncles and cousins that played college football so growing up I went to college games but they were mostly PAC 12 schools. BYU is always tops because of the personal connections and it's just a great school all around."
Dominique is a sensational athlete. He also is being recruited by several schools, including BYU, as a track athlete. He is incredibly fast and would bring the kind of speed to Provo that doesn't come around every year. Both of the McKenzie brothers are very, very fast. That's one big reason that BYU has offered both of them, an advantage that could prove to be a big deal when it comes time for a commitment.
"My brother is a beast so any team is going to get a win-win with us," Dominique said. "We want to go to the same place and play together."
Dominique is looking for more than just a fit on the football field. He is looking for the right fit on and off the field, and BYU meets a lot of the criteria that he is looking for early on.
"I just really want things to open up so we can talk and visit. The visits and relationships will be the biggest factor. I think once I'm on campus and see the program up close I can better decide. Academics is big so I want a school strong in STEM area and a winning tradition of course," Dominque said. "(BYU is) a top consideration for sure. It's checks all the boxes and I always dreamed of running out of the tunnel with my teammates and a huge crowd of people. With both parents being athletes in college they have really stressed the importance of thinking of life success beyond the field so at this point it's just doors opened and working hard to get better."
The Cougars aren't the only school who is reaching out to the Pine View star. Dominique is hearing from Princeton, Yale, Northwestern, Washington State, Oregon State, Utah State, Air Force, Navy and is starting to hear a little bit from Utah.
The McKenzie twins still have their senior seasons ahead of them. They will be two of the most dynamic and athletic athletes in the state of Utah this season and their recruitment is far from over. As it stands today, BYU is in a good position to add to the McKenzie legacy, but you can count on more offers coming in for each of them.