BYU, Utah women find healing amid high rates of sexual assault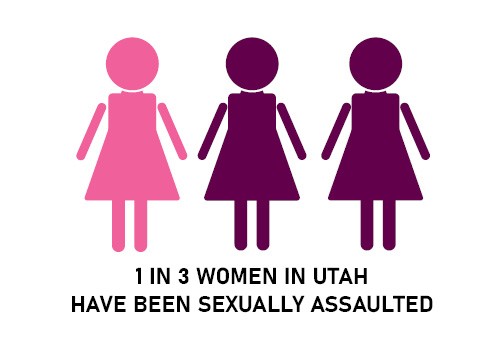 Utah – Nightmares, PTSD, trust issues, insecurity, depression, feelings of worthlessness, loneliness, fear, shame and more are all common occurrences for those who have experienced sexual assault. But the expanding reservoir of resources and awareness of sexual assault in Utah is bringing many survivors hope, healing and strength to move forward.
"I felt like I was constantly being judged even though no one knew what was going on," BYU student Janelle said.
Janelle is one of many students who has experienced sexual assault during her time in college.
According to the National Sexual Violence Resource Center, 1 in 5 women and 1 in 16 men are sexually assaulted while in college. More than 90% of victims do not report the assault.
According to Title IX Coordinator Tiffany Turley, although BYU does not share specific statistics of assault on campus, BYU's rates are similar to the national average.
"At the end of the day, we have the same issues as everyone else," Turley said. She said the Title IX office is working to educate the BYU campus on consent and raise awareness for sexual harassment and misconduct.
"We really want people to know when you face something like this, go get help," Turley said.
The Title IX Office provides services to those impacted by sexual harassment and sexual misconduct but Turley said other campus resources are also available like CAPS, University Police, the Student Health Center, Sexual Assault Survivor Advocacy Services, and Women's Services and Resources.
Turley said she is grateful for the people on campus who are helping to spread awareness and bring light to this subject to make a difference.
"I'm confident that as we work together, it will get better," she said.
In Utah, approximately 1 in 3 women have been sexually assaulted, according to a report in 2016 by the Utah Women and Leadership Project, meaning approximately 531,670 women in Utah have dealt with sexual assault.
While these experiences affect almost every aspect of a victim's life, many choose to not let it define them.
Abby, another BYU student, was sexually assaulted by her ex-boyfriend. "I don't like to be tied to it and I don't want to be known for it," she said, adding that relying on God and going to therapy has helped her heal.
After blaming herself for so long, Abby said she eventually learned to forgive herself for what happened.
Janelle broke up with her boyfriend, who had been sexually abusing her for almost two years, and is now in therapy to help her heal and move forward.
"It doesn't define my personality or who I am. Yeah, it's a part of me. But I went through this thing and I'm still me. I can still do the things I love," Janelle said.
One of the hardest parts for her, she said, was trying to understand why someone she loved, and who said they loved her, would abuse her.
"I was confused and hurt and felt like I didn't have anyone to talk to," she said. "I was worried I would be shamed because of the things that had happened to me."
Janelle said she had a difficult time talking about what happened because of the high importance placed on chastity in the LDS faith. "Growing up in Utah, you're expected not to do those things. Period. End of story."
Janelle said surrounding herself with friends who she could talk to about her experience and not feel judged by has helped her come to terms with what happened.
While she knew those things had been done to her unwillingly, Janelle said she was paranoid she would get in trouble with her parents or the Church for what had happened. She said that in Utah, sexual assault isn't seen as a problem because people take for granted how "safe" Utah is.
"Just because there is a Church community, especially in Provo, doesn't mean it doesn't happen here. It's more prevalent because we don't talk about it," she said.
According to the Utah Commission on Criminal and Juvenile Justice, only 11.8% of women report sexual assault to law enforcement compared to the national average of 34%.
Melinda Colton is the communications manager for the Younique Foundation, an organization located in Lehi, Utah, dedicated to raising awareness and providing resources for sexual abuse survivors.
"The biggest problem is people don't think this happens here," Colton said.
In 2019, Utah ranked 12th highest in the nation for number of rapes per 100,000 with a rate of 56.8, according to Statista and the 2019 FBI crime report.
Many survivors deal with guilt, think it is their fault, or even blame themselves for what happened. When trying to deal with the trauma after, they sometimes feel they are making too big a deal of what happened.
"When you are in the depths of things, you feel like you are overreacting and you'd be taking someone else's spot if you asked for help," Martha, a survivor of childhood sexual abuse, said.
Martha kept her abuse secret for 20 years until she "couldn't any longer hold in what had happened."
She said she sometimes worries who else her perpetrator has hurt. "I felt guilt and shame that I hadn't said anything and I could have prevented something from happening," she said.
Martha suffered a lot of trauma and said reaching out for help started her on a journey of recovery. After going through therapy, she saw a commercial for the Haven Retreat and eventually decided to go.