BYU Women's Basketball Star Shaylee Gonzales Makes SportsCenter Top Plays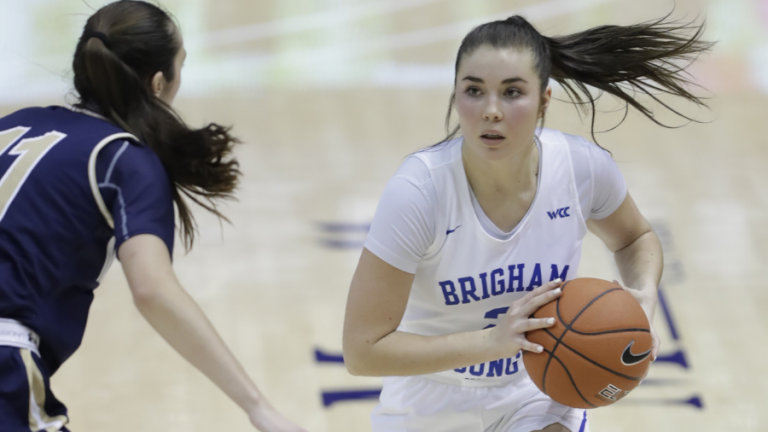 PROVO, Utah – BYU women's basketball is off to a 3-1 start to the 2020-21 season in large part because of the play from Shaylee Gonzales.
In the Cougars most recent victory over Montana State, Gonzales pulled a series of plays that drew national attention from ESPN's SportsCenter. BYU was leading the Bobcats by a score of 42-21 with 8:18 remaining in the 3rd quarter; Gonzales inbounded the basketball off the back of a Bobcat defender. She stepped inbounds and scored on a layup.
Shaylee Gonzales puts BYU Women's Basketball in front of the nation
Seconds later, she turned around to steal the inbounds pass from Montana State, put up a floater scoring four points in five seconds.
The sequence of plays garnered recognition from SportsCenter, crowning the impressive display of basketball acumen as the No. 4 top play for Thursday, December 10th.
Gonzales has been one of the stars of women's college basketball in the early part of this season, averaging 20 points per game and shooting 55.6 percent from the field and 53 percent from three-point range.
Before the start of the season, BYU head coach Jeff Judkins referred to Gonzales as BYU's version of Utah Jazz star Donovan Mitchell. The Cougars go as far as Gonzales will take them.
Last season, Gonzales missed the year due to an ACL injury she suffered in the off-season, just months after leading her team to an NCAA Tournament bid and run to the second round of the Big Dance.
Gonzales and the Cougars are next in action on Saturday when they host Boise State at the Marriott Center. Tip-off is scheduled for noon and will air on BYUtv.