BYU's Caleb Lohner Puts In Extra Work On Free Throws After Win Over Pacific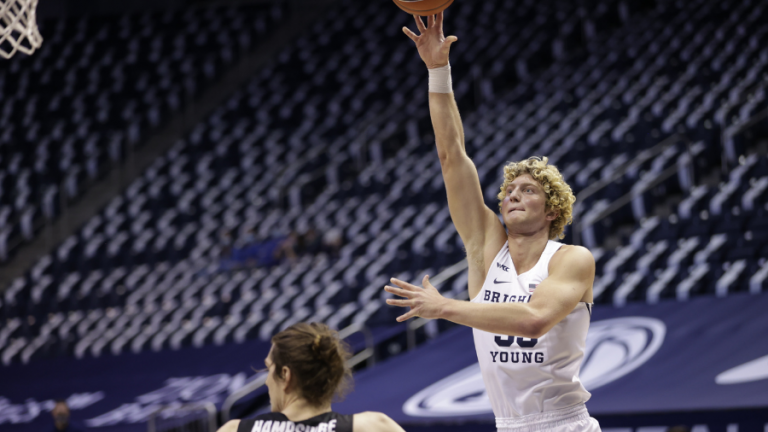 PROVO, Utah – BYU freshman forward Caleb Lohner has shown flashes of how talented and great he could be during his career with the Cougars. But every great player would tell you they've faced adversity along the road to greatness.
Adversity hit Lohner on Saturday. But it's easier to learn from a tough lesson after a win rather than a loss.
The freshman standout missed a pair of free throws with six seconds left in regulation during BYU's eventual win over Pacific. Lohner's misses from the foul line sent the game into overtime.
BYU edged out the upset-minded Tigers, 95-87, to secure the important win to keep their at-large NCAA Tournament resume in good standing.
After the game, Lohner, who ended up with four points and eight rebounds in 21 minutes of action, returned to the Marriott Center floor to get extra work on his free throw shooting.
Caleb Lohner has star potential
Lohner, who always likes to make a fashion statement, came back out onto the court in a beanie, basketball shorts, and a shirt around his shoulders to practice free throws. He hooked up his phone to a Bluetooth speaker and had first-year graduate assistant Bradley Kitchen rebound shots for him.
Lohner put up free throws for about 20 minutes till around 8:10 p.m. (MT) and then called it a night. The extra work can only pay off down the road as BYU heads into the stretch run in the final month of WCC play coming up.
The 6-foot-8, 230-pound freshman, has shot 71 percent from the foul line this season. Lohner was 2-5 from the charity stripe against Pacific. BYU as a team only shot 64 percent from the line in the win over Pacific.
A heralded signee from Wasatch Academy, Lohner has already earned WCC Freshman of the Week honors once this season for his play in a rivalry win over Utah back in December. Lohner is averaging 5.7 points and 6.6 rebounds through 18 games this season.