Three Observations From BYU Double Overtime Win Over Pacific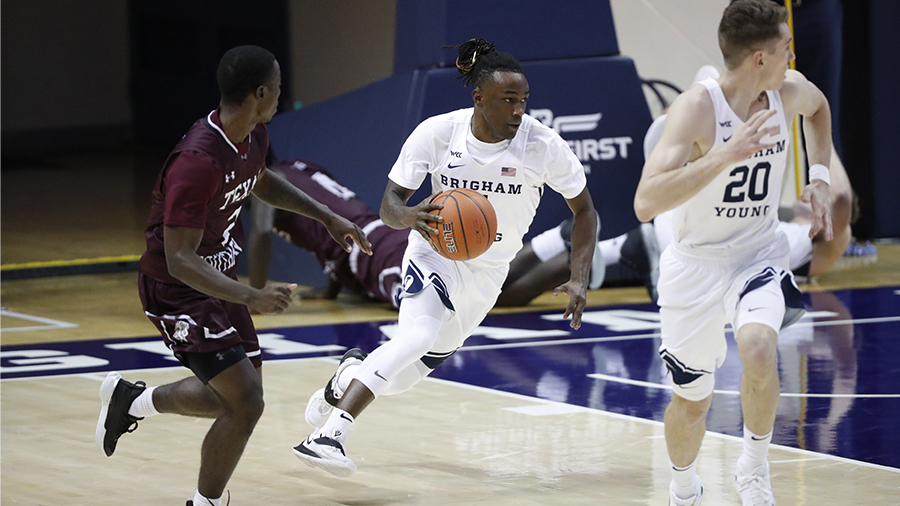 PROVO, Utah – The BYU Cougars outlasted the Pacific Tigers in double overtime 95-87 in the teams first meeting of the season.
In the second overtime, BYU put up 20 points to finally put away Pacific.
Brandon Averette led the Cougars in scoring with 24 points. Alex Barcello was right behind him with 23.
It wasn't pretty, but the Cougars found a way to make enough plays defensively to get the win.
A home loss would have been a big blow to the Cougars chances for an at-large bid. Instead, they remain in the drivers seat for a chance to play in the big dance.
Here are my three observations.
1. Brandon Averette three point shooting
Averette connected on five long distance bombs, and BYU needed every one of them. He kept the Cougars alive in the first half, scoring 13 points when the offense struggled.
The Cougars held a seven point lead with 12 minutes remaining in the first half. BYU then went ice cold scoring eight points over the next eight minutes.
Pacific led by one at the break, but it could have been much worse without the scoring from Averette.
Averette was five for eight from the three point line. The rest of the team was six for 21.
Needless to say, his scoring was the difference in a much needed win.
2. Alex Barcello getting to the rim
Barcello was in a slump prior to the game. After the first half, it felt like the slump was going to continue.
His three point shot has not been falling in conference play. What did he do in the second half? Barcello stopped hovering on the perimeter and attacked the rim.
He went five for six from the field in the second half and overtime. His only miss was his only three point attempt in the game.
Barcello got to the free throw line as well making three of his four attempts.
Plain and simple, BYU needs Barcello to score and he answered the call after halftime.
3. Free throw shooting
This game could have ended a lot sooner than it did if Caleb Lohner was able to make one free throw at the end of the second half.
He missed a pair of free throws with two seconds left that would have ended the game.
It was a pressure situation for a freshman.
He'll get better from that moment. It's a good learning opportunity that will push him to get better.
As a team, the Cougars responded from the free throw line in the second overtime making all nine of their free throw attempts.
Credit BYU for making free throws down the stretch to put the game away. A couple more misses, and who knows what the outcome would have been.