Chick-fil-A Employee Awarded 'True Inspiration' Scholarship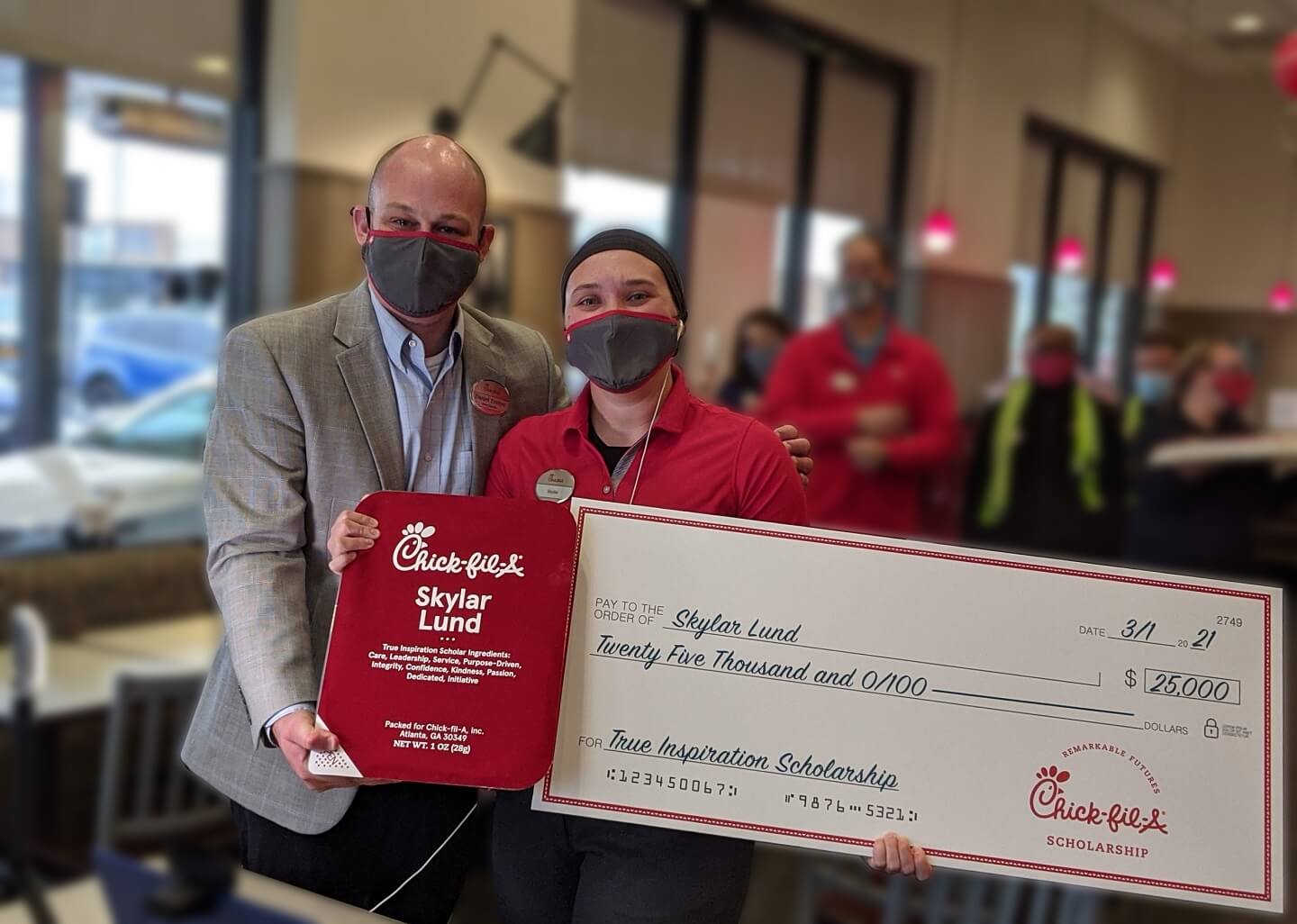 PROVO, Utah – Jacob Munton (23) sat in an office at the Chick-fil-A restaurant in Spanish Fork on March 17, for what he thought was a regular-old-corporate-type-meeting via Zoom. A few minutes into that meeting, Chick-fil-A CEO stepped on and notified Munton that he was one of 12 others nationally who would be awarded a $25,000 "True Inspiration" scholarship to continue his education.
The scholarship is part of the restaurant chain's Remarkable Futures program that awards millions of dollars in scholarships to its employees, and Munton said that when he heard of the scholarship, he decided to just go for it.
For the past year in fact, Munton had been working at Chick-fil-A to pay for his schooling at Brigham Young University, where he is studying human resource management. He has been married for just over a year, and he and his wife have each been working to pay for their respective educations. The chance to have one of those educations paid for was something the couple couldn't pass up.
"When I heard about the scholarship, my wife and I decided that we would just go for it, and fill out the application with honesty and hope for the best."
The honesty that was expressed in that application outlined Munton's desire to obtain an education because he wanted to make a difference in the lives of those he came in contact with every day.
"It's not just about serving chicken," Munton said. "We have a unique opportunity to come in contact with hundreds of people every day. Sure, it is a fast food restaurant, but you can make a difference anywhere in the world if you take the chance."
Munton spoke of a time when he had a fellow worker who he was struggling with, and not because the worker was difficult, but because they each came from different backgrounds that just didn't mesh. He talked about taking time one day to talk to this individual, and how that conversation opened up understanding on both their parts. It was moments like these he said that made him want to try his hand in a leadership position in human resources.
According to store manager Scott Rasband, Munton has what it takes to be a great leader.
"Jacob is an awesome team member," Rasband said. "It was so neat to see him be awarded the scholarship because he is such a humble person and will do great things."
Along with the scholarship Munton received, he will be attending the Leadership Development Program offered by Chick-fil-A that helps train individuals to eventually own their own franchise.
Several other employees at the Spanish Fork location were awarded $2,500 leadership scholarships with the total scholarship amount for store employees this year being $62,500.