College football conferences, leadership, coaches wrangle over opening date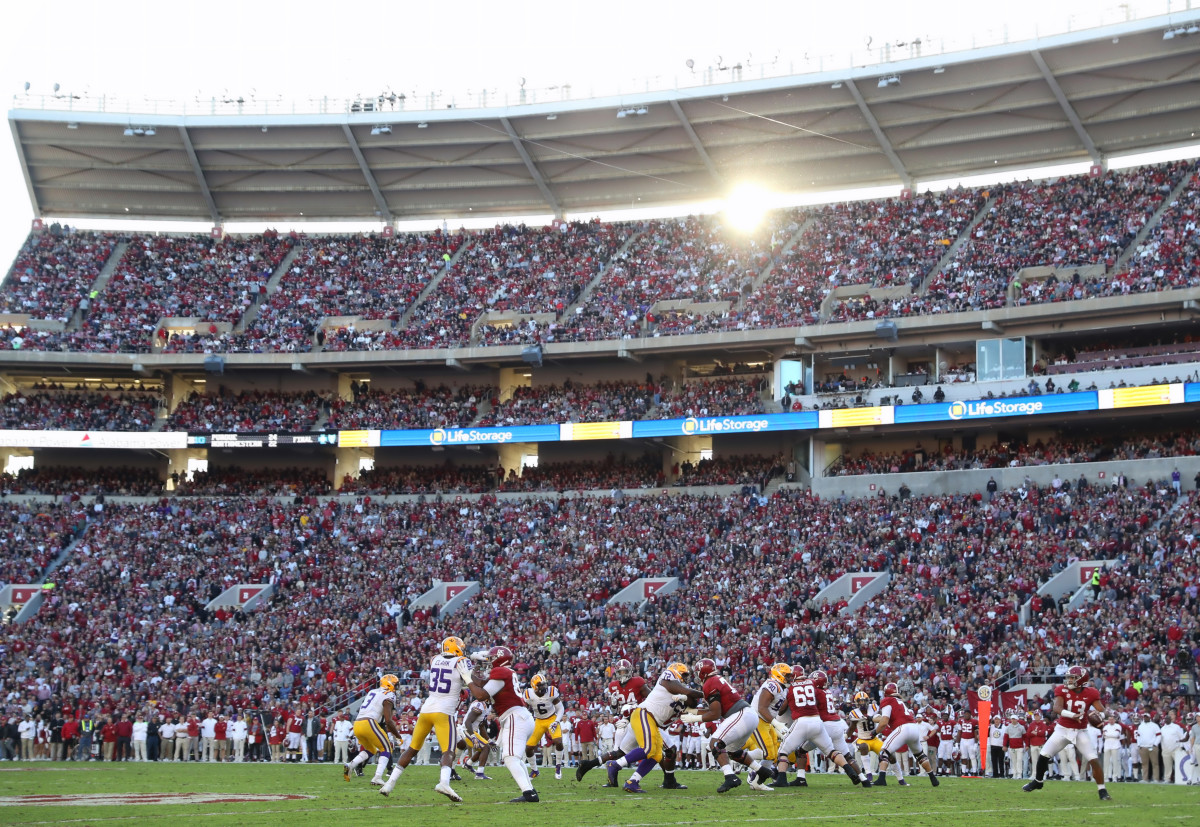 PROVO, Utah — While some college football teams are gearing up to begin practices, it remains clear as mud if college football will kick off on time this fall.
The country is fragmented on opinions, and college officials fear a big outbreak might return, a boogeyman that overshadows everything discussed mid-May.
Liability and fear of blame hover amongst a genuine desire for safety.
In Utah, Gov. Gary Herbert moved the state closer to opening. At the same time, BYU and Utah State athletic officials said they were not ready to announce a return date for athletes to use on-campus training facilities.
The NCAA isn't going to pitch out a date for college football to start, and it may not even be up to each conference as to when teams return to practice fields and officially play a game.
"I feel like I'm at Grand Central Station," Mountain West Conference commissioner Craig Thompson told Sports Illustrated, "and there are 10 trains leaving in different directions, and we don't know which one to get on."
NCAA president Mark Emmert said this past week that the governing body was not going to establish a uniform date to reopen football, as NASCAR staged its first races in venues without fans this weekend at Darlington.
"Normally, there's an agreed-upon start date for every sport, every season," Emmert told ESPN on Tuesday. "But under these circumstances, now that's all been derailed by the pandemic. It won't be the conferences that can do that either. It will be the local and state health officials that say whether or not you can open and play football with fans."
Explained Emmert, "We already saw the Oregon governor offering her views on what's likely to happen in September. The Pac-12 can say, 'Gee, we'd all like to open up on this date,' but whether or not you can is going to be ultimately up to the state and local health officials and the campus itself making a decision whether or not they want to go forward."
The NCAA's medical experts on staff paint a strange picture of what football operations might look like with COVID-19 tests every five days, limitations on passing around footballs without gloves, two tiers of staff/coaches with different contact with athletes, limits on exposure of staff and coaches who are older or have medical conditions. A flare-up of infections could halt operations and practices.
Here is a list of events and announcements of college football programs around the country and how officials are coping or guessing.
In Arizona, the governor declared that all sports can resume this week without fans. This means Major League Baseball could use the state to get things started and it certainly sent a signal that Arizona State and Arizona of the Pac-12 have permission to reopen if presidents and local county health officials agree.
At Cal-Berkeley, coach Justin Wilcox told ESPN his team is prepared to begin fall camp off-campus at a remote location if social distancing on the Berkeley campus is a hurdle. He has praised the school's leadership and task force for planning with options.
In Oregon, Gov. Kate Brown announced there would be no gathering of big crowds through September and that was taken to mean schools, universities and athletic teams, as in football practices. That notion brought a raised eyebrow from Pac-12 commissioner Larry Scott who told reporters, "A statement someone makes in May about what's going to happen in September, it seems to me, is a very long ways away and there is a lot more for everyone to learn between now and then."
In Norman, Oklahoma, Sooner coach Lincoln Riley said bringing players back too soon, like in June, may be irresponsible and there should be no rush. "All the talk about these schools wanting to bring players back on June 1 is one of the most ridiculous things I've ever heard," Riley said in a Zoom chat with reporters. "We've got to be patient. We have one good shot at it."
The SEC will hold a vote on May 22 from among its presidents and chancellors to decide a date when athletes can return to workout facilities on campuses. A date of June 1 has been kicked around.
Mountain West schools in California's educational system (San Diego State, San Jose State, Fresno State) remain in limbo. In a joint statement by Fresno State's president and MWC commissioner Craig Thompson, academics will take the lead in the opening of campus life, including sports. The statement, released this week, read: "Certainly, all conversations are led by academics, as well as public health and safety. Within that framework, more determinations are necessary. All three institutions will work closely with the Mountain West. No decisions on athletics have been made."
The University of California system, which includes UCLA and UC Berkeley, is a separate organization from the California State University system, and USC is an entity unto itself, all of which could mean opening policies by one could differ from the another.
University of Arkansas athletic director Hunter Yurachek told the school's board of trustees in early May his department was fine-tuning a plan to open its weight room and training room on June 1 for voluntary workouts to athletes who live near the school.
In Louisiana, the state high school association has thrown out the date of June 8 for athletes to return to high school facilities and have workouts. That date is up for debate amongst members and could change.
"I'm cautiously optimistic," says AAC commissioner Mike Aresco, "and I am growing more optimistic daily that we are going to have a season and that we might even be able to start on time in the fall under certain conditions."
What you have here is college football on the brink.
There are no definitive dates, but there are a lot of different opinions and plans.
The worst-case scenario is that football is canceled or delayed. The worst part of the best case-scenario is that play begins on time in September, but there are no fans in the stands.