Could legislation help families and loved ones connect in lockdown?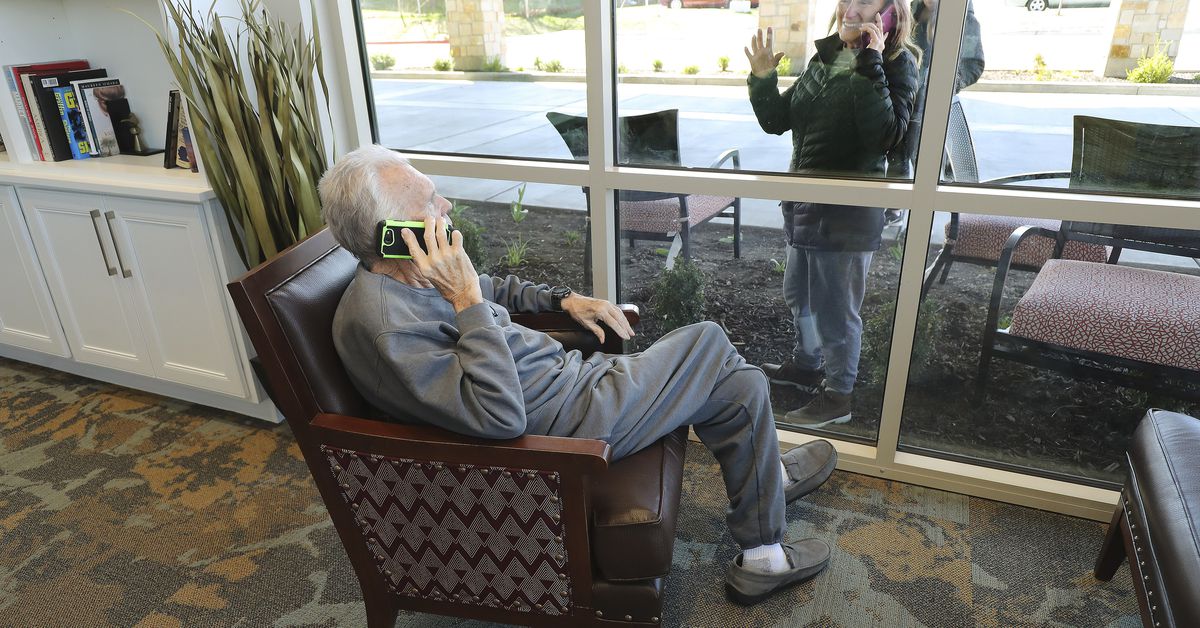 PROVO, Utah – Since the beginning of the pandemic, long-term care facilities throughout Utah have been shuttered to outside visitors. Churches, too, were initially limited to smaller crowds and fewer meetings.
While that was done to protect communities and facilities from further spread of the novel coronavirus, Utah Rep. Cory Maloy, R-Lehi, wants to be sure state government doesn't prevent people from getting the spiritual and emotional fulfillment they might need, especially in times of crisis.
"Certainly we are in a pandemic and we all need to do our part to keep each other safe, but there are people going months and months without contact. It is a major detriment to their well-being," Maloy told the Deseret News, adding that he believes the Utah Department of Health is doing and has done its best to protect the public since the COVID-19 pandemic hit Utah last year.
In some cases, however, what the health department recommends isn't what families need.
Jenny Allred's tight-knit family went months without seeing their 95-year-old grandmother last year, and it was difficult for everyone.
"I can't tell you how helpless you feel when your loved one is in a facility and you don't have the freedom to go in and see them," she said. "There's something about having that personal contact that lets you keep going through the next day and the next."
The elderly woman, named Annie, is in a wheelchair and cannot care for herself but is entirely aware of her surroundings and has missed her family throughout the pandemic and the various regulations that have come along with it.
At one point she contracted COVID-19, and the family couldn't even find out if she had survived. In addition and not unexpectedly, Annie has struggled with depression and anxiety along the way.
The Salt Lake County facility where she lives now permits 30-minute scheduled visits, but visitors must stay 6 feet away and always wear masks, understandably. Visits must also be scheduled ahead of time and there can only be one visit per day for up to two people.
"I've watched my aunt and my mom work so hard to make connections," Allred said.
The family has tried everything. They sent gifts and food through the mail, visited outside the window and made countless phone calls to keep grandma's spirits up.
They eventually placed an Alexa unit in their grandmother's room, but, "there's only so much you can do over Alexa," Allred said, noting, too, that technology isn't as easy for a 95-year-old.
"You want those people you love to be safe," she said. "I don't think anyone would argue that. But, beyond physical safety, there's a level of emotional wellness that plays into it."
Maloy's proposal — HB184 — addresses those personal and religious liberties, specifically contact with family and spiritual leaders during a pandemic or other situation that requires facilities to be in lockdown.
The lawmaker said facilities, as churches have done, should provide a way for people who consent to such contact.
"There are certain things that are worth the risk, especially when we have everything in place that can make sure people stay safe," Maloy said.
More than 77% of COVID-19 deaths in Utah have involved people over age 65, according to health department data. And many of those people lived in unique care settings that include close contact with other residents and staff. The facilities have been plagued with coronavirus outbreaks from the start of the pandemic, as people over 65 or with underlying health conditions have been more susceptible to severe disease resulting from infection.
"The Utah Department of Health has an important responsibility to respond to outbreaks of infectious disease in order to protect the health of Utah residents," Tom Hudachko, the department's spokesman, said, adding that the health department is willing to work with Maloy.
Maloy said families, just like the Allreds in Lehi, have struggled with not having access to their loved ones residing in health care facilities. Those loved ones, too, haven't had access to spiritual leaders they have grown accustomed to hearing from.
Historically, he said, access to religious leaders has been a priority. "Chaplains dodged bullets on the battlefields to give last rites to fallen soldiers," Maloy said.
Most, if not all churches throughout Utah have reopened since early in the pandemic, operating under recommendations from the health department, but taking upon themselves "to do the right thing to protect their congregations," the representative said. He said everyone should be able to have access to those resources, even throughout lockdown.
"The government can't come in and shut down churches," Maloy said, adding that state officials have a difficult job to do in the midst of a global pandemic. "There's so many unknowns, it's easy to start doing things that infringe upon a person's rights."
Utah reported 2,159 new cases of COVID-19 on Wednesday, bringing the state's total known infections to 328,380. State epidemiologist Dr. Angela Dunn told members of Utah's Health and Human Services Committee on Wednesday that "we are seeing signs of a true decrease in spread."
The state is still testing more than 10,000 per day and identifying fewer cases, she said. It is resulting in a recent drop in case counts.
The rolling seven-day average for percent of positive laboratory tests is 18.9%, whereas it was nearly twice that weeks ago, Dunn told lawmakers.
Another 10 deaths were also reported on Wednesday, including six women and four men, most in Salt Lake and Utah counties. COVID-19 has killed 1,517 people in the Utah since April last year.
Close to 2 million Utahns have been tested for COVID-19 since then, too, some of them multiple times, though the health department reports that separately. There are 551 people currently hospitalized with COVID-19 throughout Utah, with hospitals having the most specialized intensive care unit capabilities reporting maximum capacities.
A statewide face mask mandate is still in place, as transmission rates throughout Utah remain high.
The state has issued 181,169 doses of COVID-19 vaccine, 8,566 more than was reported on Tuesday.