Driver speaks after rock smashes through windshield, injuring passenger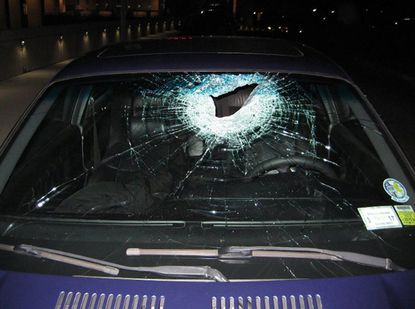 PROVO, Utah — The passenger of a car that was hit by a flying block of concrete in Carbon County on Sunday is still in Utah Valley Hospital being treated for serious injuries, including severe head trauma.
"We're listening to an audiobook, everything's going well, everything was going real great, and out of nowhere, for a split second, I just see what looked like a truck that just passed by, and right behind it a rock that bounced full force, came through and broke and shattered the windshield. I didn't even have time to blink," Sahil Singh told FOX 13 on Tuesday.
He and his girlfriend Annmarie were on their way to Brighton after snowboarding in Colorado when their lives changed in the blink of an eye.
"[I] turned to the right and I just see blood everywhere. Blood and glass all over the place," Sahil said.
He says what happened next is thanks to his firefighter training.
"I have two years fire experience, and we go through stuff like this, so immediately I went into work mode. First thing I did was take my shirt off and put it on her head and keep pressure on it," he said.
To his amazement, Annmarie was still conscious after the rock crashed through the windshield and hit her in the head.
"She just had no idea what was going on. She didn't know a rock hit her, she didn't know anything. She asked me, 'Sahil, what's going on, what happened?'"
Initially, Sahil thought the rock came from the steep mountainside above S.R. 6 just outside of Helper.
"But I was looking at the rock, and it was a cement block, a piece of a cement block that had broken off," he said. "So, I'm like, 'There's no way this came from a cliff.'"
To make matters worse, Sahil did not have cell service. He says if it weren't for one couple who stopped to help, the situation could've been much worse.
"They were great. If they are watching this, thank you guys so much for that," he said.
Annmarie was rushed to the hospital in Price, where doctors stabilized her. She was then transferred to Provo to undergo emergency surgery.
"The doctor came back, they finally gave me some great news saying that surgery went well and she's doing great," Sahil said. "I asked the doctor if there is any lasting effects, [and the] doctor said, 'As far as we can see, her brain looks completely fine.'"
Sahil said the experience taught him to value the little moments in life, because you never know when life can take a turn. He also had a message for Annmarie as she recovers:
"Hey Annmarie, I'm here outside the hospital. I'm going to go in and meet you in a second. I just want to say I love you, you're amazing and we are going to get through this," he said.