Fake Vaccination Cards, Protesting Encircle & Tech Industry Wage Gap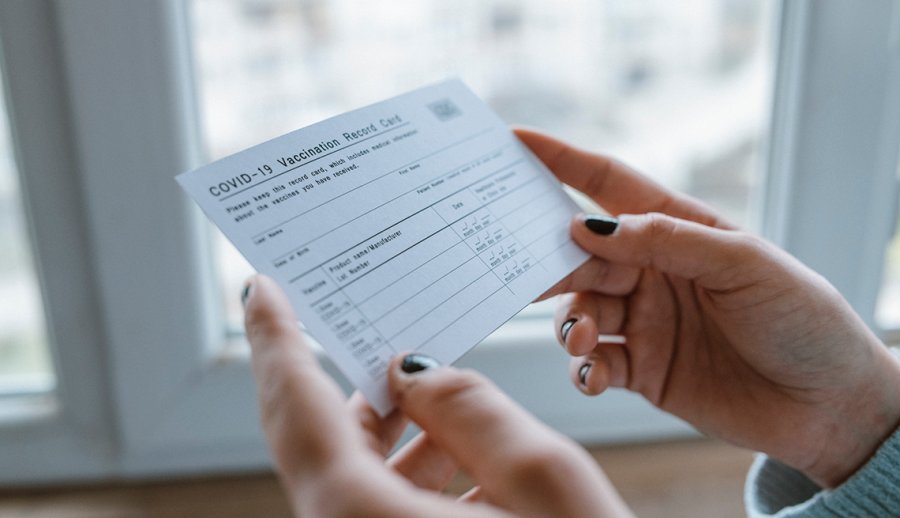 PROVO, Utah – Utah Attorney General Sean Reyes is calling on social media and e-commerce sites to prevent the sales of fake vaccination cards. Reyes joined 31 other attorneys general in signing a letter to the CEO's of these companies. They asked the sites to take down ads or links promoting blank or fake cards. The AG's also ask for the companies to track and record who posts the ads or makes any sales. Reyes said these tactics are designed to "exploit vulnerable citizens." He said fake vaccination cards threaten the health of the community and violate many states' laws. — Ivana Martinez
Utah COVID-19 Update
Utah health officials announced 422 new COVID-19 cases Friday. Since the start of the week, the state's seven-day average of new cases has decreased. Utah's positivity rate has also dropped slightly compared to Monday — it's now to 3.4%. There are 138 people currently hospitalized due to COVID. That's an increase compared to last Friday. Officials said six more people have died from the virus but four of those deaths occurred before March.
Northern Utah
Community Members Plan To Protest Encircle's Fundraising Effort Saturday
Some community members are planning to protest Encircle's fundraising project Saturday in Salt Lake City. Encircle is an LGBTQ advocacy organization. It's raising $8 million to build eight new locations around the region. Ermiya Fanaeian is a trans activist and one of the protest organizers. She said the money would be better spent on "housing for homeless queer and trans youth in our state, so that when they are kicked out of their homes and on the streets and [have] nowhere to go, they are able to go to this organization." A statement from Encircle said their mission is to support LGBTQ youth and their families by providing safe spaces, like support groups and mental health services.
Provo And Ogden Home To Some Of The Largest Wage Gaps In The Tech Industry
Provo has the largest gender wage gap in the tech industry in the country. That's according to analysis of census data by Lending Tree, an online loan company. On average, women tech workers in Provo earn only 54% of what men earn. Ogden is tied for the second worst with Portland, Oregon. In both those cities, women make 61% of what men do in the tech industry. — Sonja Hutson
Salt Lake County DA Announces New Charges In Nicole Solorio-Romero Case
The Salt Lake County District Attorney announced new charges Friday in Nicole Solorio-Romero's case. Solorio-Romero's kidnapping in February was caught on security footage. She was murdered soon after. Her body was discovered last week. A total of six people have now been charged with crimes like murder, aggravated kidnapping and abuse of a human body. Among them is a woman who police are accusing of ordering the kidnapping because Solorio-Romero allegedly owed her money.
Southern Utah
Vaccinations Begin To Slow On Utah Portion Of Navajo Nation
COVID-19 vaccinations on the Utah portion of the Navajo Nation are starting to slow down now that shots have been available to all adults there for over a month. Hundreds of people showed up to get the shot every week when the Utah Navajo Health System started holding vaccination drive throughs back in January. Now, they do around 70 or 80 vaccinations a week, according to Byron Clarke, operations director for the Health System. UNHS employees have started calling patients who haven't been vaccinated yet. They answer their questions and address any concerns. At least 35% of the health system's patients have received the first shot so far. Read the full story.
Region/Nation
Rural Community College Enrollment Took A Huge Hit From Pandemic
College enrollment took a significant dip throughout the U.S. last year, but it's been especially hard on rural students and rural community colleges. Rachel Rush-Marlowe is with the Association of Community College Trustees. She found the pandemic severely hampered rural college enrollment. She said rural community colleges are often big employers and host town activities, so if we lose them, we could really hurt rural America. Rush-Marlowe identified three areas where these institutions could use more support: broadband internet access, mental health resources and more equitable funding.