First-of-its-kind affordable apartment project for autistic adults planned in Provo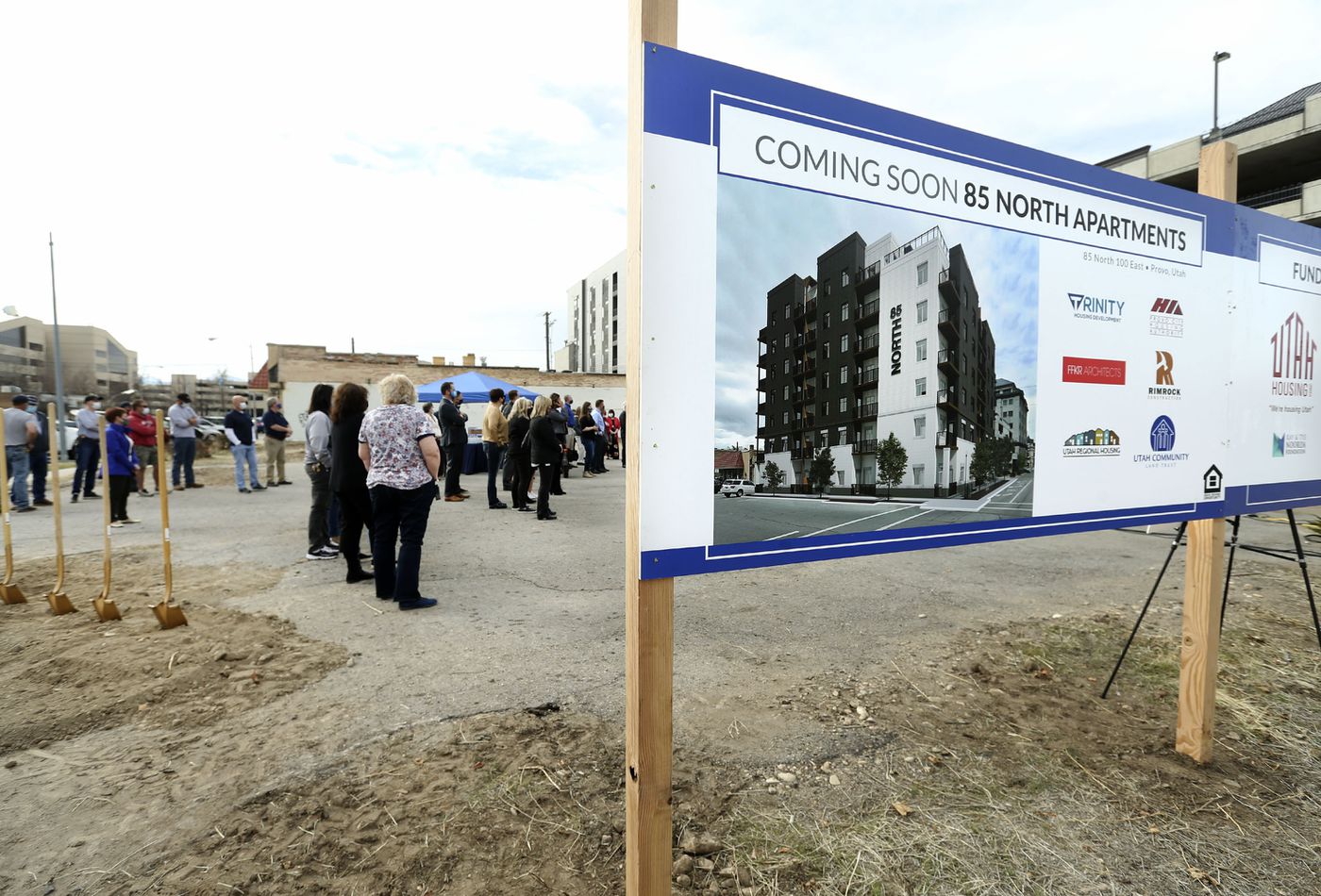 PROVO, Utah— Utah County will soon house what's believed to be the first large affordable housing project specifically for adults with autism in the country, leaders announced Thursday.
"Something that I've realized is that there are a lot of students and just people on the autism spectrum who just don't have as many opportunities or availability to housing that a lot of people do," said Harrison Peterson, a student at ScenicView Academy, a Provo school for those between 18 and 32 with autism spectrum disorders and other neurodiversities.
"It's not classified as a disability, so this is just going to be such a big improvement toward general public awareness and just increase the ability for people on the autism spectrum to be able to kind of find independence and be self-sustaining while also being part of the community," Harrison said after he took up a shovel with community leaders for a groundbreaking at the future location of the building at 85 N. 100 East in Provo.
85 North Apartments will include seven stories and 74 one-bedroom units — 44 of which will be rented to senior citizens ages 62 and older, and 30 of which will be dedicated to adults on the autism spectrum.
Utah Regional Housing and the Provo City Housing Authority will own and manage the estimated $20 million building, while ScenicView will provide on-site services to the clients it refers to the apartment complex.
Robert Vernon, CEO of Utah Regional Housing and the Provo City Housing Authority, said the project will be one of the largest affordable housing projects ever constructed in the county, and the first of its size to be built specifically for those with autism in the U.S.
Those in the autism resources community "are struggling to find a model to build large-scale housing with wraparound services, so this has been a good deal," Vernon said.
The building will be completed in 18 months, and will start leasing in September 2022. While federal law requires at least 5% of an apartment's units to be Americans with Disabilities Act-accessible, the 85 North Apartments will have seven or eight ADA units, which is around 10%, Vernon said.
The apartments will get leased at current low-income tax credit rates, which are set by the state.
"But generally, we're looking at somewhere in the $750-850 range for a one bedroom unit, and market rate on those would be $950-$1,000," Vernon said.
Funding for the project is coming from two allocations of state and federal tax credits. American Express is the equity investor, putting close to $15 million into the building in return for tax credits, according to Vernon.
About 15 other cities have reached out to the community organizers working on the project "and have an interest in what we're doing and how we did it," he said.
"So we do expect to help other communities do this same thing as we try to fill that need," Vernon said.
Doug Gale, chairman of Utah Regional Housing and the Provo City Housing Authority, noted that Brigham Young University and Utah Valley University — both seated in Utah County — already provide support for senior citizens and adults with autism. He described the new housing effort as "arms coming together" to help those community members.
"These adults are wonderful people, and they need and deserve a place to stay," Gale said.
Utah County is also a "hot box" for adults with autism, he said, and about 25% of adults with autism in the U.S. live on their own.
"This program, I think, will be a model in the U.S. They're looking for models of programs for adults living on their own independently," according to Gale.
The development is close to bus lines, grocery stores and the library, he noted.
Sen. Jake Anderegg, R-Lehi, said that in his co-chairman positions on both the Utah Housing Affordability Commission and the Social Services Appropriations Subcommittee, he's "seen firsthand that intersection of this needing population. Not needy — needing population."
"These people are incredible people that I have the privilege of associating with," he said.
Before the beginning of this year's legislative session, business leaders including Gail Miller and Clark Ivory told lawmakers that if the state committed $105 million to housing and homelessness, private sector philanthropists would match the funds 14-1.
Ultimately, legislators committed $50 million to those issues, and philanthropic leaders matched it with $740 million, Anderegg noted.
He emphasized his hope for resources to go to the quickly growing county.
Within five to 10 years, Utah County is projected to surpass 700,000 residents, giving it a "first class" county classification like Salt Lake County.
"So I think that we're going to continue to see the need increase here, and quite literally I'm going to call out not just only Provo but also the Utah County Commission. We've got to do better in planning, in putting transitional housing, permanent assisted housing, affordable housing units together for the lower area median income," Anderegg said.
"And we've got to be able to do it in a cohesive, systemic way that doesn't upend or harm our communities."
In visiting other cities for research, Anderegg said he's seen that such projects can be built in a way that they don't negatively impact an area, but can enhance it.
He promised to work to ensure leaders are "aggressively" meeting needs of residents "and that we're doing it in a sustainable way."
Provo Mayor Michelle Kaufusi said "this project is an impressive example of how a thriving community takes care of the most vulnerable citizens. While this project will make a significant difference, there is still a great need for affordable housing for seniors and disabled individuals."