Gabby Mocchi boosts frontcourt for Montana State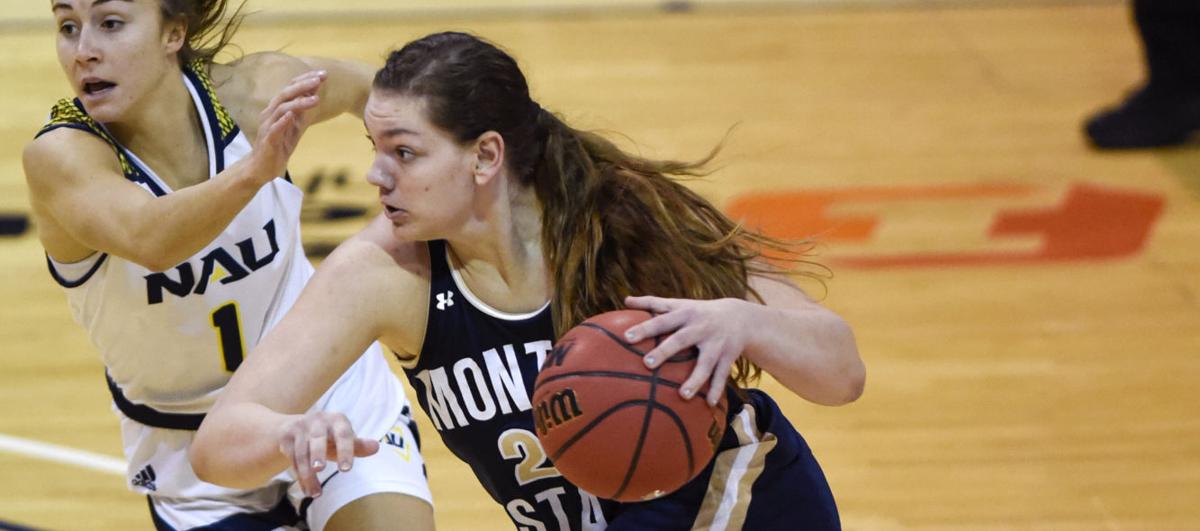 Utah – Finding the turning point of Gabby Mocchi's career as a Montana State player isn't hard.
"When we gave her a shot against Utah Valley," Bobcats head coach Tricia Binford said decisively.
In MSU's 66-63 win in Orem, Utah on Jan. 2, the 6-foot-1 junior from Champlin, Minnesota, played 20 minutes, five more than in MSU's first four games this season combined. Her 13 points was a career high, and four rebounds was her second-most as a Bobcat.
Her consistency is evidenced in statistics — she has scored in double digits in six of the last nine games — but it isn't confined there. Former teammate Blaire Braxton, now in her first season as a Bobcat assistant coach, said that since Mocchi's first days in the program she "is the same person every day. She's positive, she's enthusiastic, she cheers on her teammates, she never fails to have a great attitude in practice. She has literally been the same person every day."
Mocchi will aim to continue to help the Bobcats (9-5, 6-2 Big Sky) when they host Weber State at 6 p.m. Thursday and noon Saturday.
Mocchi has been a skilled basketball player oozing positivity since the day in elementary school when a friend made an unexpected invitation.
"My mom played volleyball and softball, but I always liked basketball," Mocchi said. "In fourth grade, I had a best friend at the time that said, 'I'm going to go try out for this traveling team (that plays in the fall and winter), do you want to come with me?' So I went to tryouts and somehow ended up making a team."
The team Mocchi made so many years ago was coached by Jeff Munneke, a member of the Minnesota Timberwolves organization since its inception, who Mocchi calls "an amazing coach. My dad coached me in third grade, but (Munneke) was the first true coach that I had, and he coached me all the way through seventh grade. He was such a big influence because he not only developed us as basketball players but as people. He was like, 'Before the games, you're going to shake their hands, after the games you're going to shake their hands. It's (important) how you carry yourselves.' He was a big part not only of my basketball career, but of how I hold myself as a person."
As her career progressed, Mocchi joined the Minnesota Fury, a high-level travel program where she played in the same organization as current Bobcat teammates Tori Martell, Sydney Stensgard, Taylor Janssen, Sidney Zieske and Kenzie Stumne.
Mocchi starred at Champlin Park High School, where her team was 23-5 overall during her senior season. She averaged 12 points, six rebounds, three blocks and two assists per game during that campaign.
During her breakout 2020-21 season, she's occupied the four spot, which allows her offensive game to flourish anywhere from 3-point range to the low blocks. She shoots 45% from the floor, has hit 10 of her 22 3-point attempts and shoots 77% from the free-throw line.
According to Braxton, who also played post for the Bobcats, Mocchi checks all the boxes.
"One, we want somebody who can find open teammates in the high-low (sets) in the post," Braxton said. "Two, somebody that's going to be consistent every day, bring the action that we need and be solid in practice, because that translates to games so much. And then, an intensity that gets you on the glass and gets you hustling for those loose balls and those rebounds that are 50-50. Gabby's done a really good job showing she can be consistent in practice as well as being there for her teammates, always being a student of the game, and she deserves everything she's gotten."
The ability to contribute on the boards has spurred Mocchi's development and helped her settle into her elevated role.
"I think a really big point was the rebounding aspect, especially in practice," she said. "We were really harping on needing to win the boards in order to have a fair chance to win a game. That's something we've harped on all year, especially in the pre-conference season. Every game we won we won the boards, so that was something I really had to focus on. I had to be aggressive crashing the boards, and once I started to do that, it got me to the point where I was getting putbacks and doing the little things."
While Mocchi faced a strong trio of post players in practice during her first two years at MSU, a group which included Braxton and Madeline Smith, she credited last year's Big Sky MVP, teammate Fallyn Frieje, for infusing in her game a missing element.
A year later, though, Mocchi said a new mindset was forged by bumps and bruises.
"Fallyn was a different type of player, tough and gritty," Mocchi said, "so my sophomore year was a year for me to learn how to fight and be aggressive and play with grit and grime and not just (rely) on my skills. (Last year's senior posts) were different types of players, and they were all amazing."
While nothing about college athletics in the last nine months of 2020 was normal, beginning with the cancellation of the Big Sky tournaments last March with the Bobcats one win from reaching the dream of a conference title, Mocchi said time spent with her teammates remains a constant.
"The normal part is being with the team and traveling," she said. "That's been pretty normal, although it's been a little bit different on the road, but it's been great to actually be able to play this season. That was something we didn't know we'd get the opportunity to do, and we're so grateful for that."
A big piece is missing from the equation, though.
"It's weird not playing in front of fans, especially here" in Bozeman, Mocchi said. "Our community is so amazing, and they bring a lot of energy to games. It's weird that we can't have them at games, and it's so sad, but we've learned to create more of our own energy."
Another wrinkle in the age of COVID-19 is playing back-to-back games against the same opponent in a weekend.
"It's very different," Mocchi said. "We kind of have a little scout meeting beforehand and discuss maybe little changes, big changes, that we want to make between games, and then we work on those things in practice and get a lot of shots up and stay fresh (for the second game). But we also want to make sure we're ready and we're focused on what we need to do and what we need to change."
Mocchi's hard work has led her to a prominent role on the floor this season, but her steady attitude and effort is what has endeared her to her teammates and coaches.
"Not only has she worked for it," Braxton said, "but she's more than deserving, and she's had a great attitude the whole time. We're loving that about her."