Intermountain Healthcare hits 1 million COVID-19 tests; Utah adds 1,201 new cases, 17 deaths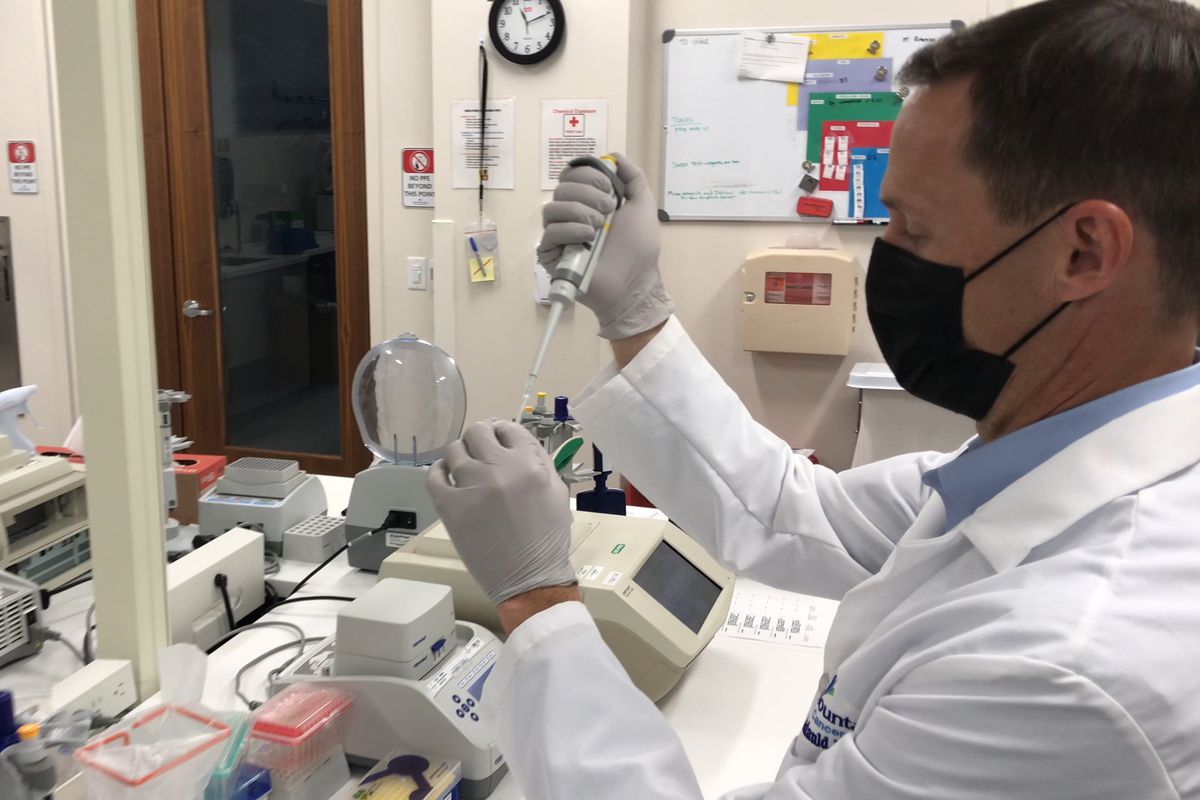 PROVO, Utah – More than 1 million COVID-19 tests have been performed by Intermountain Healthcare, a milestone marked Tuesday by the region's largest health care provider as the Utah Department of Health reported 1,201 new cases of the virus and 17 additional deaths.
More than 2 million people have been tested for the novel coronavirus in the state, including the 7,499 reported Tuesday. The rolling seven-day average for positive tests is 1,394 per day and 16.6% for percent of positive laboratory tests.
Intermountain Healthcare reached the 1 million mark for coronavirus tests on Jan. 28. When its testing program launched in mid-March 2020, just 14 tests were conducted the first day, Dr. Sterling Bennett, Intermountain Healthcare central lab medical director, told reporters Tuesday.
Within days, however, the number of daily tests jumped to 200 and then to 2,000 by the end of the first month, Bennett said, thanks to help that included equipment loaned by the Salt Lake City Mosquito Abatement District before mosquito season got underway that sped up the extraction process.
Now more than 7,000 tests for the virus are conducted daily, Bennett said, and the testing turnaround time is usually within 24 hours. Testing costs are billed to insurance, he said, but if they aren't covered, patients are not charged. Bennett said he did not know how much revenue COVID-19 has brought to Intermountain Healthcare.
Reaching the 1 million mark for tests is significant, he said, because "testing is essential for the monitoring and control of the pandemic. Our testing capabilities reflect Intermountain Healthcare's commitment to helping people live the healthiest lives possible, even in a pandemic."
Tom Hudachko, state health department spokesman, said through Monday, there have been more than 3.4 million COVID-19 tests done in Utah, including more than 1.2 million rapid tests that didn't need to be sent to a lab. Of the tests that were analyzed in a lab, Intermountain Healthcare handled the most, more than 949,000 in Utah alone.
ARUP Laboratories accounted for nearly 472,000 virus tests through Monday; Test Utah, a coronavirus testing program the state contracted with Orem-based Nomi Health to operate, about 240,000; Utah Public Health Laboratory, more than 280,000; and other labs, about 270,000,
Tara Hall, Intermountain's molecular pathology manager, said the efforts that produced tests for the novel coronavirus in record time started in February 2020. She said it's been a "very, very difficult year" for laboratory employees, but "what's kept us going is knowing we can do something to help get our communities back to normal."
For Hall, that means never forgetting their work is about patients.
"When it gets to these sorts of million numbers, it's easy to look at this as numbers," she said. "But we're constantly reminding ourselves that we are supporting patients and we are supporting our community."
Patient No. 5
Julian Romero, the fifth patient tested by Intermountain back at the start of the pandemic nearly a year ago, recalled his struggle with COVID-19. Now living in San Diego, Romero believes he contracted the virus during a trip to the Southern California city for a music festival the last weekend of February 2020, when he was 26.
"At the time, COVID wasn't a thing in San Diego, so they still held this event. We started hearing things in San Francisco and Seattle that it was becoming a problem," Romero told reporters. After returning to his parents' home in Utah where he was then living, Romero said he got sicker and sicker until he ended up in an emergency room.
There, Romero said, he tested positive for the coronavirus. His symptoms worsened over the following weeks and included becoming winded walking up stairs, coughing up blood, impaired vision, numbness in his arms and legs and a rapid heartbeat, leading to return emergency room visits.
"It took about a month-and-a-half for me to finally start feeling better," Romero said, although for several more months after that he suffered from what he described as "brain fog," causing him to forget why he walked into a room at times.
"For me, it was pretty rough," he said, although the friends who went to the music festival with him never became as sick, and no one in his household caught the virus. "Once I did get the positive test back, I did isolate in my room for a couple of weeks," he said.
Romero called it "amazing" that Intermountain has been able "to ramp up the testing and the turnaround time, because that's really the way to try to combat this virus."
Most accurate test possible
Dr. Bert Lopansri, Intermountain Healthcare associate medical director for infectious diseases and medical director for microbiology, said accuracy has always been the most important part of testing.
"The results of a COVID-19 test don't just have consequences for patients, but for everyone around them," Lopansri said. "We don't want patients to have a false sense of security based on negative results from less-accurate tests when they may truly be infected. Our commitment is to provide the highest quality, accurate test possible."
Tuesday, the state health department said another 13,672 Utahns have been vaccinated against the virus, bringing the total vaccine doses administered in the state to 325,457. Currently, 396 people are hospitalized in Utah with COVID-19.
The 17 deaths reported Tuesday include six that occurred before Jan. 13, the state health department said. The state's death toll from the virus is now at 1,685, with the addition of the following lives lost:
A Cache County man, older than 85, hospitalized at time of death.
A Davis County woman, between 65 and 84, hospitalized at time of death.
A Salt Lake County woman, older than 85, long-term care facility resident.
Two Salt Lake County men older than 85, one hospitalized at time of death and one not hospitalized.
A Salt Lake County man, 65-84, hospitalized.
A Salt Lake County man, 65-84, a long-term care facility resident.
A Salt Lake County woman, 45-64, hospitalized.
A Salt Lake County man, 45-64, hospitalized.
Two Salt Lake County men, between 35 and 44, both hospitalized.
Two Utah County women, older than 85, both long-term care facility residents.
A Weber County woman, 65-84, long-term care facility resident.
Two Washington County women older than 85, both long-term care facility residents.
A Washington County woman, 45-64, long-term care facility resident.