McCarthy Building Companies completes 128-MW Milford Solar Facility in Utah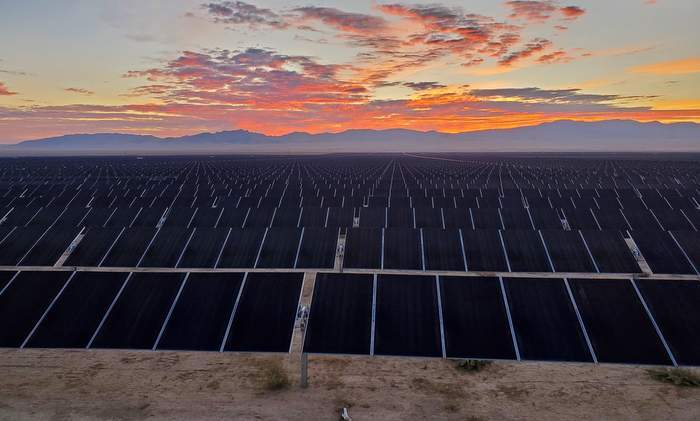 UTAH – McCarthy Building Companies' Renewable Energy and Storage Group completed construction and final commissioning of the 128-megawatt Milford Solar I Project in Beaver County, Utah. The project is situated on 750 acres just north of Milford, Utah. McCarthy's Renewable Energy and Storage Group served as Engineer, Procure, Construct (EPC) contractor for the project, which is owned by US Solar Fund (USF).
System details: Milford Solar I has more than 293,000 First Solar Series 6 modules, it also includes a new substation and transmission line. McCarthy's self-perform field forces installed all modules, 3,765 NEXTracker trackers, 27 TMEIC 4.2 mW inverter skids, all DC (direct current) wiring and combiner boxes and all underground 34.5  mV AC (medium-voltage alternating current) collection wiring. The project required more than 100 local workers to construct. In an effort to help recruit new people into careers in clean energy, McCarthy utilizes a program called Training Within Industries to train workers who are new to solar construction.
Off-takers: USF will sell 100% of the power and renewable energy credits generated at a fixed price for 25 years to PacifiCorp (S&P rating: A), a wholly owned subsidiary of Berkshire Hathaway Energy. PacifiCorp has contracted to sell all the renewable attributes associated with the project to a retail customer. PacifiCorp is a U.S. electric power company that primarily operates regulated utilities with a service territory across Oregon, Washington, California, Utah, Idaho and Wyoming.
The project is expected to generate more than 277,500 megawatt hours of electricity on an annual basis — equivalent to powering 31,000 homes or removing 51,000 cars from the road every year.
"The level of innovation our team produced on this project is best in class," said Scott Canada, senior vice president of the Renewable Energy and Storage group at McCarthy. "We're proud to be an industry leader, bringing clean energy to communities from coast-to-coast as more leaders understand the positive economic impact that renewable energy projects are having on their communities."