NCAA Tournament: Thirty Years Of BYU Basketball In March Madness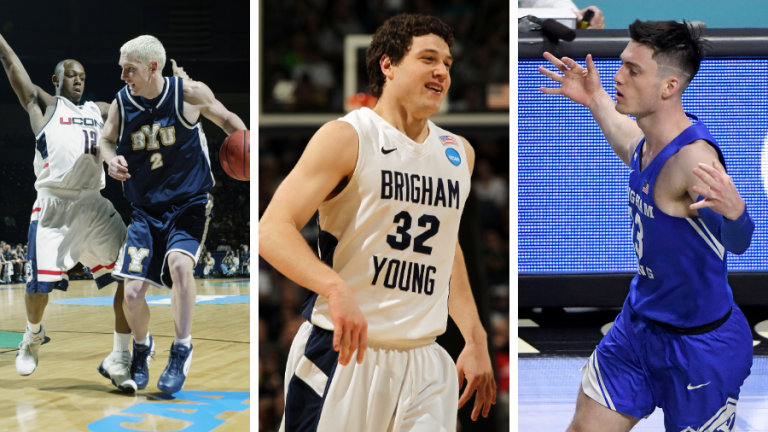 PROVO, Utah – BYU basketball receiving a bid to the 2021 NCAA Tournament marks BYU's 30th appearance in March Madness. The Cougars hold the dubious distinction of being the program with the most NCAA Tournament appearances without a Final Four appearance.
One could say, it's better to have been there, than to not be there at all, right?
BYU will look to play in its first Final Four in the 2021 NCAA Tournament.
Here is a look at BYU basketball's 30 years of history in the Big Dance.
BYU Basketball: NCAA Tournament History
BYU basketball's first season as a program was in 1902. Since that first year, the Cougars have won 62 percent of their games and have appeared in the Big Dance 30 times. Here are all of their appearances in the NCAA Tournament.
2021
First Round (Indianapolis): (6) BYU vs. (11) Michigan State/(11) UCLA, Saturday, March 20th, 2021
2015
West First Four (Dayton): (11) Ole Miss 94, (11) BYU 90
2014
West Second Round (Milwaukee): (7) Oregon 87, (10) BYU 68
2012
West First Round (Dayton): (14) BYU 78, (14) Iona 72
West Second Round (Louisville): (3) Marquette 88, (14) BYU 68
2011 (Sweet 16)
Southeast Second Round (Denver): (3) BYU 74, (14) Wofford 66
Southeast Third Round (Denver): (3) BYU 89, (11) Gonzaga (67)
Southeast Semifinals (New Orleans): (2) Florida 83, (3) BYU 74 (Overtime)
2010
West First Round (Oklahoma City): (7) BYU 95, (10) Florida 85 (2OT)
West Second Round (Oklahoma City): (2) Kansas State 84, (7) BYU 72
2009
West First Round (Philadelphia): (9) Texas A&M 79, (8) BYU 66
2008
West First Round (Anaheim): (9) Texas A&M 67, (8) BYU 62
2007
South First Round (Lexington): (9) Xavier 79, (8) BYU 77
2004
Phoenix Region (Denver): (5) Syracuse 80, (12) BYU 75
2003
South First Round (Spokane): (5) Connecticut 58, (12) BYU 53
2001
West First Round (San Diego): (5) Cincinnati 84, (12) BYU 59
1995
Midwest First Round (Memphis): (9) Tulane 76, (8) BYU 70
1993
Midwest First Round (Chicago): (7) BYU 80, (10) SMU 71
Midwest Second Round (Chicago): (2) Kansas 90, (7) BYU 76
1992
West First Round (Boise): (7) LSU 94, (10) BYU 83
1991
West First Round (Salt Lake City): (10) BYU 61, (7) Virginia 48
West Second Round (Salt Lake City): (2) Arizona 76, (10) BYU 61
1990
East First Round (Hartford): (5) Clemson 49, (12) BYU 47
1988
Mideast Regional (Birmingham): (4) BYU 98, (13) UNC-Charlotte 92 (OT)
(5) Louisville 97, (4) BYU 76
1987
SE First Round (Birmingham): (7) New Orleans 83, (10) BYU 79
1984
Mideast Regional (Birmingham, Alabama)
(8) BYU 84, (9) UAB 68
(1) Kentucky 93, (8) BYU 68
1981 (Elite 8 run in the NCAA Tournament)
East Regional (Providence, Rhode Island)
(6) BYU 60, (11) Princeton 51
(6) BYU 78, (3) UCLA 55
East Regional Semifinals (Atlanta)
(6) BYU 51, (2) Notre Dame 50
East Regional Final (Atlanta)
(1) Virginia 74, (6) BYU 60
1980
West Second Round (Ogden): (6) Clemson 71, (3) BYU 66
1979
West Second Round (Tucson): (4) San Francisco 86, (5) BYU 63
1972
West First Round (Pocatello, Idaho): Long Beach State 95, BYU 90
1971
West First Round (Logan): BYU 91, Utah State 82
West Reg. Semifinals (Salt Lake City): UCLA 91, BYU 73
West Reg. Consolation (Salt Lake City): Pacific 84, BYU 81
1969
West First Round (Las Cruces, New Mexico): New Mexico State 74, BYU 62
1965
West Regional Semifinals (Provo): UCLA 100, BYU 76
West Regional Consolation (Provo): Oklahoma City 112, BYU 102
1957
West Regional Semifinals (Corvallis, Oregon): California 86, BYU 59
West Regional Consolation (Corvallis): BYU 65, Idaho State 54
1951
West First Round (Kansas City): BYU 68, San Jose State 61
West Regional Semifinals (Kansas City): Kansas State 64, BYU 54
West Regional Consolation (Kansas City): Washington 80, BYU 67
1950
Western Regional Semis (Kansas City): Baylor 56, BYU 55
Western Consolation (Kansas City): BYU 83, UCLA 62