Breaking Down BYU's Ability To Make Deep NCAA Tournament Run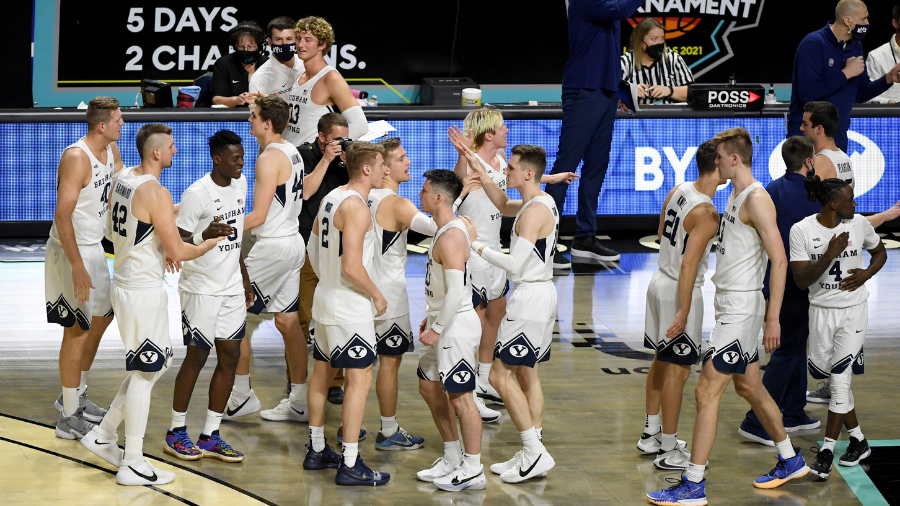 PROVO, Utah – BYU basketball has waited six years, but their time is here to compete in the NCAA Tournament once again. Entering its 30th NCAA Tournament appearance all-time, does this 2020-21 BYU basketball team have what it takes to make a deep NCAA Tournament run?
The last two times BYU has made deep NCAA runs featured the nation's top player in their respective seasons in Danny Ainge (1981) and Jimmer Fredette (2011). There's no Player of the Year on this BYU team, but as a collective group, this team with an energetic coaching staff could make this Indianapolis-based NCAA Tournament interesting.
Here's a look at some factors that could play a big part in BYU potentially making a deep NCAA Tournament run.
BYU in NCAA Tournament: Cougars can win in a variety of ways
This year's group often gets compared to last year's team that had their season abruptly end due to the COVID-19 pandemic. Many would tell you that last year's team featuring Yoeli Childs, Jake Toolson, and TJ Haws was better than this year's group.
They were an offensive juggernaut; there's no question about that. But this year's group can win games in various ways, including when their shot goes sideways on them. That's something last year's team wasn't known for.
If teams want to get into a defensive slugfest with BYU, the Cougars have the frontcourt this year that invites that type of play. Ask Purdue transfer Matt Haarms, and he would tell you that he loves a game played in the 50s. BYU won defensive battles against Saint Mary's and San Francisco. They also displayed the offensive firepower that can build a double-digit lead on the nation's top team. The question will be, which team shows up when the bright lights of March Madness turn on?
Three-point shooting
This isn't your parent's NCAA Tournament where Dean Smith is running a four corners offense with a star-studded North Carolina squad. Today's basketball is all about knocking down the three. This year's BYU team is rounding into form as one of the nation's best.
After a shooting rut at the beginning of WCC play, BYU is suddenly No. 25 nationally in three-point field goal percentage at 37.8 percent per game. Alex Barcello is shooting 48.5 percent from beyond the arc, including a memorable 7-for-7 night in his penultimate home game as a BYU Cougar.
Reserves Trevin Knell and Spencer Johnson have been heating up as of late from deep, with both shooting above 40 percent.
One of the nation's top teams in assists
BYU comes into the NCAA Tournament averaging 16.6 assists per game. That's good for 15th nationally. Whether it's high/low action, pistol sets, or making the extra pass, BYU has shown a knack under Mark Pope to make the extra pass to find an open guy.
The Cougars need to make sure to take care of the ball with their passes. BYU is 273rd nationally in turnover margin at -1.7 on the year. There were positive signs of progress on the turnover front, especially against No. 1 Gonzaga last Tuesday in the WCC title game. BYU committed only eight turnovers in a championship loss. They will need to hover around that number or lower if they want to hang around Indianapolis for a while.
NCAA Tournament experience from senior leaders
BYU hasn't been to the NCAA Tournament since 2015. One would think that this roster entering the Big Dance lacks any experience. Mark Pope has never been to the NCAA Tournament as a head coach, but he knows how to navigate the toughest tournament as he was part of Kentucky's 1996 title squad. But Pope or any coach, for that matter, won't be playing when the Cougars tip-off Saturday.
In this Transfer Portal era, where players are moving, BYU goes into Indianapolis with NCAA Tournament experience courtesy of transfer pickups. 7-foot-3 big man Matt Haarms boasts two years of experience in the Big Dance. Both times the Boilermakers advanced to the second weekend in those runs.
Guard Brandon Averette played his freshman year with Oklahoma State against Michigan, and Alex Barcello was part of the Arizona program who earned a 4-seed to the NCAA Tournament in 2018.
BYU can defend
According to Ken Pomeroy's adjusted efficiency metrics, the Cougars come into the NCAA Tournament with the 26th best defense in college basketball this year. With WCC Defensive Player of the Year and Kareem Abdul-Jabbar Watchlist candidate Haarms in the post, BYU has a rim protector on the back end of their defense, and they are in the top 50 nationally in defending the three this year. Allowing opponents to shoot 40.8 percent from deep this season.