BYU football freshman quarterback Jacob Conover loves being in Provo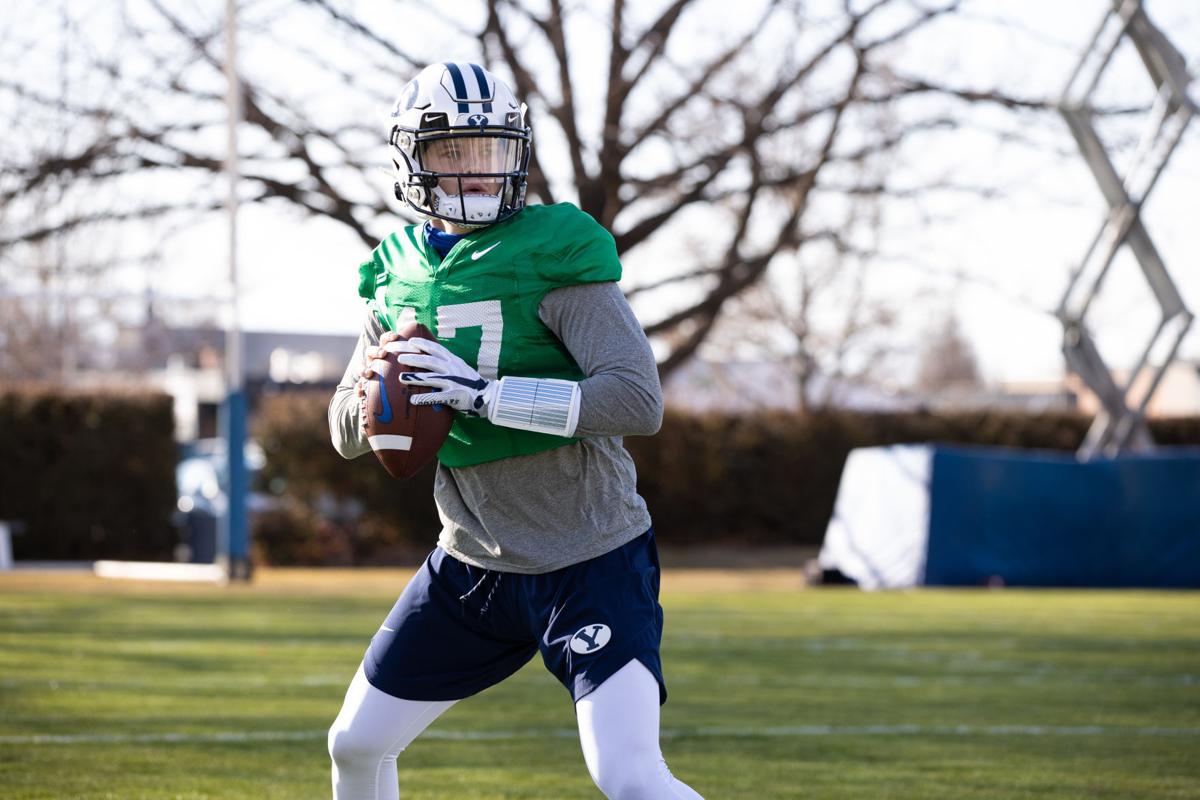 PROVO, Utah – Every child has their favorite sports teams. They play in the backyard or the driveway, pretending to be their favorite stars, making big plays and winning imaginary games.
It's something that can be almost surreal when that child grows up and becomes a part of that team in real life.
Just ask BYU freshman quarterback Jacob Conover.
"I think sometimes I take for granted that I get wake up every day and do something I love and be here finally at the university," Conover said in Monday's teleconference. "It's literally living a dream that I planned out since I was just a young kid. My dad and I look back and since around third grade we had every year mapped out all the way up to now. It's cool to finally be here and to make those dreams become reality."
Conover had a great high school career at Chandler High in Arizona and was recruited by a lot of big-name schools, including Alabama, Arizona State and Northwestern.
But he chose to serve a mission for The Church of Jesus Christ of Latter-day Saints and then come to Provo to play for the Cougars.
He returned last summer and got to develop his skills while getting physically recuperated.
"Mission body is a real thing," Conover said. "It takes about, eight months to a year to finally feel 100%. I thought I felt good coming back but there were little dinky injuries here and just normal mission things. But now I feel like my body is 100%. I've never felt in better shape than I am now. I can totally see the difference between my mission body and what I am now."
He also took the time to learn the BYU offense and get experience as he faced the No. 1-Cougar defense while he was on the scout team.
"I know a lot of kids who graduated in my class are getting here now and they're learning now but I had a full season to learn from Baylor Romney, from Jaren Hall, from Zach Wilson, from Coach Aaron Roderick," Conover said. "I was able to really take advantage the opportunity to learn. It's almost now like I'm coming in as a veteran."
He knows, however, that with Romney, Hall and even freshman Sol-Jay Maiva-Peters having game experience, he has a lot of competition for the QB1 job.
"I think we have a really good quarterback unit as a whole," Conover said. "Every person brings their own talents and abilities. What I really like is that we learn from each other and there's open feedback. No one is closed off from one another. It's a super-healthy competition, even though obviously everyone wants to everyone wants to be the guy."
He noted the Wilson, who is likely going to be a Top 5 selection in the 2021 NFL Draft, has set a standard. He believes, however, that the most important thing is for each QB to be the best they can be, not try to be Wilson.
"Zach did an amazing job of putting BYU in the spotlight and as a whole team collectively last year," Conover said. "I think it's wrong for the quarterback to think there's an expectation but obviously we want this to be back to being Quarterback U. But as soon as you try to meet expectations that aren't really there, then you're not really playing for anything real. I think it's just playing as a unit, playing as a team, trying to live with that model like we had last year. That's when everyone starts playing well and so that's why Zach had such an amazing year last year."
BYU head coach Kalani Sitake said he's been pleased with how the Cougar quarterbacks are handling their business to this point in spring camp.
"I like the competition," Sitake said Monday. "I like that they all have a high sense of confidence, which is because they've worked hard. Now we got this great competition going on and you're seeing the best side of them every day. Their job is to make it really hard on us as far as who to choose, and so far they're doing a good job at it."