Newcomers, Branch highlight opening meet at BYU Cougar I Invitational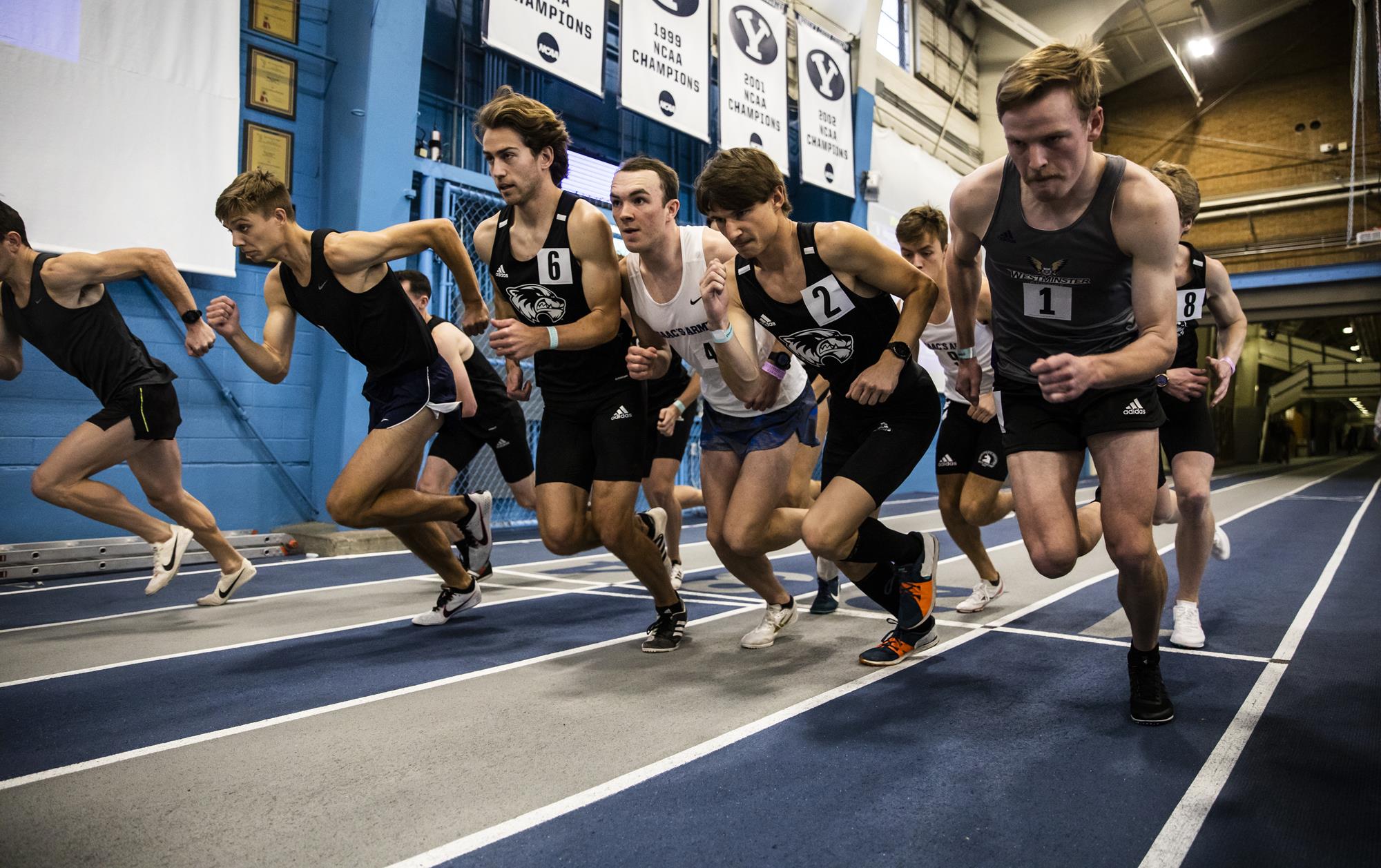 PROVO, Utah – The Utah Valley men's and women's track and field teams opened up its season this weekend at the BYU Cougar I Invitational. The Wolverines finished the first crosstown meet of the year with a new UVU school record and several personal bests to go along with nine top-three finishes.
"This meet this weekend was a great meet for us," said Utah Valley track and field head coach Scott Houle. "Over the 18 years I've been here, this is probably our best opening indoor meet we've had. We were very excited to watch all the events and we had good things happen in every event, from throws, to jumps, to sprints, to distance. We had some personal and school records, but most importantly, we saw a lot of progress in the technical side of the races and the jumps and throws."
Leading for the women was Hannah Branch, who broke her own school record in the 3000M by six seconds. She finished with an altitude-converted 9:43.71, good enough for #21 in the nation this week. Mazzie Preston also finished the 3000M with a time of 9:57.63, seventh best in school history and #54 in the country this week.
Several freshmen on the women's team set personal records in their events. Larissa Dabb took first place in the 400M, finishing with a time of 58.53. Jenna Welsh finished seventh in the 60M hurdle heats with a personal-best time of 9.24 and Secret McEuen finished seventh in the 60M with a personal best of 7.84. Julia Hunt took sixth in the 60M, running just shy of a personal best with a time of 7.80.
Carly Koehler finished the 200M with a strong time of 27.29. Freshman Annie Walker clocked in with a time of 28.99 in the 200M and a solid 1:04.77 in the 400M. Freshman Meg Walker took sixth in the 400M with a time of 1:01.45
On the men's side, senior Zane Farrer placed second in the 60M hurdles, tying his previous PR of 8:18. After winning the heat round, Farrer fell short of winning by just 0.02 seconds. Geofrey Kemboi finished just shy of a personal record in the 3000M with a time of 8:37.64. Jackson Pratt and Austin Hone finished the 3000M with personal bests of 8:45.91 and 8:49.09 respectively. With those times, they set the two-best times for freshman in that race in school history.
Freshman Seth Dabb led three freshmen in the 400M, taking fourth in the 400M with a time of 48.96. Ian Jackson clocked a time of 50.49 and Dallin Anderson finished a time of 50.86.
Junior Isaac Manning and freshman Josh Rudder each cleared 5'11.25 in the high jump. Manning also tied for third in the pole vault with teammate Alex Lawrence, with both clearing 16'1. Freshman Neal Berkey cleared a personal best with 14'1.25. Ally Keil was able to clear 10'6 in the pole vault as well. Berkey also took fifth in the long jump, sticking a distance of 21'5.
In the relays, the men's 4×400 team took second with a time of 3:22.2. The women's 4×400 teams took second and third with times of 4:02.60 and 4:14.02.
"For almost a year, these kids have been in flux so we didn't know how they were going to come out and compete," said Houle. "They trained extremely hard and to come out here and step up against some really good competition shows a lot of resilience of and a bright future for our team. All in all, it was really good and we look forward to the next few indoor meets and the distance kids jumping into their first cross country meet next week. It was nice to see our kids in uniform and be competitive in another realm other than just practice."
The Wolverines return to Provo for the BYU Cougar II Invitational on Feb. 4-6. The third round of the BYU Cougar Invitational will be Feb. 18-20 in Provo. The distance runners will commence their cross country season on Jan. 23 down in Hurricane, Utah at the Dixie State Invitational.