Led by Harward and George, BYU bench rallies Cougars by USF for Bay Area road sweep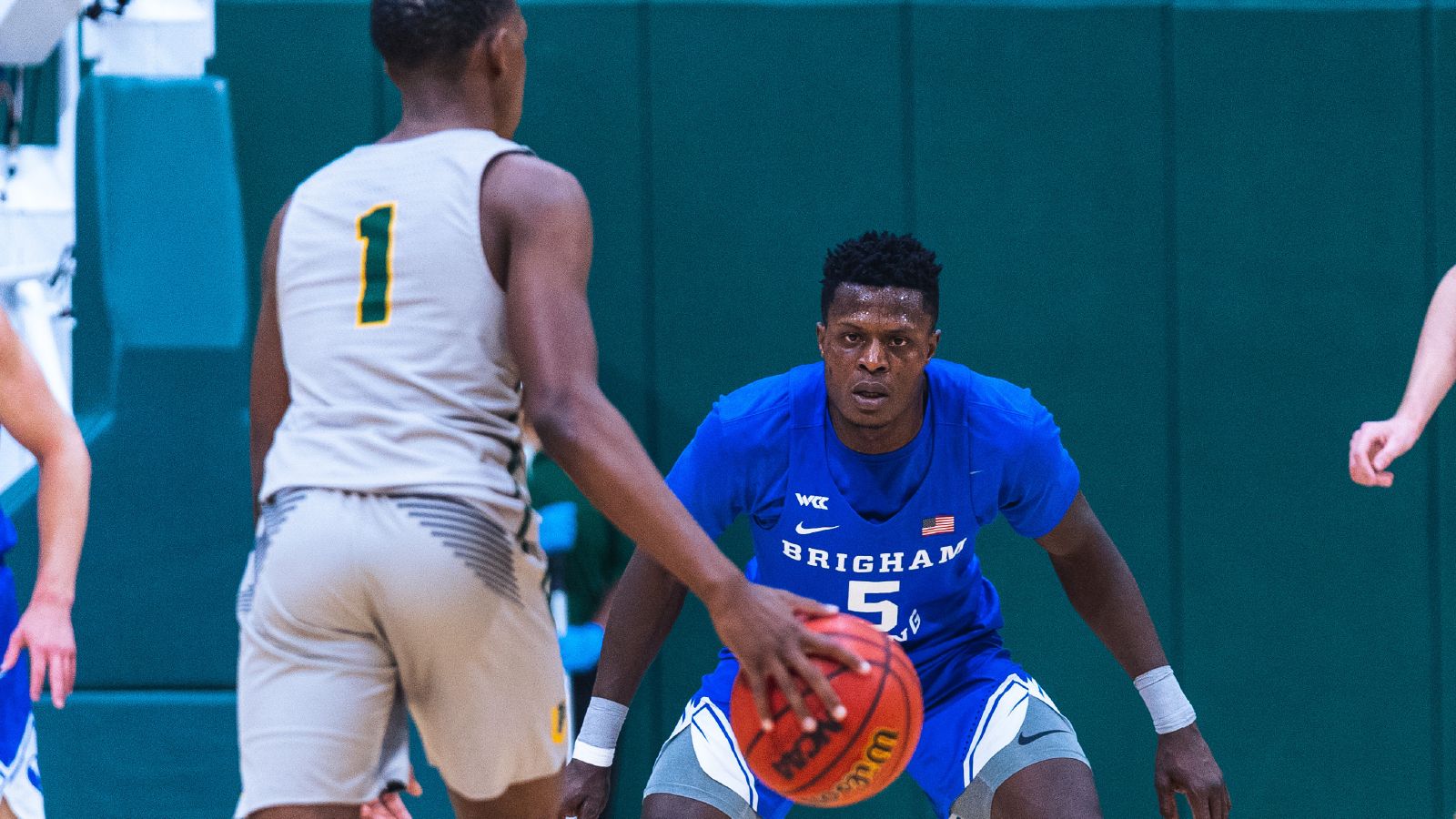 PROVO, Utah — If BYU's starting five wasn't going to give its men's basketball team back-to-back road wins in the first three games of conference play, the Cougars' reserves would have to do.
Richard Harward had 13 points and 11 rebounds, and Gideon George added 12 points, three rebounds and two blocks to help the Cougars pull away for a 72-63 win over San Francisco on Saturday evening in the Bay Area.
Matt Haarms added 9 points, seven rebounds and three assists, and Alex Barcello finished with 19 points for BYU (11-3, 2-1 WCC), which outscored the Dons off the bench 33-12 and 40-18 in the paint.
Most of that came from the Utah Valley transfer and Orem High grad affectionately known as "Big Rich."
"I could say a million great things about Rich; he's my guy," Barcello told BYU Radio. "He's such a team player. His enthusiasm he brings to our team is on another level … and I think it's going to continue to show."
Khalil Shabazz scored a game-high 30 points, including eight 3-pointers, for San Francisco (9-7, 3-3 WCC), and Jamaree Bouyea added 9 points and four rebounds for the Dons.
Known for one of the best defensive backcourts in the West Coast Conference, San Francisco's guard line paced a 3-point shooting effort that finished 8-of-19 from deep. Shabazz connected on four 3-pointers in the first 30 minutes, but was limited the rest of the way.
His team as well. Almost without notice, San Francisco went ice cold.
Two nights after holding Saint Mary's to 2 points in the final 10:07 of its come-from-behind win in Moraga, BYU held the Dons to five field goals in the final 8:03, leading by as much as 17 before Shabazz hit three consecutive triples to cut the deficit.
"What a toughness weekend. You look at it on the schedule … and with our team last year, we lost both these games. These guys do them in a span of 72 hours, and both first halves were frustrating for us.
"It's just been a toughness weekend. If we can put more weekends like this together, it bodes well for the possibilities of this team. We will keep getting better, but if we can rely on this toughness, I could not be more proud of these guys."
BYU struggled in the first half, committing seven turnovers and shooting just 27% from the field while USF used a 12-2 run to build up a lead as large as 18-11 with seven minutes remaining in the half.
Caleb Lohner's 3-pointer helped the Cougars claw back into the game with a 9-3 run, pulling within 24-20 just 2:42 before halftime. In fact, it was Lohner and the second unit that snapped BYU out of its funk, with George scoring 8 points with two blocks in the first half to battle back within 1, 28-27 at the break.
After a turnover-prone, inconsistent, poor-shooting first half, the Cougars were nipping at the heels of a team featuring one of the hottest shooters in the conference in Shabazz.
"I thought our depth was huge this weekend," Pope said. "Depth can be frustrating, because you're coaching 11 guys instead of eight. But on trips like this, where you have the luxury of Brandon Averette sitting the last eight minutes, these guys have done a great job of sharing with each other.
"It was really hard for Saint Mary's to manage, and I think it was really hard for San Francisco to manage."
After trailing by a game-high 10, BYU held the Dons to two field goals — both 3-pointers, from Bouyea and Shabazz — in the final 6:13 to nearly erase the deficit.
Haarms' bucket gave the Cougars a brief lead on the first offensive play of the second half, but BYU couldn't resume control until the final eight minutes.