BYU Basketball Sneaks Into Bracketology Projections After Win Over Saint Mary's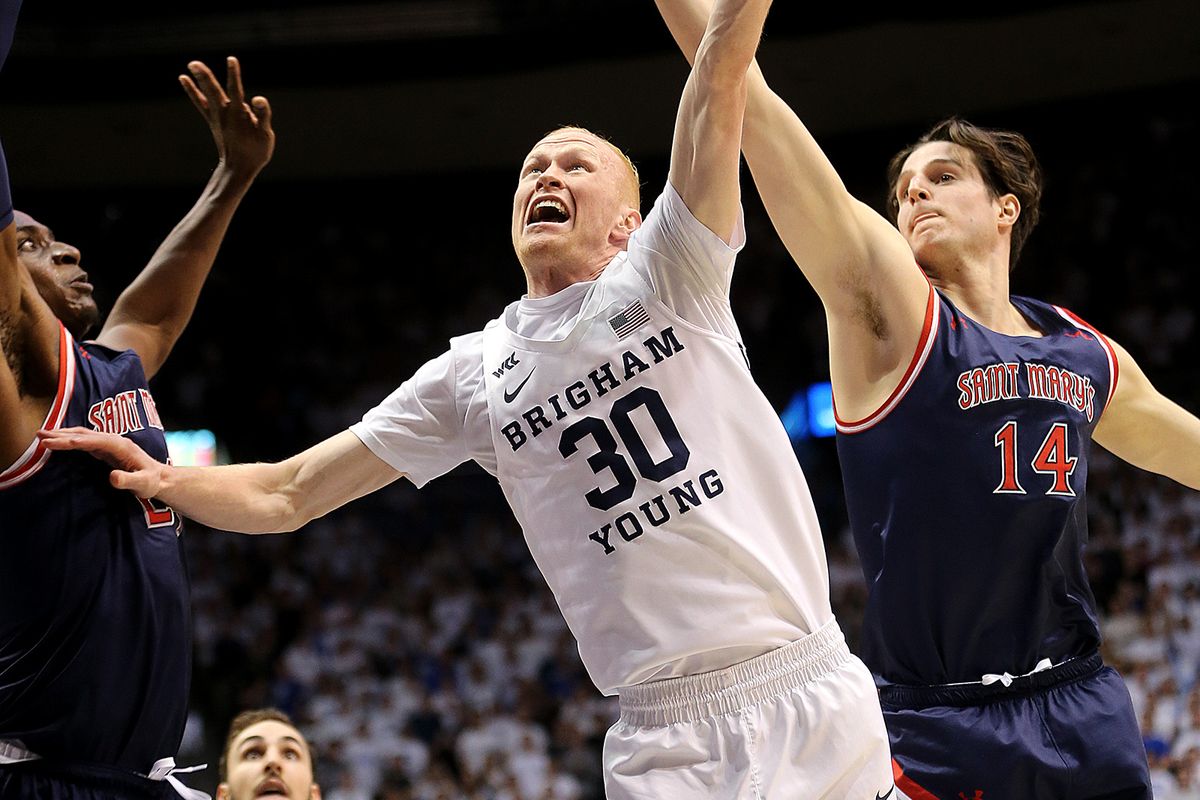 PROVO, Utah – The win at Saint Mary's for BYU Basketball was huge for the NCAA Tournament resume. One day after the big win in Moraga, ESPN's Joe Lunardi has BYU now in his latest Bracketology projection.
BYU sneaked in as the "Last Team In" in Lunardi's latest field of 68.
"Joey Brackets" has BYU receiving a 12-seed and landing in the Play-In round against the Stanford Cardinal. Fellow WCC rival, Gonzaga, is the top overall seed in Lunardi's projection. The Zags are currently undefeated and beating their opponents by nearly 23 points per game.
BYU is currently 10-3 overall on the season and 1-1 in West Coast Conference play. The win over the Gaels bumped BYU up to No. 35 in the latest NET rankings, the most important ranking system used by the NCAA Tournament Selection Committee.
All three of BYU's losses have come against Quadrant 1 teams in Lunardi's projected NCAA Tournament field in USC, Boise State, and the aforementioned Zags.
BYU Basketball on the 'Bubble' with Bluebloods
The other three teams in the "Last Four In" category by Lunardi include blueblood North Carolina, currently 8-4 on the year. Some other marquee college basketball brands are hovering around the bubble in Lunardi's bracket. Those are Duke, Michigan State, Syracuse, and Indiana. It should make for a fun two months leading up to Selection Sunday.
For BYU, the Cougars have to find a way to win as many games as possible between now and when the bracket gets revealed. With uneven schedules this year due to the pandemic, it could be difficult for teams outside of the Power 6 conferences to lock up at-large bids.
BYU has another potential resume building game in front of them on Saturday when they travel to the Hilltop to face the San Francisco Dons; a venue where BYU lost last season before reeling off nine consecutive victories.
The Cougars haven't played in the NCAA Tournament since 2015. They would have played in the Big Dance last year, but the novel Coronavirus pandemic forced the NCAA to cancel it.
BYU is led in scoring this season by Alex Barcello, averaging 16.1 points per game and shooting 58 percent from both the field and three-point range. Purdue transfer Matt Haarms is second on the team in scoring at 11 points and 3.7 rebounds per game.