Range Fire leads to Provo Canyon closure and evacuations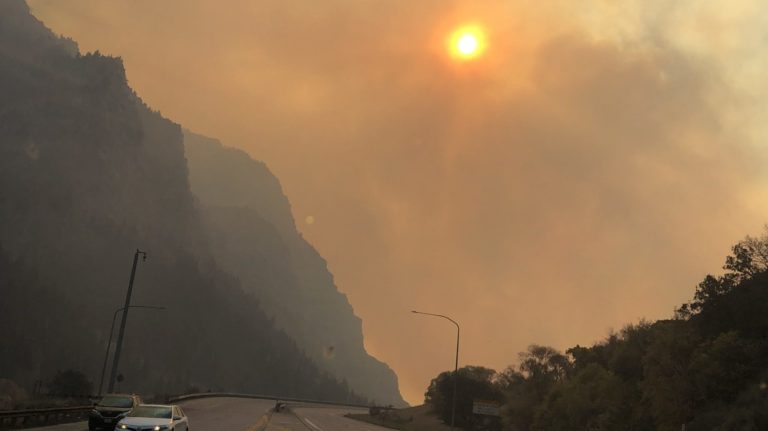 PROVO, Utah — As the Range Fire grows to 1,500 acres, officials have closed down a portion of Provo Canyon and ordered evacuations. Officials report the fire is at 0% containment as of 7 p.m.
Orem officials say the Range Fire was human-caused and that an investigation is ongoing.
The evacuations were ordered for Squaw Peak Road south of Provo Canyon, and for as many as ten homes at the mouth of Provo Canyon.
The road through Provo Canyon, Hwy. 189, is closed in both directions due to fire activity and smoke impacting visibility. The closure begins at milepost 14 (SR-92). Drivers are advised to use I-80 as an alternate route.
Orem Fire Battalion Chief Shaun Hirst said Utah County has requested additional resources from outside the county to help fight this fire.  At the time of publication, Hirst said that "three helicopters, six fixed-wing aircraft, multiple type-ones, and type-six brush trucks" were fighting the blaze and that his agency had requested a strike team from the Salt Lake Valley to help with structure protection.
Hirst said that the Olmstead area is of particular concern regarding potential danger to homes, as well as home within Provo Canyon and those near the old Cascade Golf Course in Orem.
Along with the protection of homes, Hirst said that firefighters will pay particular concern to Orem's water system, which is in the area of the fire.
Calling this "an extended event," Hirst advised residents to avoid any area between Provo Canyon and Dry Creek.
And Hirst had another request for anybody taking advantage of the autumn season in the outdoors. "We're typically not fighting this type of fire in October. Our fuel moistures are way low for this time of year. Just be cautious when you recreate in the hills.