Smithfield Temple announcement sparks excitement, speculation in Cache Valley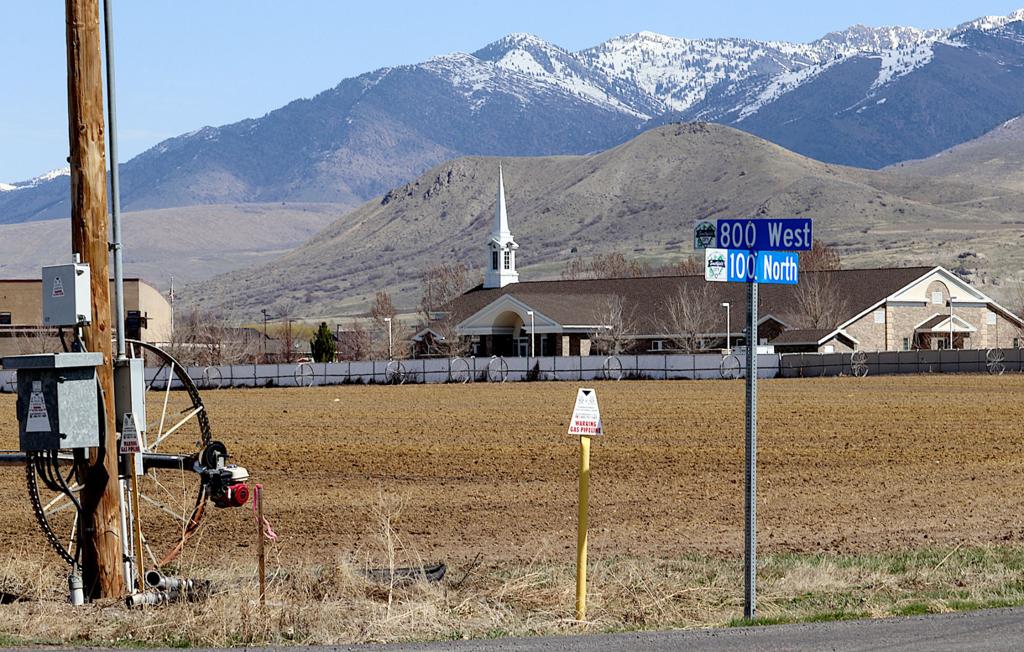 PROVO, Utah – It didn't take long after the surprise announcement of a Latter-day Saint temple in Smithfield for locals to start expressing their excitement — along with a strong helping of speculation.
The announcement came at the end of The Church of Jesus Christ of Latter-day Saints's semiannual General Conference on Sunday. Church President Russel M. Nelson announced 20 new temples. At the end of the list was "Smithfield, Utah," astounding many locals, as Smithfield is only about 7 miles north of the Logan Temple.
Smithfield resident and Latter-day Saint Tia Howell was watching conference Sunday and was stunned by the announcement.
"My husband actually joked about it before he (Nelson) announced it, he was like, 'Oh, is Smithfield going to get one?'" Howell said. "And I was like, 'No,' and then they announced it and we were just so shocked. Because we're close to Logan Temple."
For Howell, it's an indicator of strong Latter-day Saint activity in the area.
"I think there's a need for it if they're making one," Howell said. "So I think that's awesome that there's so many Saints needing to go to the temple that they keep building them."
Church area spokesperson Richard West said that while he hasn't heard any details about the Smithfield Temple beyond its announcement, "you can pretty well be certain that a temple is going to be located to satisfy a need."
Multiple temples within a few miles of each other isn't unheard of in areas with high concentrations of active church members, West said.
"Provo has the Provo Temple and the Provo City Center Temple within a couple miles of one another," West said. "It happens all over, it just depends on where the need is. This is just an indication of the growth of the area and the usage of the Logan Temple has gotten to the point where another temple is needed."
With news of major renovations of pioneer temples like the ones in Manti and Salt Lake City, some have also speculated that a Smithfield Temple could take the pressure off of Logan should it get a similar overhaul. The church has announced Logan will be closed and renovated, although dates for the project or the duration of the closure haven't yet been made public. West said while the Logan Temple isn't necessarily due for major renovations, the last time it saw a remodel was 40 years ago.
The Smithfield Temple announcement was like a starting pistol for internet sleuths, and soon multiple speculative sites were put forward. The church itself has not released further information about plans for the temple, and plans could easily change this early in the process, so these sites should be viewed as purely speculative.
Speculation isn't always idle, however. Latter-day Saint temples in areas with a lot of members, such as Utah and Idaho, have been reported to raise real estate values even before they've been built but after they've been announced. Real estate agent Rob Owens reinforced that belief on a community Facebook page: "I like the speculation," Owens wrote. "I have a client building on land that almost touches one of these sites so their property value would (rocket emoji) so that would be cool!"
Three of the most specific sites, put forth by Brooke Yates Hyer on a community Facebook group, are vacant or agricultural lots already owned by the church. West cautioned that this early in the game, however, it's entirely possible that the church doesn't own the future temple site.
One suggested site is a church-owned vacant lot just south of Smithfield Dry Canyon, at 270 S. 1000 East. Records show the Corporation of the Presiding Bishopric has owned the 3.33-acre parcel since December 2008.
The Dry Canyon site would fit with the church's tendency to build temples on hillsides and in highly visible places.
Giving voice to that trend, Julie S. Kraus commented, "It needs to be on the foothills where it can be seen from all over the valley."
While the site isn't on the highway, 300 South is one of the main arteries into Smithfield's southeast neighborhoods.
The parcel is relatively small, though with the Logan Temple so near, it may be that the church is envisioning something smaller.
By modern standards, the Logan Temple is quite large, with nearly 120,000 square feet of floor area and built on 9 acres. Dedicated in 1884, it was the second temple completed in Utah, preceded only by St. George, to make it the fourth Latter-day Saint temple ever completed.
Unofficial site ChurchOfJesusChristTemples.org reports that the Logan Temple contains four instruction rooms, 11 sealing rooms and one baptistry. Unlike most modern temples, it also contains a large assembly hall, which is not used for ordinances.
The Brigham City temple, by contrast, was dedicated in 2012 and is built on a 3.14-acre site. The 36,000-square-foot building contains two instruction rooms, three sealing rooms and a baptistry.
Though it's not on the bench, a much larger lot on the west edge of town was purchased by the church last summer. The three parcels, totaling 13.32 acres, sit across the street to the south of Birch Creek Elementary and immediately west of an existing meeting house. State Route 218 to Amalga runs along the south edge of the land.
Although the church has owned the land since June 2020, it's still being used agriculturally, and a neighbor told Herald Journal reporters he saw someone seed the field last week.
West said if the church acquires a property but can't make immediate use of it, it often leases the land out to others who can.
The church also owns a parcel in the Ridgeview subdivision in the northeast part of town. While this property is relatively high, it is much less visible from the south than the Dry Canyon area and views from the north are blocked by hills.
While the site is accessible via 400 North and Upper Canyon Road in Smithfield, which have started to see more traffic in recent years due to subdivision growth in the area, both 300 South and State Route 218 have intersections with Main Street with traffic signals, while 400 North does not. Additionally, the Ridgeview site is in a dense, growing neighborhood where the church may envision a need for another meetinghouse.