The Utah Jazz are fully embracing long-range shooting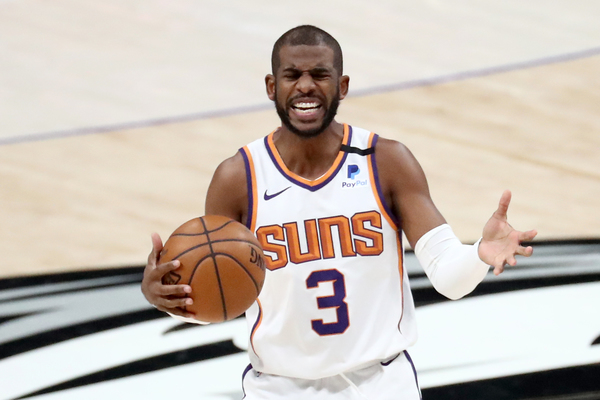 Utah – After a road win against the Charlotte Hornets, the Utah Jazz maintain the best record in the NBA. One thing stands out aside from the 18 wins in 23 opportunities, though: 3-point shooting.
As things currently stand, Utah is one of the best teams in the league from distance. Quin Snyder's squad ranks first in attempts per game (42.0), first in 3s made (17.1), and second in efficiency (40.7%). The Jazz take just 87.7 total shots per game (21st in the NBA) yet 47.9% of those are 3s. They also rank 25th in pace, so it isn't like these hoists are coming in transition. The recipe for success has been quite simple: Get good looks and make the opposing team beat you two points at a time.
A well-balanced diet
The Utah Jazz are performing quite well on both ends, and the numbers back it up. As of Friday, they're third in defensive efficiency and fourth in offensive efficiency. That is a partial result of quality 3-point attempts on offense and a defense that chases opponents off their spots and right into the shot-swatting funnel that is Rudy Gobert. When Utah does give up looks from deep, their effectiveness hasn't been up to par.
Per Team Rankings' database, the Jazz allow 3-point attempts at the fourth-lowest rate in the NBA (31.7 per game). Those shots fall just 35.3% of the time, which makes Utah a top-6 team when defending the perimeter. There's obviously bound to be some variance in that area and players like Jordan Clarkson and Bojan Bogdanovic are far from good defenders but for now, what the Jazz are doing is a perfect fit in today's NBA.
Living and dying by the 3
You've heard that phrase time and time again and in 2020-21, the Utah Jazz have breathed new life into it. Among players averaging at least 10 minutes per game, Utah has six whose total shot distribution includes more than half from deep. This season, Royce O'Neale (70.2%), Joe Ingles (67.1%), Georges Niang (66.7%), Clarkson (57.2%), Bogdanovic (55.7%), and Mike Conley (53.5%) own real estate outside the 3-point arc. The team's scoring leader isn't far behind.
Tied for seventh in the NBA in 3-point attempts per game, 8.4 of Donovan Mitchell's 18.6 shots every night are of that variety. He's been one of many players to improve their play while the rest of the roster remained mostly unchanged. Mitchell is also one of just a few Jazz men possibly due for regression in the future, which bodes well for the team as a whole.
Is this sustainable?
Of the aforementioned seven Utah Jazz players (not including Gobert, who doesn't shoot 3s), only Clarkson, O'Neale, and Mitchell are likely to see their percentages fall at some point. Clarkson, a career 34.6% shooter from deep, is converting at a 39.2% rate. He did shoot nearly 37% a season ago, so perhaps that decline won't be steep at all. O'Neale, who cans his treys at a great 38.6% clip, has shot a scorching 45.2% this season. While that's fantastic news for the Jazz, it almost surely isn't sustainable over the course of a full season.
Then, of course, we have Mitchell. After hitting 33.2% and 32.1% of his pull-up 3s over the past two seasons, that figure is up to 34.1% in 2020-21. Also, his catch-and-shoot percentage from deep has become ridiculous. After posting percentages of 40.1 and 43.2 in 2018-19 and 2019-20, Mitchell is now up to a whopping 50.6%. With Conley having improved his play and the rest of the team serving as legitimate threats, it's possible Mitchell continues to make 3s at a rate similar to what he is now (41.5%).
The Jazz are playing a risky game by relying on so many 3s to fall while preventing them from doing so on the other end, but it's working. With that said, it's hard to tell how much longer this level of productivity will last. It could parlay into a deep playoff run fueled by sharpshooters all around the court, or things could go up in flames a la the Houston Rockets in Game 7 of the 2018 Western Conference finals. One thing is for sure, though: Utah is dangerous.