Update to Provo UDOT construction on 500 West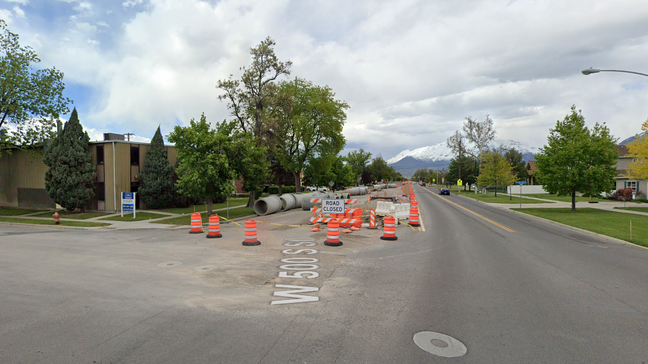 PROVO, Utah — The Provo Police Department has released an update on the ongoing construction on 500 West in Provo between 500 South to Cougar Boulevard.
According to a tweet sent out by the department, on-street parking on the west side of the road between 800 North to Cougar Boulevard will be permanently removed on the week of Nov. 9. The on-street parking will be replaced by new bike lanes that will be installed on both sides of the road before the end of construction next summer, the tweet stated. Parking will still be available on 600 West and the surrounding side streets.
Crews will also be pouring concrete for the sidewalk on the east side between 500 North and 800 North. Topsoil placement in the area will begin next week on the east side between 100 North and 500 North, and on both east and west sides between 500 North to 700 North. The tweet also notes that the sidewalk on the west side between 100 North and 500 North will be removed. Pedestrians are advised to continue using the west side sidewalk for access.
A new ADA ramp will be placed on the northwest corner of 300 S. 500 West, and crews will close the corner for 10 days while the concrete strengthens. An alternate ADA access ramp is available on 400 West and 600 West. Sidewalks will remain open, and pedestrians are advised to continue using the crosswalk on the south side of the intersection. The Utah Department of Transportation is also anticipating placing new ADA access ramps on the south and southeastern corners once the concrete cures on the north side.
Topsoil placement between 100 South and 250 South on the east side of the road will commence next week.
The tweet also stated that crews will begin grooving for final traffic striping next week, and the grooving machine will increase the noise in the areas of operation, the police said. Crews anticipate running the machine between 7:00 a.m. and 10:00 p.m. and will be beginning at the southern end of the project area and will move north. UDOT expects that this work will last most of next week.
There is also an updated pedestrian map notifying pedestrians on which sidewalks are accessible and which are under construction.
Construction on 500 West between 500 South and Cougar Boulevard is expected to be completed in 2020 with landscaping to be complete in 2021. UDOT will continue providing updates as construction progresses.