Utah Rep. John Curtis says threatening note left at Provo office over Electoral College vote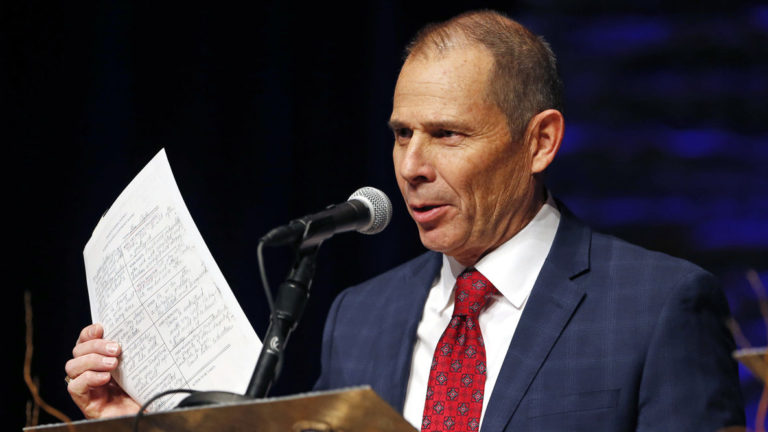 PROVO, Utah – U.S. Rep. John Curtis, R-UT, says he received a threatening note at his Provo office over his vote last week to ratify the Electoral College.
The threat comes a week after Curtis voted to ratify President-elect Joe Biden's victory over President Donald Trump, and, in doing so, rejecting an effort by some Republicans in Congress to object to block the ratification.
During an interview on MSNBC on Thursday, Curtis held up a flyer showing the congressman's face with a skull and crossbones imposed over both of his eyes. The flyer states that Curtis is "Wanted for Treason" for "resisting the true electoral victor Trump & willful failure to stand to object to the corrupt & vitiated states."
It also includes a quote from Alexander Hamilton from "The Federalist Papers": "If the representatives of the people betray their constituents, there is then no resource left but in the exertion of that original right of self-defense which is paramount to all positive forms of government, and which against the usurpations of the national rulers, may be exerted with infinitely better prospect of success than those against those of the rules of an individual state … "
"This was dropped off at my office just a few minutes ago," Curtis said. "And I know my colleagues are very, very concerned, it's just a very troubling time for all of us."
Curtis later wrote on Instagram that "this flyer, taped to my office door here in Provo, doesn't make me fearful or angry, it makes me sad for the divisiveness in our country."
"I invite my colleagues and constituents alike to show civility and respect — especially when disagreeing. That's the only way we can heal as a nation," Curtis wrote. "Email, phone call, attending a town hall meeting, I promise there are better ways to voice your opinions with our office."
The flyer is the latest evidence of political unrest in Utah and across the country in the days leading up to Biden's inauguration.
Earlier this week, the Utah Highway Patrol announced it would increase security at the Utah State Capitol after an FBI bulletin warned of armed protests expected at all 50 state capitols.
On Thursday evening, Gov. Spencer Cox declared a state of emergency in anticipation of the planned protests.
The executive order, which went into effect on Friday and expires on Thursday, states that all "capitol hill facilities" and "grounds" will be closed since "the planned siege of the Utah State Capitol may result in loss of life, human suffering, and public or private property damage."
"We respect the right of Utah residents to peaceably assemble as guaranteed in the U.S. Constitution," Cox said in a press release. "But we draw the line at threats to physical safety or to the Utah Capitol building. No violence of any kind will be tolerated."
Law enforcement and emergency personnel, as well as officers and employees of the Utah executive branch, Utah State Legislature and Utah judiciary, are exempt from the order.