Why Utah's leaders didn't fight (publicly) over lifting COVID-19 restrictions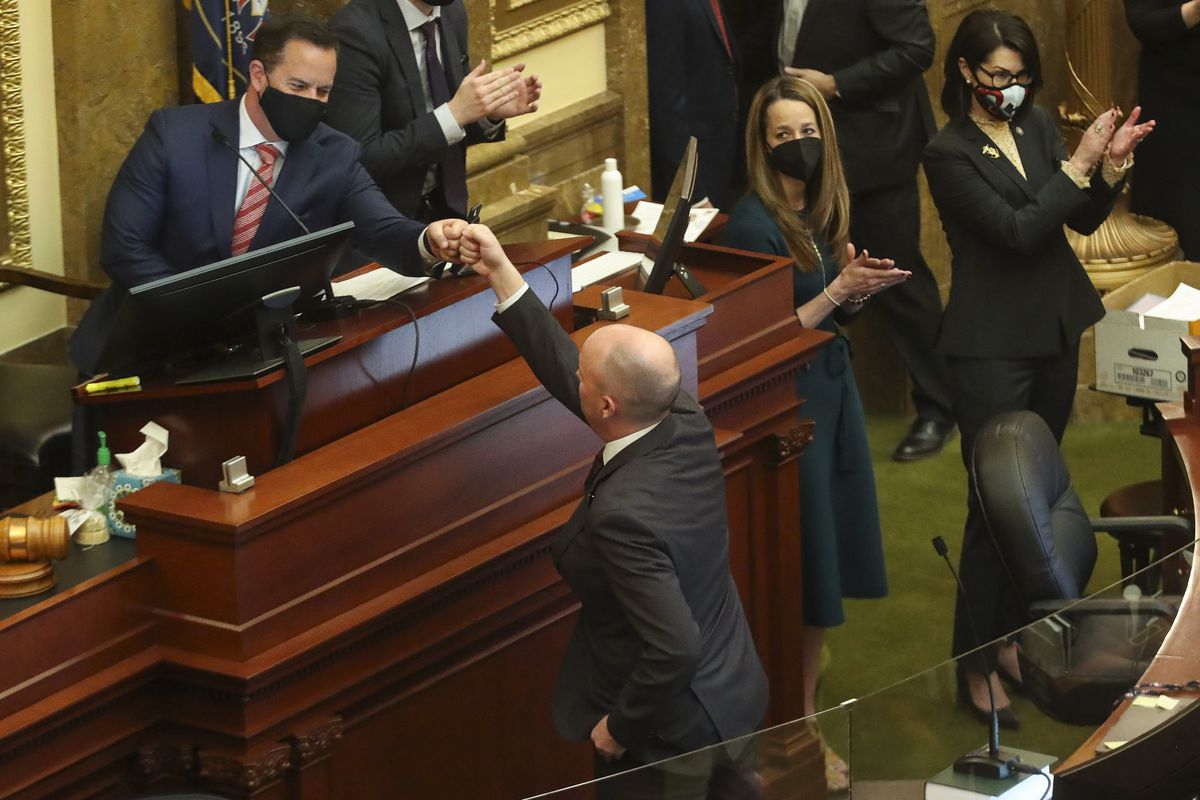 Utah— The April 10 date to lift Utah's statewide mask mandate was born in the backroom.
The clock was ticking in the final hours of the Legislature's 2021 general session last week. The version of HB294 that had already passed the House and was waiting for action in the Senate already had an immediate effective date to lift the statewide mask mandate.
Gov. Spencer Cox, who had negotiated all session behind the scenes with lawmakers on legislation affecting his own and future governors' emergency powers, had a choice to make.
The bill was going to pass both bodies with a veto-proof majority. He could still put up a fight and wait until the last possible day, March 25 (20 days after the Legislature adjourned) to veto it anyway, but then the Legislature could convene soon after to override his veto. The cost for those few more extra days would be a public fight.
Instead, Cox negotiated to get a bill he'd be willing to sign.
"April 10 is better than March 10, which is what we were headed toward," Cox told the Deseret News in an interview last week, a bit more than an hour after the Senate voted to approve HB294 to spell out the end of Utah's COVID-19 restrictions.
While the bill sought to lift the statewide mask mandate immediately, the version that was ultimately approved by the Senate and again by the House included that April 10 date, while still requiring masks in schools and for large gatherings. The bill also put a clock on other restrictions to end by July 1 or when the state reaches a series of vaccination, hospitalization and COVID-19 case rate benchmarks negotiated by the Utah Department of Health.
"We pushed (for April 10) because we wanted to get as many people vaccinated as possible" before the statewide mask mandate was removed, Cox said. "That was the argument I made to the Legislature. I said, 'Look, every day you give me, that's 25,000 more people (vaccinated), so give me as many as those days as you can.' We pushed for as much as we could get, and we got April 10, which again, is better than March 10. And so I do feel better about that."
Rather than choosing what would have been a very public fight of a veto that would end up getting overridden anyway, Cox and Utah lawmakers hashed out their differences in closed-door negotiations, concluding the 2021 session without any major public battles between the governor and the Legislature. The session marked Cox's first as governor, but certainly not his first after serving as a representative and lieutenant governor.
The COVID-19 pandemic sparked debate in states across the country on whether lawmakers should reconsider governors' emergency powers, statutes that have been around for decades without ever being used in a long-lasting emergency like that of a pandemic.
Some states, like Kentucky, saw public fights between the governor and legislators. Last month, the Kentucky General Assembly voted to override Gov. Andy Beshear's vetoes of several bills, most of which scaled back the governor's emergency powers. Soon after, Beshear filed a lawsuit to to stop the General Assembly from attempting "to surrender to COVID-19 and accept casualties" so he could "continue to fight for the protection of all Kentuckians," the Louisville Courier Journal reported.
"Obviously this could have been a very divisive issue," Cox told reporters last week. "It could have been the most divisive issue."
But Cox, whose predecessor and former boss Gov. Gary Herbert faced frustration from some members of the Legislature who said he was exerting too much of his executive powers, said it was his administration's goal to "work more closely with the Legislature, to collaborate, to approach the legislative session as more of a team, Team Utah working together."
Both Senate President Stuart Adams, R-Layton, and House Speaker Brad Wilson, R-Kaysville, were complimentary of Cox, calling him a "collaborative" negotiator who sought to talk through issues person to person rather than through the media.
"Not everyone got all they wanted, but we found a process that works, and we think it'll serve the state in the future if another long-term emergency like a pandemic emerges," Adams said.
Adams said working together behind the scenes to get a piece of legislation ready for public prime time is a process that results in better law. He likened it to the historic Constitutional Convention of 1787, when the U.S. Constitution was drafted in meetings closed to the public and the press.
"People need to measure twice and cut once," Adams said. "We need to think before we speak. That process of thinking before you speak is not bad."
Another bill affecting the powers of future Utah governor, SB195, was also heavily negotiated by Cox and Lt. Gov. Deidre Henderson. Cox ultimately supported the final version of the bill approved by the Legislature and signaled he would sign it as well.
SB195 restricts executive powers of not just the governor, but also local elected officials like mayors and health department leaders, to issue emergency orders for extended periods of time. It limits the duration of a public health order to 30 days and only allows the Legislature — or local legislative bodies such as county or city councils — to extend or terminate an order. It would also give legislative bodies the power to end an "order of constraint," such as a stay-at-home order, at any time.
Cox, when asked if that bill gave up too much executive power, disputed that characterization, arguing "we didn't give away any power because the Legislature always had the ability to do this."
"So we didn't feel like we gave away anything," he said, adding that there's a "fundamental misunderstanding about what emergency powers are. It's not the power of the executive branch. Emergency powers belong to the legislative branch. They grant them."
"Basically it allows me to act like the Legislature, so it's fundamentally opposed to our form of government, but we do that because emergencies matter, and they happen, and you have to act quickly," Cox said. "Look 30 days … that's enough time to bring (lawmakers) together and work through these issues, and it's something we should be doing anyway."
If something goes wrong — such as COVID-19 cases begin to spike again — Cox said "we can always bring the Legislature back."
"That's part of what they wanted. They wanted to be more involved in these decisions. And it's their power. It's theirs. It's not the governor's. And I think people have to understand that.
"But the Legislature owns this now," Cox added, "and so that comes with that responsibility."