Women's basketball: Zags timely shooting holds off BYU 63-56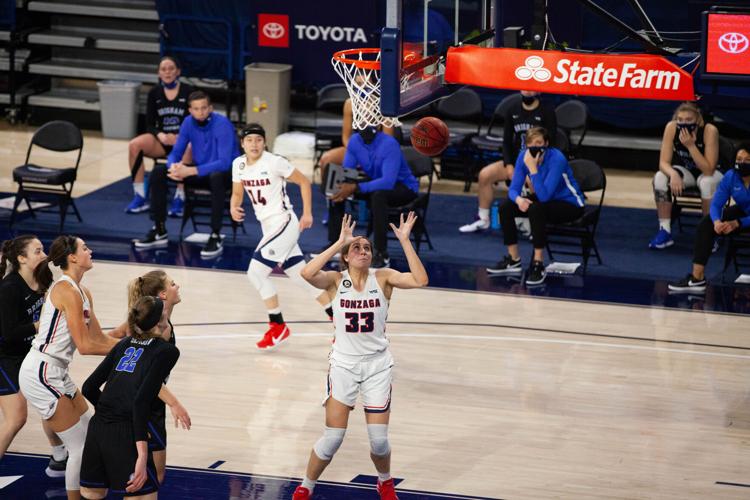 PROVO, Utah – No.19 Gonzaga women's basketball (16-2, 11-0) held off a late comeback from BYU (9-3, 5-2) to win by the score of 63-56 at The Kennel on Tuesday night.
This was the first matchup of the season between GU and BYU who will meet again on February 18 in Provo, Utah. For GU, this win extended it's streak to fifteen consecutive victories.  BYU will remain in second place in the WCC standings despite the loss Tuesday.
Offensively BYU is led by the WCC's leading scorer Shaylee Gonzales, who is averaging over twenty points per game. This was not lost on GU Head Coach Lisa Fortier, who placed great emphasis on her team to slow down BYU's star point guard. Gonzales would finish the game with12 points.
"If you just let [Gonzales] do her thing, then she's really difficult to stop," Fortier said. "So we were trying to make sure we had help in the appropriate places, and we didn't give her anything easy. She shot fifteen shots and I don't think any were any of the real easy kind, and that was the goal, just to make sure she had to work."
GU forward Jenn Wirth scored the opening points of the game but there was little separation early as the score remained within one possession for the entirety of the first quarter. Both offenses were sharp to open the game, with the scored tied 11-11 after the first five minutes, but scoring would slow down for the rest of the period and finish at a 14-13 GU lead.
BYU would open the second quarter on a run that extended to their largest lead of the night at 20-16. Over the next few minutes, GU slowed down BYU's offense and was able to retake the lead at 23-20. Moments later, consecutive three pointers from Jill Townsend extended GU's lead to 29-20, and forced BYU to call timeout.
An already excited GU team erupted on the bench after a buzzer-beating step-back three pointer by GU guard Kayleigh Truong swished through the net, to give GU a 34-22 lead at the break.
GU looked to be in control of the game throughout the third quarter with their lead resting at about twelve for the majority of the period. It was a low scoring quarter for both teams but a three pointer with 40 seconds left would bring BYU to within 10 to end the third quarter.
BYU would start the fourth quarter strong with a pair of three pointers that brought GU's lead down to 46-40. As the game tightened up, the action on the floor grew noticeably more chippy culminating with a crucial technical foul called on GU guard Cierra Walker.
This gave BYU a free throw that brought the game to within three and the offensive possession, which the Cougars would then score a layup on. A GU jump shot by Townsend and a BYU three pointer by Gonzales immediately followed that up and tied the game at 54.
"When it got tied, I thought we were really tough," Fortier said. "We didn't look shook, we looked really veteran. It's one of those times where the veteran part of us came out at the end of a very tough, emotional game."
After a timeout, with the score tied, Walker checked back into the game for GU and made an immediate impact.
After a drive and pass from Truong, Walker would hit an open corner three to put GU up. After a GU defensive stop, Walker hit another corner three pointer that extended GU's lead to six and put BYU's comeback effort to sleep.
"I was able to come back after sitting down for a hot second, and pull myself together and make those threes at the end," Walker said. "When they went in I was super excited, I was hyped, I was jumping up and down, I was thinking that we're gonna finish this off and just need to get a couple stops on defense."