All the discounts you can grab at the liquor store this month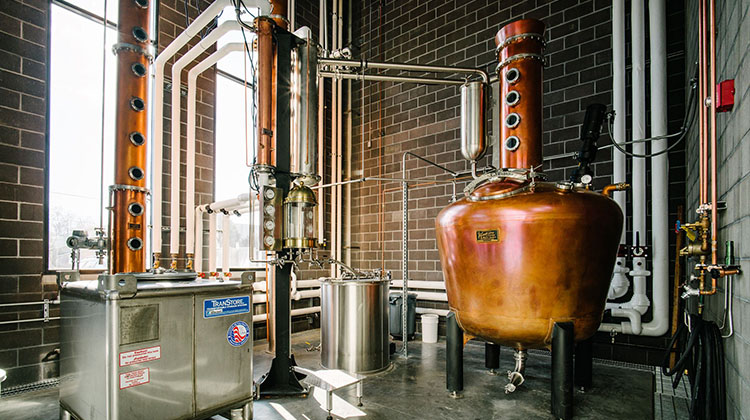 PROVO, Utah – Check out the latest monthly DABC discount report from Drink In Utah; the website looks at all the discounts you can find on liquor store shelves, as well as items going up in price, new arrivals and products disappearing from stores.
The website tries to call out local products worthy of attention with the a little Utah arch logo. Price increases are marked red, discounts green, and the bigger the change, the bolder the color notation. Just don't call these sales though. As Drink In Utah note:
"If you want to get technical, the DABC doesn't do sales, as Utah law mandates the markup. They allow vendors to do "special price allowances" a few times a year where the vendor discounts the price to the DABC which in turn passes that on to the consumer."
Local noteworthy changes this month include discounts for a slew of Dented Brick's (feature picture) spirits lineup as well as several of the Beehive Distillery and Five Wives (Ogden's Own) vodka products.
In more liquor news a few updates from this month's DABC get together. As a reminder from last year's ongoing stories – if you want to open a restaurant right now – you're good to go license wise. Bar licenses however are still in frustratingly short supply.
At the March meeting only two full bar licenses were available with two Summer seasonal licenses (May-October only) available as well. The next population driven increase to bar licenses will be in June – when a grand total of one more license will become available.
Rye – the sister-restaurant to the East side's Urban Lounge will be making the migration from restaurant to bar; securing one of the two full bar licenses currently available the business will now operate as a 21+ only venue.
Rye owner Lance Saunders spoke of the difficulties C19 forced on the business explaining their current two day a week restaurant service was merely "squeaking by just to maintain rent". Saunders confirmed Rye's food menu would still be retained as a major component of the business moving forward. Rye have been on the list awaiting such a license change since August 2020.
Bewilder Brewing Company – This (pictured above) downtown SLC spot also wanted to make a switch from tavern license to a full bar license. Only recently applying for the change co-owner Cody McKendrick spoke about how the move would let the business provide many of their full strength beers using new to-go canning tools, as well as offer cocktails, wine and cider to guests. This was our original story on the brewery back in January 2020.
Why Kiki – Another business on the docket for a bar license, but this time around having to settle for one of the Summer seasonals. Why Kiki is set to open in the old Naked Fish / Ikigai space which recently also sported Heart and Seoul Karaoke bar (it too with it's own share of liquor license woes if you recall).
The new tiki bar with an LGBTQ focus recalls the history of BTG in pretty much the same part of town years back – hopefully Why Kiki can make the same successful leap from temporary to full license in time.
O-Town Beach Club – This Ogden spot snagged a Summer seasonal with not much fuss.
With two rural-Utah applicants on the list for a full bar license down the line (The Spoke in Moab and Hive 435 Taphouse) commissioners opted to hold the final full license over to a future meeting.
Banchan – this name appeared on the full service restaurant application list. The application lists Park City as the location, and based on the name, one assume Parkites will be welcoming a new Korean restaurant to their midst soon.
You can read the full agenda of the meeting here and can listen in here – bar licenses come up around the 23min mark.
Park City Wine Festival plots comeback
Get ready for food/drink events to start staging their returns this year. One of the first major events to confirm their intentions for 2021, is the popular PC Wine Festival. Here's the full release just out:
The Park City Wine Festival, Park City's original wine event, invites wine lovers to mark their calendars for a much-needed drink – or two -for their annual food-and-wine-filled festivities, Sept. 30-Oct. 2.
"We are so fortunate we were able to host a number of successful, socially-distanced events last summer despite numerous cancellations of similar events due to the pandemic," said Jason Ornstein, owner of Team Player Productions. "As industry leaders in festival production, we understand the unique challenges and ultimate rewards to both vendors and visitors when we can orchestrate and provide a safe, successful experience for everyone, and we're excited to be able to continue to do that this fall in Park City."
The annual event will skip the signature Stroll this year for social distancing purposes but will host two full days of grand tastings to allow ample time and space for vendors and visitors to sip, sample, and savor. Capacity will be greatly reduced to avoid long lines and allow guests to enjoy the experience in a safe, comfortable atmosphere.
The full schedule of events, along with ticket sales, discounted area lodging packages, and this year's event beneficiary will be announced in April 8th at parkcitywinefest.com.