Athletic power couples: How six student-athlete courtships resulted in marriage at BYU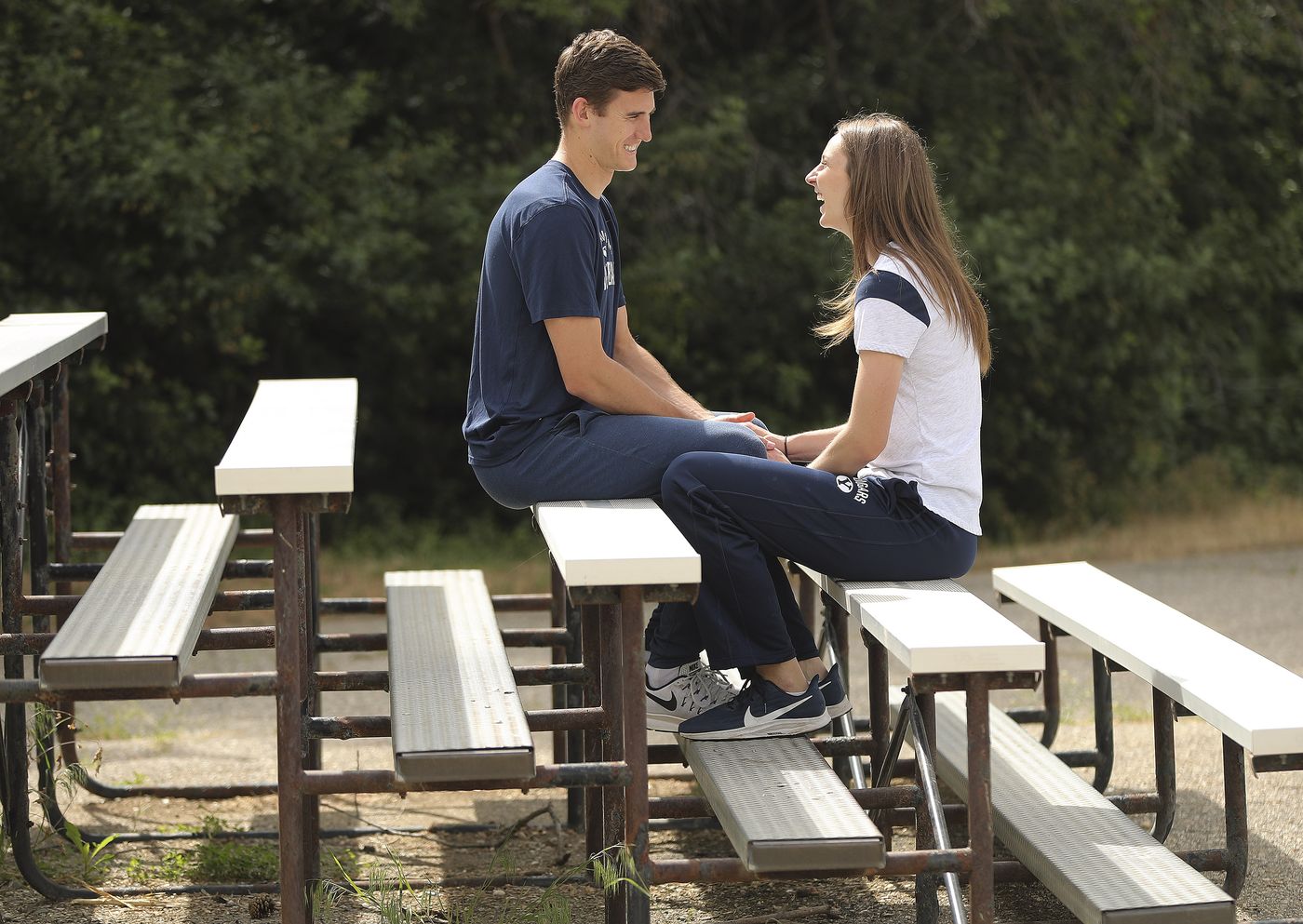 PROVO, Utah — Connor Harding and Paisley Johnson first spoke in the tunnel linking the BYU basketball practice facility to the Marriott Center after Harding "mustered up the courage and the confidence" to suggest that the two should hang out some time.
"Great pickup line, by the way," Harding said last February, laughing.
Football player Bracken El-Bakri and discus thrower Sable Lohmeier got acquainted in a sports psychology class, while volleyball stars Zach Eschenberg and Kennedy Redding were introduced by teammates, of course.
Quarterback Baylor Romney and pole vaulter Elise Machen met at a church youth conference when they were teenagers in El Paso, Texas. Football player Darius McFarland saw softball star Rylee Jensen on a team poster and asked her teammate for her phone number, while tight end Matt Bushman and volleyball standout Emily Lewis first talked at the salad bar of an on-campus eatery.
All six of the couples are married now.
They are part of the unofficial, but ever-increasing, club of BYU student-athletes who have married another student-athlete at the school owned and operated by The Church of Jesus Christ of Latter-day Saints.
That a lot of BYU athletes marry each other isn't surprising, considering they often intermingle in classes favored by athletes, share weight rooms, academic tutoring centers and training facilities, and dine together at the Legends Grille in the Student Athlete Building.
And, of course, marriage is sort of a big deal at BYU. There's a reason why there's a jewelry store on every corner in Provo.
"BYU is really good at integrating everybody, especially athletes, at banquets and firesides and the Y Awards and all that," said El-Bakri, who married Lohmeier in March. "We see each other a lot, cross paths a lot. So there's that."
El-Bakri, a former Brighton High star, says it would surprise people how much athletes date each other at other instate schools, like Utah, Weber State and Utah State.
"But at BYU, a lot of people have the desire to get married, rather than just date," he said.
Hence, "a little dating community" has sprung up around the SAB, gymnast Summer Raymond told the Deseret News in 2015 before sharing vows with basketball's all-time leading scorer, Tyler Haws. The newspaper identified 32 BYU student-athlete marriages in that piece, a number that has obviously grown (see accompanying list of current or just-graduated couples).
The Deseret News recently caught up with six of those couples and focused on how they met, what their first date was like, and how the proposal went. Here are their stories:
Paisley Johnson (basketball) and Connor Harding (basketball)
After Harding told Johnson they should get together after the following night's doubleheader, "like a freshman from Pocatello," he forgot to ask for her phone number.
"I started to walk away and she yelled at me, 'Hey, you need my number,'" he said. "But I didn't have my phone on me or anything to write with, so I actually gave her my number. And that's how it started."
Johnson, who is from Everett, Washington, said she had watched the recently returned missionary play and practice in the Marriott Center Annex a couple times, and also at In-N-Out Burger in Orem one night, and told a few of his teammates she was interested in him.
"But Connor wasn't biting," she said. "He didn't seem to be interested at all."
Oddly, the couple share the same birthday — Sept. 16. Harding is a year older, while Johnson is farther along in school because Harding served a church mission to Atlanta.
They went to the Provo Beach amusement center to attend his sister's birthday party for their first date, and started to bond while bowling and playing a game called Jurassic Park in the arcade, Johnson said.
Harding proposed just before their respective teams traveled to the West Coast Conference basketball tournaments in Las Vegas last March. They went to the Joseph Smith Building in downtown Salt Lake City with teammate Taylor Maughan and his wife, where they met up with Harding's step mom, sister, nieces and nephews, and two of Johnson's best friends.
The nieces and nephews held a sign that said: "Will you marry our uncle?"
"It was so cute," Johnson said. "It was just a lovely night, a great night."
Married on May 1 at Sundance, the couple recently moved into their own apartment in Provo and is eager for the Annex to open in June sometime so they can practice and work out together again. But they probably won't be playing much pickup against each other.
"We do like to play one-on-one occasionally, but sometimes when that happens things get pretty heated between two very competitive people," Johnson said. "Sometimes things get a little in the gray area, so for the most part we just work out together."