BYU's Mark Pope On Path To Becoming College Basketball's Next 'Big-Time Coach'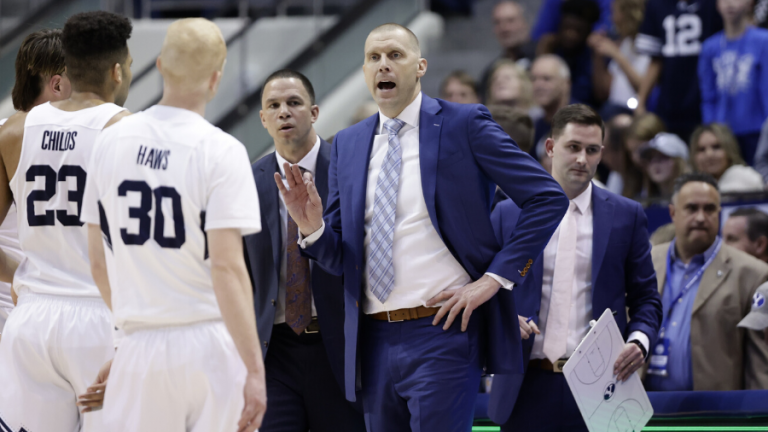 PROVO, Utah – BYU basketball head coach Mark Pope turned Cougar hoops around in a hurry with a 24-8 record in his first season. That record plus the work BYU has done on the recruiting trail this past spring is drawing attention from national talking heads in college basketball.
CBS Sports had a roundtable conversation discussing who could become the next "big-time coach" in college basketball. One of their insiders tabbed BYU's Pope to be the next big thing in the sport.
Matt Norlander had this to say about Mark Pope, "Have you seen what Mark Pope's already been able to accomplish as a head coach? Let's quickly look back at his four seasons at Utah Valley. He went from 12 wins to 17 to 23 to 25. UVU has been Division I since 2004 and Pope is responsible for its two best seasons in that timespan. At BYU last season — his inaugural one — he went 24-8 and was probably going to get the Cougars to a No. 6 or No. 7 seed, their best landing in the NCAA Tournament since Jimmer Fredette's senior season … Given how good Pope's performed in his first five seasons as a coach, it would not shock me if the next five seasons don't just include a tenure with BYU. Perhaps the Pac-12 will wind up luring him in before long."
From the moment Mark Pope introduced himself as BYU's head coach, he hasn't lived in a world of "realistic expectations" for Cougar hoops. Now BYU fans are starting to dream big with what Pope could potentially do in Provo.
The additions of graduate transfers Matt Haarms from Purdue and Brandon Averette out of Utah Valley were strong indicators that Pope's BYU program won't be a "one-hit-wonder."
BYU will still have the tall order of trying to dethrone the Gonzaga Bulldogs in the West Coast Conference. The Zags are viewed as a pre-season No. 1 team for next season, but what better program and coach to model yourself after as the Cougars try to become "big-time" as well.