Bail raised for Utahn charged with shooting at SUV that pushed through Provo protesters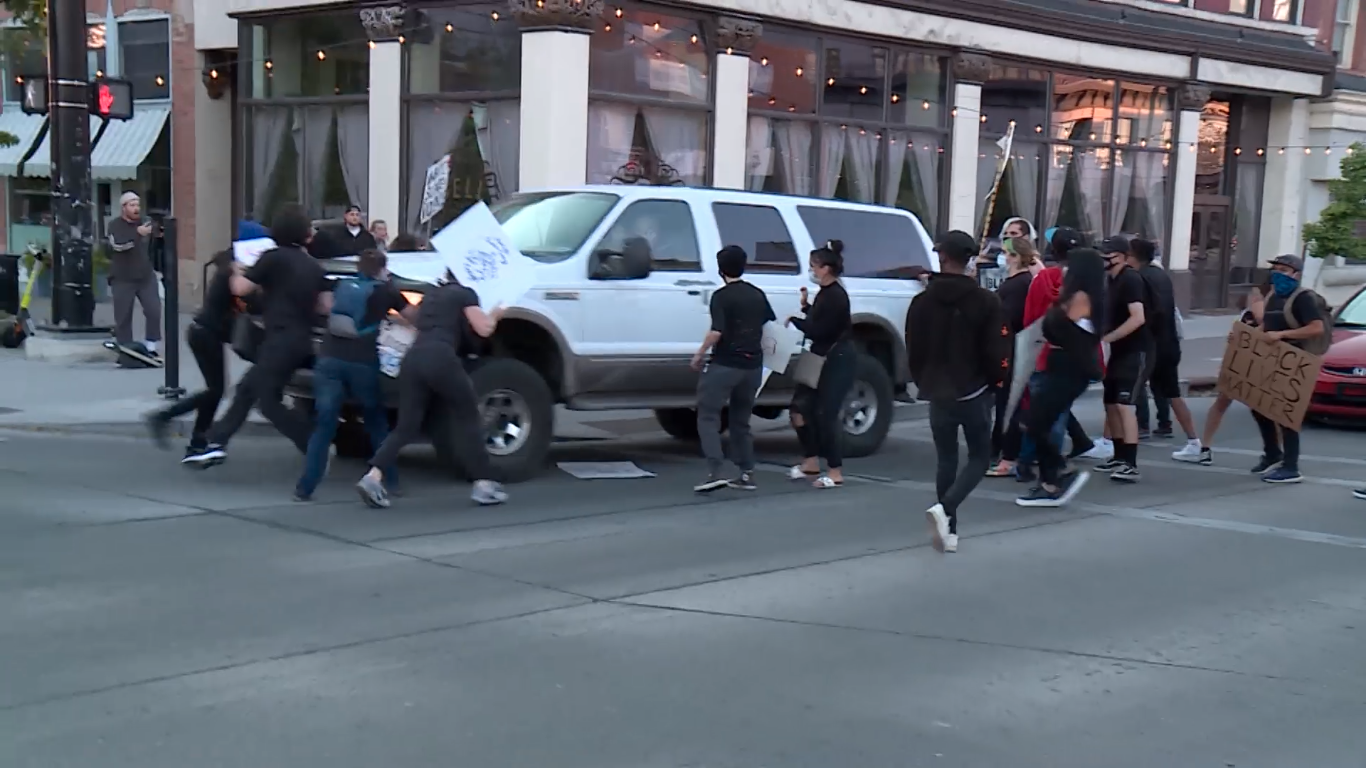 PROVO, Utah — A judge has raised bail from about $42,000 to $100,000 for a Utah protester accused of shooting and injuring a driver during a demonstration in June.
Fourth District Judge James Brady sided with prosecutors who requested the hike in bail.
Brady said he developed concerns after video showed Jesse Keller Taggart, 33, fire one shot before chasing the vehicle and shooting again, then continuing to train the weapon on the SUV.
"Other individuals thought it was sufficient to yell, to shout, to hit the vehicle," Brady said. "He found it necessary to pull a weapon and fire."
Yet Brady also said he was dismayed by footage of the vehicle traveling partway onto the sidewalk into the intersection as several gathered around it, then speeding up and "driving through the people."
Its driver has not been charged with any crime.
Provo police said they received one report of a protester who sustained minor injuries after being struck by a car.
Taggart has been out of jail since July 3, court records show. The judge ordered him to either post the additional bond or report to jail by Friday.
Taggart was among those protesting police brutality and racism on June 29 in downtown Provo, while an opposing group demonstrated in support of law enforcers. He was arrested after police said he matched descriptions of the gunman from witnesses.
Prosecutor David Sturgill argued Taggart could pose a safety threat at further protests. Sturgill said the driver of the SUV, Ken Dudley, sped up only after the first shot struck him in the elbow, an injury he later was treated for at a hospital.
"The fact that (Taggart) would carry a gun to a protest like that and so easily, quickly draw it and fire it point-blank at someone who is simply trying to get around and away from the protest raises deep, deep concerns," Sturgill said.
Defense attorney Shane Johnson argued his client was trying to protect fellow protesters from harm when he fired the shots.
"Here there is substantial evidence that they charged the wrong person," Johnson said, noting Dudley does not face any criminal counts. Johnson played another video of Taggart seeking to protect protesters at a different demonstration in Salt Lake City by pulling his truck and trailer into a downtown intersection.
"In this case, Mr. Taggart was trying to save the lives of a number of other people who were defenseless against a four-ton SUV that was violating a litany of laws," Johnson said. He alleged Dudley's behavior could fit criminal charges ranging from attempted assault to attempted murder.
The judge barred Taggart from any contact with witnesses and from going to Utah County except for court.
Taggart has not yet entered pleas to charges of attempted aggravated murder, a first-degree felony; aggravated assault, and discharge of a firearm causing injuring, both second-degree felonies; and rioting, a third-degree felony.
He is due back in court Oct. 5.