Between brutal loss to Gonzaga and Saint Mary's trip, BYU looks for answers to 'toughest road week of season'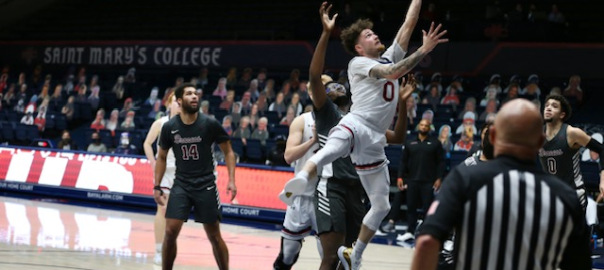 PROVO, Utah — BYU's first game in two weeks after a run of COVID-inspired postponements was a punch in the mouth — both figuratively and literally, at least to some extent.
After the first three games of West Coast Conference play were called off due to COVID-19 related issues in a trio of California schools, the Cougars volunteered — neigh, dang near pleaded — to play anyone, any time, any place to open conference play.
Be careful what you wish for — top-ranked Gonzaga loomed in Spokane, a date moved up from February to accommodate a shifting schedule as many have grown to expect in college basketball.
But not everything turned out bad from an 86-69 loss to the Bulldogs. Sure, letting the team jump out to a 30-7 start on the road is never a good thing, and BYU fell behind quickly on the scoreboard, on the glass and in turnover margin. But there were plenty of things the Cougars were able to — even forced to — learn by playing on the road against a team of the Zags' caliber.
"We were disappointed that they were way more physical than us," said BYU coach Mark Pope, who admitted that the size and lengthy of Corey Kispert, Joel Ayayi and others wreaked havok on the Cougars' lineup, from one through five. "I did a poor job of preparing the team to feel the right way; that's partly due to the Zags, because they make a lot of people feel wrong. But you hate when you walk away from games, and say, 'that wasn't even us out there.'"
In BYU's next two games — both on the road — the Cougars will hope to learn something from the trip to Spokane, and fix them.
They'd better be able to, as well.
Following Thursday night's game at Saint Mary's (9 p.m. MT, ESPN2), the Cougars will travel to the Hilltop to face San Francisco on Saturday (8 p.m. MT, ESPN2). Defeating the Zags was always going to be a tall task.
But how BYU responds to its biggest rout of the year may well define its season.
"We're coming off a tough loss against Gonzaga, the No. 1 team in the country, but I think being able to bounce back, to still prepare, to stay locked into our next two scouts is important," BYU guard Alex Barcello said. "We need to stay hungry for these next two games."
Thursday continues a run of three-straight games that may be the toughest stretch of the season; and with apologies to nonconference opponents like USC, Utah and San Diego State, the numbers bear that out.
BYU's three opponents all rank in the top-100 in the NCAA's NET rankings, beginning with the No. 1 Zags. Saint Mary's fell to No. 63 after a loss to Santa Clara, a move that boosted the Broncos up to within one spot of No. 91 San Francisco.
Add No. 41 BYU, and it is believed that the five WCC programs rated in the top-100 of the NCAA's official tournament selection tool is a conference record in the short history of the ratings.
"For us, we've got to find a way to get back our urgency and the desperation we played with through the nonconference," Pope said.
"It's going to be a test of our locker room, to see if we can stay dialed in," he added. "We'll see, because this is probably the toughest road week of our season. It's a huge week for us, and we'll see how we respond."
Like Gonzaga, Saint Mary's (9-2, 0-1 WCC) plays a tough, physical style of play under long-time head coach Randy Bennett.
Unlike Gonzaga, the Gaels are preparing for BYU coming off a loss — a rare home loss to a non-WCC "big three" school in Santa Clara. The Cougars, for their part, have done well coming off losses; Mark Pope hasn't fallen in back-to-back games in his short, tenure at BYU.
Thursday's challenge will be different. The Cougars will be navigating a game after a loss in a place they've rarely won and facing a lineup crunch with the loss of Wyatt Lowell, who is out for the season with an Achilles' tendon injury suffered against Gonzaga.
A team whose front line was already stretched thin with the injury to Gavin Baxter became even thinner — and at what has been the most critical juncture of most normal seasons.
Of course, nothing about 2020-21 is normal, either. The Cougars found that out the hard way as a mostly empty Kennel throttled them with an unknown energy created by the best team in college hoops.
"It was almost like a reaction you would expect when the gym is full of 10,000 crazed fans, and it gets you a little bit sideways — except there was nobody in there," Pope said. "But they're a terrific team, and they've done that to a lot of people this year. Collectively, somebody in college basketball has got to find an answer for them."