BYU's Gideon George Provided Spark Off The Bench In Win At Saint Mary's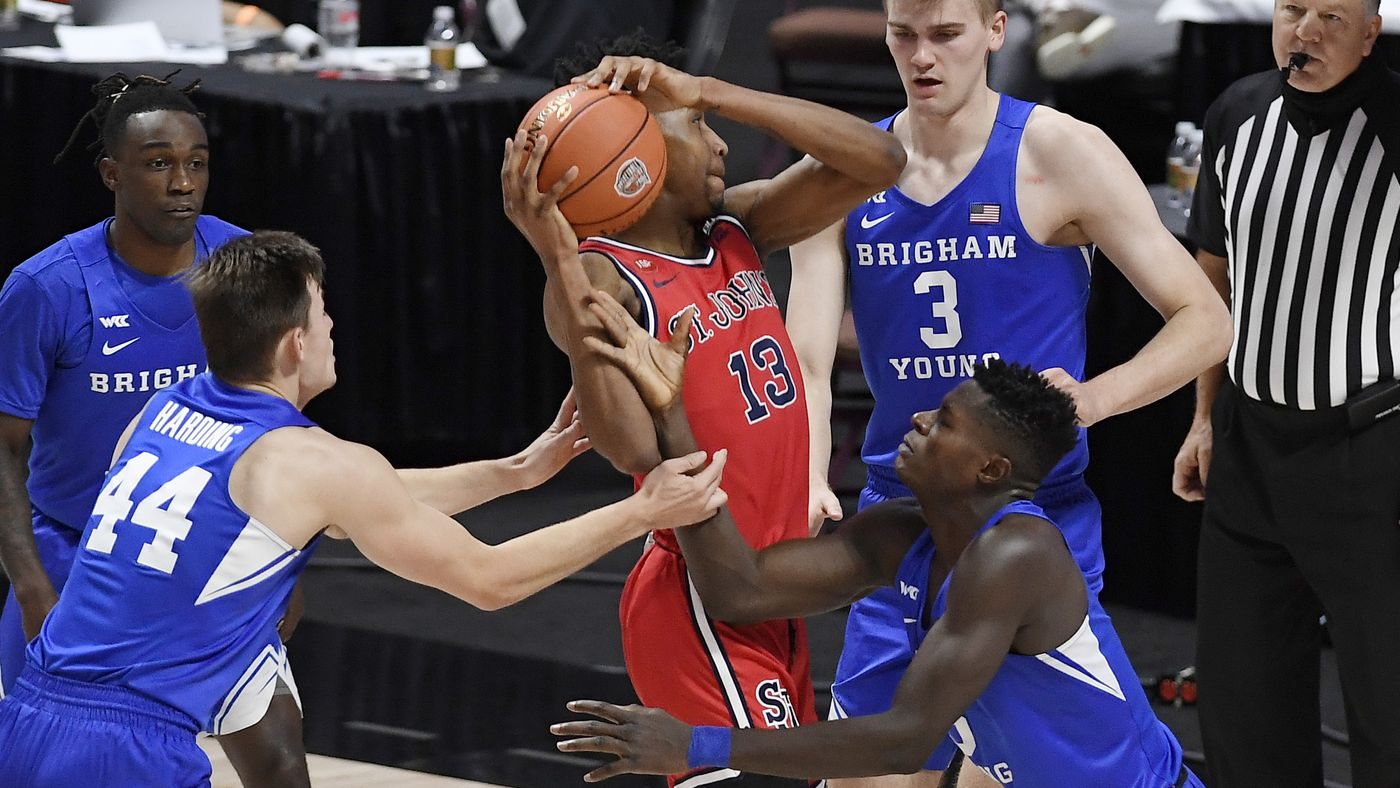 PROVO, Utah – When Gideon George signed with BYU last April, Mark Pope told everyone, you're going to love the Gideon George story.
Cougar fans are quickly getting familiar with the transfer from New Mexico Junior College, who hails from Minna, Nigeria, for his great play on the court.
George was instrumental in BYU's big road win over Saint Mary's on Thursday night in Moraga. The 6-foot-6, 190-pound forward came off the bench to deliver an impactful performance, especially on the defensive end against a Gaels team that always gives BYU headaches.
"Matchups are real. In terms of matchup, we actually have less wins [in Moraga] than we do at Gonzaga, and Gonzaga's usually the No. 1 team in the country," said BYU coach Mark Pope. "But our styles of play are so diametrically opposite … and so, it's just a challenge."
The challenge gets a little bit more manageable when players step up off the bench.
Gideon George shined on the defensive end at Saint Mary's
BYU defeated Saint Mary's 62-52 and closed out the game on a 19-2 run. Thanks in large part to George, who stifled Saint Mary's top player, Tommy Kuhse. George got the defensive assignment down by seven to shut down the Gaels leading scorer and top ball-handler.
George's rangy athleticism, which was desirable the moment Pope and assistant coach Chris Burgess arrived at BYU in 2019, was a catalyst in the Gaels, nearly going 10 minutes without a field goal.
"We were having troubles with the ball screen coverages and kind of trying to get back in front," said BYU guard Brandon Averette who hit a clutch basket off a blocked shot to put the Cougars up five with 2:41 remaining. "Then we put Gideon on number 12 (Kuhse), and he handled it for us the rest of the game. We were able to get stops and put them together, and honestly, it sparked our run."
Before George taking on the assignment of Kuhse, the star guard scored 12 points and dished out four assists. That all changed, and it was critical as BYU had its share of struggles on the offensive end. BYU knocked down only one three-pointer in the win. According to ESPN's Joe Lunardi, a win that could now put them back in the projected NCAA Tournament field.
This is a big moment for George and the entire BYU basketball team. After Wyatt Lowell went down with a season-ending Achilles injury, the depth on Pope's bench was suddenly tested. George rose up in a big way, just as he has done for his home country by donating shoes to "Time Our 4 Africa," he gave a performance that could alter the outlook of BYU's entire season.
In two WCC games, George has averaged 17.5 minutes per game off the bench and is scoring 9.5 points while pulling down six rebounds.
Next up for George and BYU is a Bay Area trip to the Hilltop to take on the San Francisco Dons on Saturday at 6 p.m. (MT) on ESPN 2 and KSL NewsRadio.