BYU announces signing of Provo athlete Dallin Havea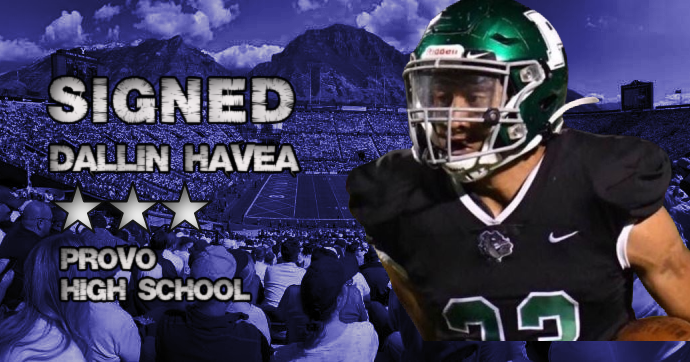 PROVO, Utah – For the second straight year, BYU has gone to Provo High School and added a Havea to be part of their recruiting class. Last year, the Cougars added Drason Havea. Today the Cougars announced that they have signed his younger brother, Dallin Havea, to be part of the recruiting class. Provo High School has seen an influx of talent and college prospects over the last few years. If BYU is able to establish a firm pipeline to Provo, it could go a long way in helping build the future of the program.
Havea will serve a mission for The Church of Jesus Christ of Latter-day Saints before he enrolls with BYU. The elder Havea brother is currently serving a mission right now.
Dallin is a really intriguing prospect who reminds us a little bit of two current BYU players – Jackson Kaufusi and Tyler Allgeier.
Dallin a big bodied high school senior. He played running back and linebacker for the Bulldogs this season and he could play either of those positions at the next level when he enrolls at BYU. That's part of what is so similar between him, Kaufusi and Allgeier. All three players are big bodies who could play on either side of the ball.
At this point, it seems that the defensive side of the ball is probably the most likely destination. At 6-3 and 215 pounds, Dallin has the size to play the position really well. He has good enough speed that he could cover sideline to sideline and he hits like a truck. Because of his prowess as a running back, he understands blocking schemes and route concepts for running backs out of the backfield. These are all traits that could go a long way in assisting him as he transitions to the speed of the college level.
Dallin was also recruited by local schools Utah and Utah State as well as a host of Mountain West Conference teams. BYU was the perceived leader throughout the process due to his strong connection to the coaching staff and Drason's signing last year. Because most assumed he was part of BYU's recruiting class from the onset of the cycle, his profile never really blew up like it probably deserved.