BYU defensive lineman Antunaisa Mahe sat out the 2020 season with a blood clot in his brain. Now he's back in the fold.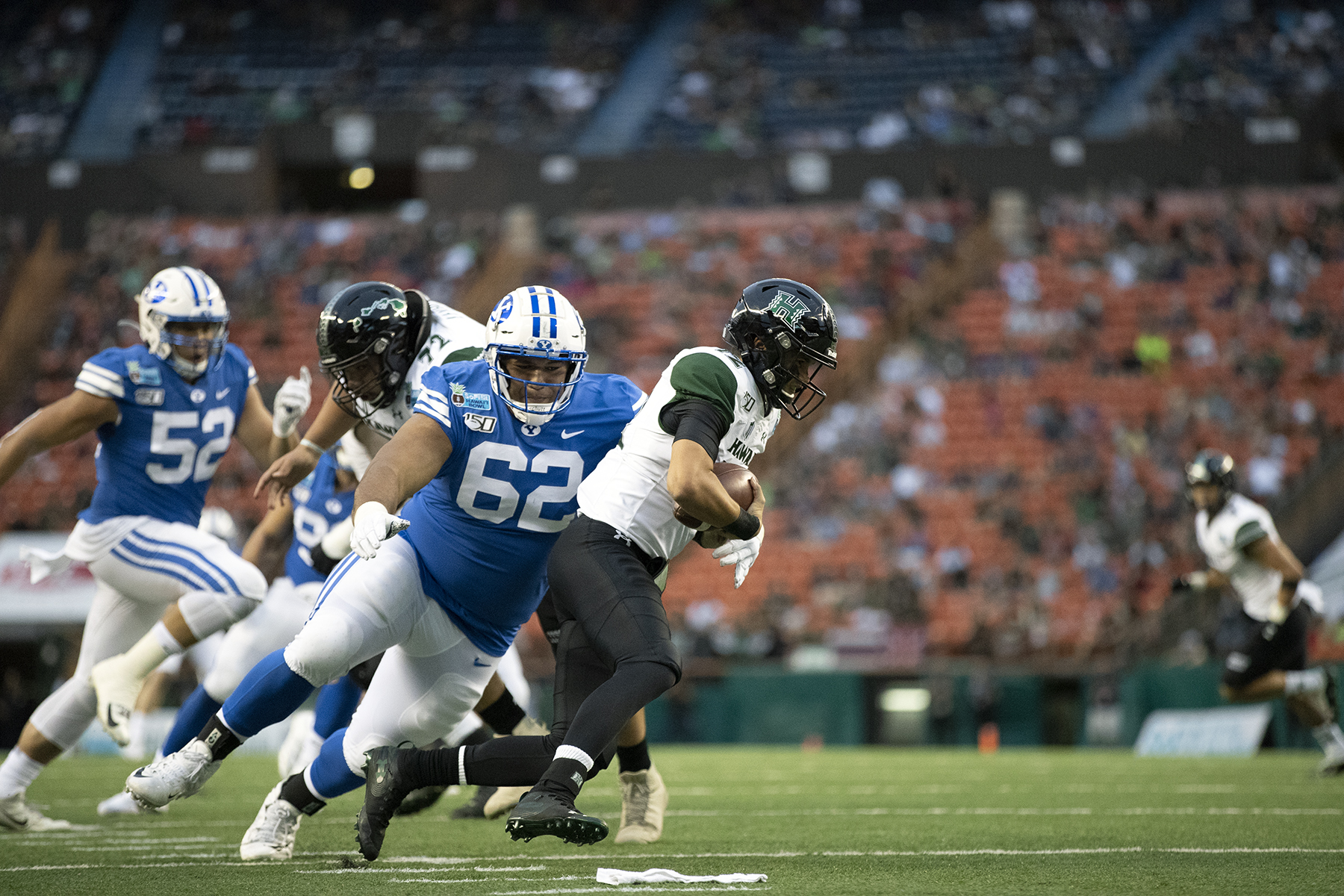 PROVO, Utah – Atunaisa Mahe arrived in Provo in 2018 and, after redshirting a year, had a solid freshman season in 2019 — playing in 13 games with two starts — so it only made sense that the West Jordan product would continue to see growth in 2020.
Except, Mahe never took the field during the Cougars' historic 2020 season due to an injury, and now has spoken out as to why.
As the team was preparing for the 2020 season, the defensive lineman was diagnosed with a venous thrombosis, a blood clot, in his brain.
"I just noticed that when I was running, my left side of my arm started getting real numb," Mahe said. "I thought I was just dehydrated. Previously to that, I had had a headache for three days and [then] we were lifting and I just essentially felt a little relief. And so I felt good, we went conditioning afterward."
But when Mahe had gotten back home, he said his entire left side of his body shut down.
"The only word I could say was 'help,' " Mahe said.
Luckily, Mahe's roommate was able to get him to the emergency room and the staff was able to figure things out.
What turned out to be even more fortunate for Mahe was, instead of the blood clot being in an artery, which results in a stroke, it was in a vein.
Initially, doctors were going to try surgery to remove the blood clot, but decided to try a less invasive technique first and put Mahe on blood thinners. After seven months of taking blood thinners, Mahe went back for a couple of appointments to check his brain and his medical staff noted the blood clot was completely gone.
"First thing that came to mind was 'man, I won't be able to play football,'" Mahe said. "But it's been a blessing, putting my life in the hands of the Lord. I've just been able to see that whatever He wants from me is what I'm going to do. I had this opportunity to come back and play, and it's been good. I'm not 100%, but I'm just slowly, gradually getting into things. It's been a blessing for sure."
So, now that Mahe is back in action, where will he fill in? He's practicing at nose tackle — a position left open by the departure of Khyiris Tonga.
Tonga was a staple on the Cougar defense for the past four years, recording a career 130 total tackles, 15 tackles for a loss of 70 yards, 7.5 sacks for 47 yards, five quarterback hurries and 12 pass break ups. He was also a leader on the team.
Now, Mahe looks to be the one to fill in that role. In 2019, Mahe recorded 22 total tackles, as well as two sacks for a loss of 15 yards.
With spring practices coming to an end later this week, Mahe believes the defense, including himself, has been able to see big improvement over the past three weeks.
"We have a lot of young guys and they've been able to step up," Mahe said. "These past three weeks has been a lot of progress and less mistakes. So, we're just working on executing our plays and our footwork and technique. And for me, personally, it's just a blessing to be able to come back and to be able to be out there on the field. All of us are not taking anything for granted, we're just working hard."