BYU Football Defensive Line Training With Former Cougar Great To Improve Pass Rush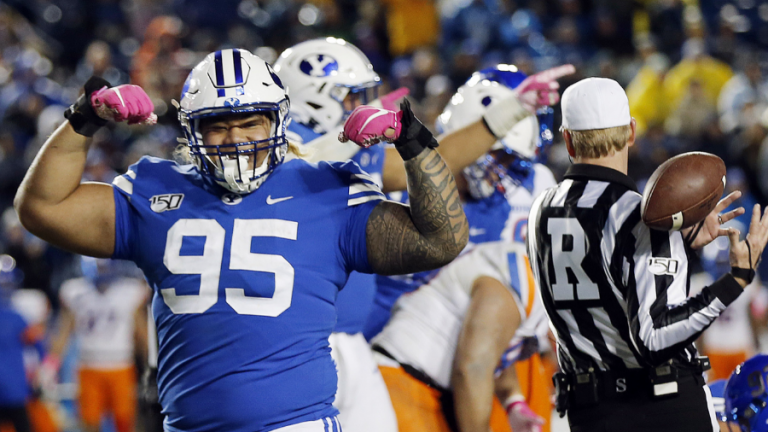 PROVO, Utah – BYU football has had some talented defensive linemen over the years. One of the best over the past decade was defensive tackle Travis Tuiloma.
Tuiloma played at BYU from 2010-11, 2014-16. He was a force in the interior of BYU's 3-4 defensive scheme under Bronco Mendenhall and was a two-time Outland Trophy watch list nominee. Go watch BYU's game against Nebraska in 2015 and you'll see the type of impact Tuiloma had on games.
Now Tuiloma, who runs Strongside Training, is giving back to his alma mater by working with members of BYU's current defensive line to improve their technique in stopping the run and generating a pass rush.
"It's been really good. Learning a lot from him and his insights on the position were much-needed," said BYU's Khyiris Tonga to KSL Sports. "We meet with him twice a week and we've been going strong with that. Hopefully, by fall camp we can continue to implement what he teaches us."
Tuiloma posed for a picture with members of BYU's defensive line and tweeted, "I want to Welcome one of our @BYUfootball DLINE Groups to @StrongsideX D Line Training! Excited to work! We got SOMETHING to PROVE this Year!! Stay tuned! Stepping on the GAS, no Brakes"
In the picture with Tuiloma (clockwise from left) is BYU's Hirkley Latu, Jacob Palu, JT Gentry, Gabe Summers, Jeddy Tuiloma, Khyiris Tonga, Lorenzo Fauatea, and Bracken El-Bakri.
This season BYU is expected to go back to four defensive linemen in their base packages. A look that Tuiloma saw in his senior season playing for Kalani Sitake at BYU in 2016.
According to Tonga, BYU is looking to "create more havoc" this upcoming season. Last year, BYU was 117th in the country in team sacks with only 17. The defensive line led by Tonga will look to set the tone to be more of a force this year as the Cougars prepare for a schedule that features six Power 5 opponents.