BYU football equipment manager Mick Hill retires after 39 years with the Cougars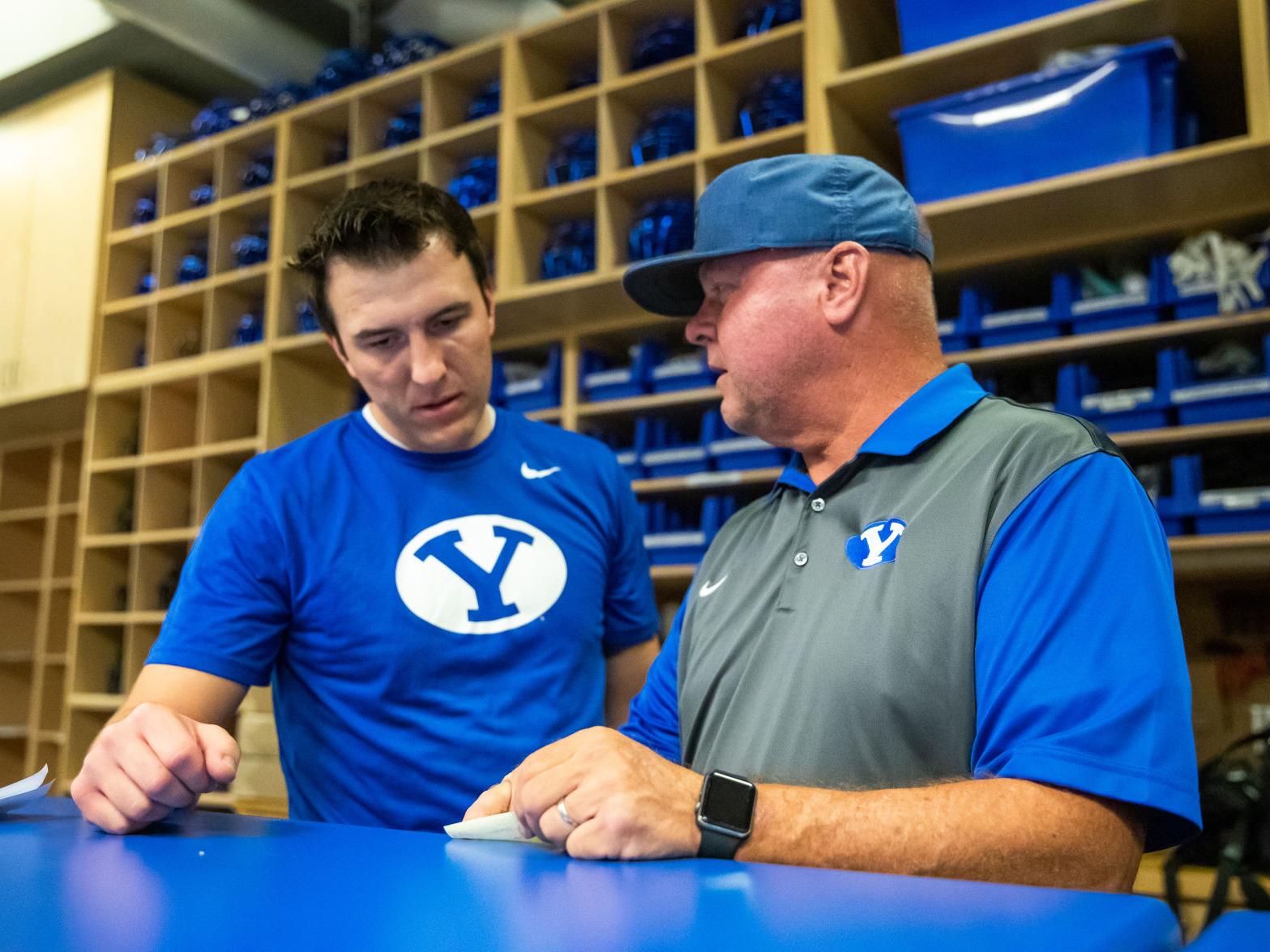 PROVO, Utah – BYU football equipment manager Mick Hill has seen quite a few players get geared up during his 39 years in Provo.
Some of them have come back to fill other roles.
"It's just gonna be really hard to say goodbye," Cougar head coach Kalani Sitake said during Monday's teleconference. "He was here when I was a player. I'm really thankful that I got to be the head coach and he was in the room with us."
Hill announced Monday that he is retiring.
"It has been a great ride and who could ask for a more storied career," Hill said in a press release. "I have been so blessed to be part of the BYU athletic program for 39 years. There are so many people who helped make my career possible, and I wish I could thank them all. First and foremost among them is my beautiful and supportive wife of 44 years, Melanie, and our wonderful family."
He recalled working with a lot of great people during his time with the Cougars.
"Glen Tuckett gave me the opportunity to start my career, and Tom Holmoe and our current administration have supported me without hesitation," Hill said in the press release. Floyd Johnson was like a father to me who taught me the ropes about not only being an equipment manager but also a caring person for the welfare of our student-athletes. I can't say enough about the legendary coach LaVell Edwards, who I was honored to work alongside for 20 years. Now a former player Kalani Sitake continues his tradition. Kalani does it the LaVell way—he truly cares about his players as a person. And there are so many coaches and players that have made such an impact and are lifelong friends."
According to the press release, Hill was on the sidelines for 482 games — home and away — during his time in Provo, having personally attended and been part of perhaps more BYU football games than any other person in program history.
"Mick is one of the people behind the scenes of BYU football that have been part of making the program and the culture so great for so long," BYU director of athletics Tom Holmoe said in the press release. "Mick's first full season here was my senior year in 1982, so I've had the privilege of seeing how much impact one person can make from start to finish. On behalf of all of us in BYU Athletics, I can't thank Mick, Melanie and their family enough for all they have contributed to BYU over his incredible career."
After joining BYU Athletics in late 1981, the release said, Hill quickly became a key member of the football support staff working over the years with head coaches LaVell Edwards, Gary Crowton, Bronco Mendenhall and Kalani Sitake. Following in the footsteps of his mentor and fellow legendary BYU equipment manager Floyd Johnson, Hill was instrumental in the development and implementation of many improvements to aid the football program, including BYU's current equipment facilities in the Student Athlete Building.
To honor the legacy of Hill and Johnson before him, BYU has named the football equipment room the "Mick Hill and Floyd Johnson Equipment Room."
"I think naming our equipment room to honor Mick and Floyd Johnson is such a deserving tribute to the tremendous impact both of these great men have had on BYU football for so long," Sitake said. "As a player, I had a personal connection with both Mick and Floyd as they helped mentor me and all of my teammates. I am really thankful for the time Mick put in to help me develop from a young man into an adult. When I became the head coach, I was excited to have the chance to work with Mick. He is a man of faith and is a great family man. You can see it in the way he conducts his life. It's an honor for me to know him and be around him. I'm happy for him that he gets to retire, but I'm going to miss him dearly."
As he did with Sitake, Hill forged meaningful relationships with countless BYU athletes and coaches over the years.
Known by these men more than any others, Hill's dedicated daily efforts not only helped make possible nearly 500 games but also thousands of practices and workouts sessions that are the constant heartbeat of the program. And the snowmobile adventures organized by Hill for recruiting trips are another part of the cherished memories created by Hill and enjoyed by so many over the years.
In addition to providing individual care to enhance the safety and experience of thousands of athletes, Hill was a BYU liaison with Nike and other manufacturers; served on a number of advisory boards, including Nike, Schutt and the McDavid Group; and helped build and promote the BYU brand to national audiences through the team's well-recognized uniforms and attire.
While serving on the McDavid Council, Hill developed the recognized "padded compression girdle," which followed the example of innovation at BYU inspired by Johnson's work in the development of the "belted pant pads" for football pants.
A certified equipment manager by The Athletic Equipment Managers Association (AEMA), Hill's influence was also significant within his industry. Whether with his AEMA peers, vendors and other associates nationwide or among his co-workers on the equipment staff at BYU, Hill leaves a legacy that is second to none.
"The most important thing of all looking back is all the relationships with wonderful people," Hill said. "I was able to surround myself with great co-workers like Becky Enoch, Nancy Jensen, Chris Anderson, Bridgett Bergstrom and dear friends Billy Nixon and Steve Bushman. And we couldn't have done it without the hundreds of student managers over the years who definitely made a big impact. I love them all and will miss them."
A native of Corvallis, Oregon, Hill earned his bachelor's degree from BYU after graduating from nearby Orem High School. Hill's greatest legacy is his family. He and his wife Melanie, a fellow Orem Tiger, have two daughters, two sons and 11 grandchildren.
"Our family is scattered across the world, all the way to Florida and even Japan," Hill said. "Melanie and I have always had the ambition and dream to travel the country and that is what we are going to do."
Sitake said that having people like Hill as part of the BYU football program makes a big difference.
"It just goes to show the type of people that are around our players and how much how much impact they have on our lives," Sitake said. With all these great mentors that we've had and seeing them impact other's lives, it's just a great sight to see. I'm really thankful for the things that Mick has done in all his years of service decades of service."