BYU football promotes defensive analyst, longtime Beehive State assistant Kevin Clune to linebackers coach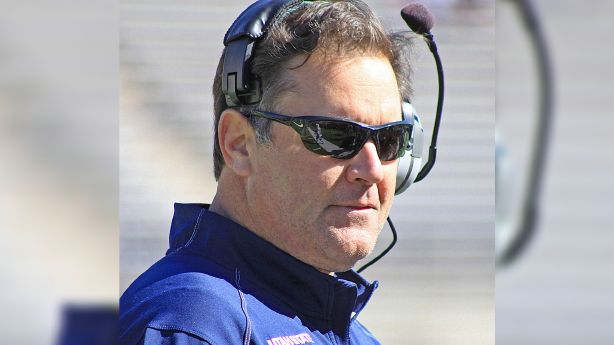 PROVO, Utah — BYU football has a new assistant coach.
And the Cougars are bolstering the defense with it.
BYU announced the promotion of defensive analyst Kevin Clune to head coach Kalani Sitake's staff Thursday evening, joining the team as a linebackers coach.
With the move, assistant head coach and special teams coordinator Ed Lamb will move to safeties coach, and former safeties coach Preston Hadley will take over a role coaching hybrid positions and defensive ends.
"I can't express how excited I am to join Coach Sitake and the rest of the staff for the 2021 season," Clune said in a statement. "I am honored by the opportunity to be a part of the BYU tradition and to work with these student-athletes. Coach Sitake has assembled a team of tremendous young men, and I look forward to helping build on last year's success as we move forward to next season."
Clune becomes the fifth assistant to work under defensive coordinator Ilaisa Tuiaki, partially balancing the two sides following the departures of offensive coordinator Jeff Grimes and offensive line coach Eric Mateos to Baylor. Following their departures, BYU promoted passing game coordinator and quarterbacks coach Aaron Roderick to offensive coordinator, and moved wide receivers coach Fesi Sitake to passing game coordinator.
"I'm excited to announce Kevin Clune is joining our defensive staff," Sitake said in a statement from the university. "I have known Kevin my entire coaching career. He is a great person and an outstanding coach with a ton of experience, both as a position coach and as a coordinator. With his experience and expertise, Kevin is a great addition to our defensive room working with Coach Tuiaki, Coach Lamb and our defensive staff as we build on our past successes."
Replacing Grimes with a defensive assistant was always expected. The Cougars could still add another assistant coach following Sitake's breakout 11-1 season that included a No. 11 national ranking. That hire is expected to be an offensive line coach.
Clune returns to Utah with 28 years of experience, including 10 as a defensive coordinator. He reunites with Sitake following a one-year spell together on Gary Andersen's staff at Oregon State, and has also coached locally at Utah, Utah State, Weber State and Southern Utah for a total of 15 years.
He previously worked as a defensive coordinator at Oregon State, Utah State, Weber State and Hawaii. That experience could come in handy, as Tuiaki was reportedly a candidate to succeed Jeff Choate as head coach at Montana State, according to Skyline Sports.
Clune, a native of Monterey, California, most recently served as Mike Norvell's linebackers coach at Memphis, helping the Tigers to 12-2 season and New Year's Six bowl bid in 2019. Clune spent the 2020 season in a non-field coaching role at BYU, where he served as a defensive analyst. The Cougars finished the 2020 season ranked No. 11 nationally with an 11-1 record, including the No. 4 scoring defense and No. 10 total defense in the Football Bowl Subdivision.
During his time at Utah State, Clune mentored NFL linebackers Bobby Wagner, Nick Vigil, Zach Vigil and Kyle Fackrell. He also mentored former Miami Dolphins draft pick J.D. Folsom during his time at SUU, and led Weber State to a Big Sky co-championship when he was named assistant head coach in 2008.
A former player at Fullerton Junior College and the University of San Diego, Clune's first Division I job came as defensive line coach at Utah in 2001.