BYU football welcomes alumni back for biggest Pro Day in Cougar history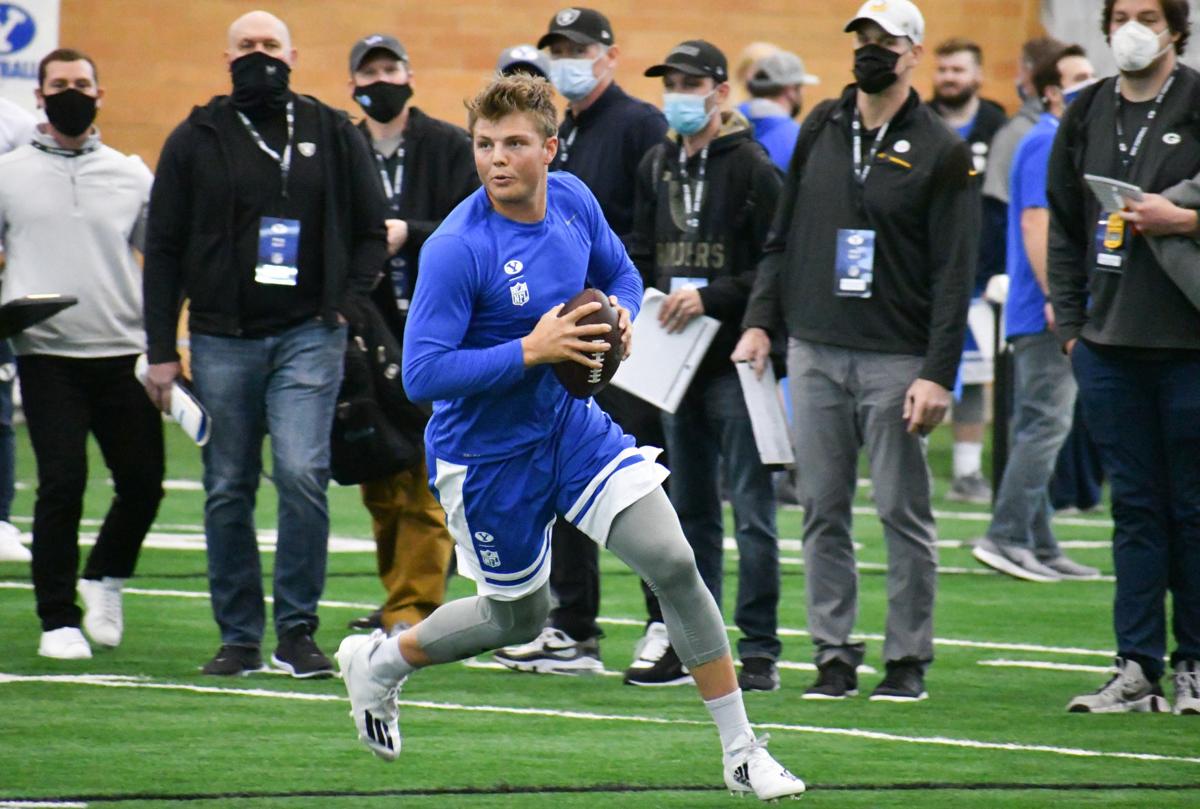 PROVO, Utah – The pre-NFL draft buzz for BYU football's Pro Day in Provo in 2013 was pretty incredible.
That was the year Cougar defensive lineman Ezekiel "Ziggy" Ansah made a meteoric rise up the draft boards before eventually being selected by the Detroit Lions with the fifth pick overall.
It was only the ninth time a BYU player was selected in the first round and it tied for the highest pick with quarterback Jim McMahon (see info box).
But that hype level is about to be on Friday when former Cougar quarterback Zach Wilson gets to work at the 2021 Pro Day.
Not only is Wilson being touted as a top pick (possibly at No. 2 overall) but the COVID-19 pandemic meant that the annual NFL Combine had to be scrapped in favor of local Pro Day activities.
So this is a big day for Wilson — and for all the other ex-BYU players hoping to make the jump to the NFL.
"We've always made Pro Day really important to our program," Cougar head coach Kalani Sitake said on Monday. "We try to do everything we can to showcase our players' talents. I think having these guys come out and be able to run and time and do all those things for the scouts is gonna be huge. Having all the attention around Zach is bringing a lot more eyes to program but I think Pro Day has always been big for us since I've been the head coach. It's something that I want to really keep emphasizing."
Twenty former Cougar athletes are planning to put their skills and athleticism on display, hoping to catch the eye of NFL representatives that might give them a shot at playing pro football.
One of the things Sitake said he enjoys is having players return to Provo.
"I think just seeing everyone back again is great," Sitake said. "They've been coming in last week and even coming in this week. It's the seniors and even guys who didn't have an opportunity to do a pro day last year like Aleva Hifo, Micah Simon and Austin Lee. It's great to have those guys back to run some routes and do a workout, just give it another chance."
The headliner, of course, is Wilson, who will likely become the highest draft pick in BYU history.
His brother, Cougar freshman linebacker Josh Wilson, said he believes Zach Wilson is ready to make the most of the opportunity.
"It's really cool," Josh Wilson said. "I can honestly say that I expected no less. He's always been the top of everything. He's always believed in himself but I think he works harder than a lot of people. I'm excited for him and it's really cool just seeing all this finally come together because he's gone through a lot with it. I'm glad he's finally all paying off."
The attention on Zach Wilson has been intense since BYU made its near-perfect run through the 2020 season and Josh Wilson said his family has just been enjoying being along for the ride.
"It's just fun and exciting," Josh Wilson said. "I think we're just kind of enjoying the whole process. It's going to be exciting to see him throw and all that on Pro Day. I'm just having fun with it."
While Zach Wilson may be the only sure-fire pick from BYU's class, there are a lot of other ex-Cougar athletes who might hear their names called. That would be a big deal for a program that hasn't had a lot of players drafted in recent years.
Sitake said he hopes the 2021 NFL draft will signal a shift in that trend.
"I think we have a lot of NFL guys on our roster," Sitake said. "I still believe that. Some of them will have an opportunity to go and get drafted or do free agents contracts and make teams this season. Then the next guys will step up. Hopefully this will be the biggest pro day today and then maybe we get even bigger next year. Hopefully we just keep that thing rolling."
Sitake has emphasized for a long time that he wants players on his team who want to reach the highest level of the game.
"It's been a priority from Day 1," Sitake said. "I've said it before that I want to get guys in the NFL. I think the league needs our guys and I think we have guys that can go out there and have success. We've been trying to focus on that from the beginning."
Josh Wilson said the BYU players loving hearing their head coach be so clear about what he wants for them.
"It means the world to hear him say that," Josh Wilson said. "It just means that he cares about our dreams. That pushes us so hard, It's awesome for my future because obviously I would like to go on and play in the NFL one day if I could."
Here is a list of the BYU players hoping it is their turn as they participate at Pro Day on Friday:
2020 BYU Players
QB Zach Wilson
Former Cougars